ANOTHER year, and I've received another photograph from the Spangled Drongo, a regular commentator at this weblog who visits a waterfront property at Cleveland Point, Moreton Bay, Queensland, Australia, around this time of year.
Spangled is getting older, and back in the late 1940s and early 1950s he remembers the King Tides used to cover the law by about an inch or so.
This time last year, with the barometer reading normal, Spangled saw the King Tide was about 30cm below the lawn height and sent us a photograph, http://jennifermarohasy.com/2013/01/king-tide-not-so-high/
This year, according to Spangled, the highest astronomical tides were lower by around 20 cm and 10 cm respectively due to a small surge from the north. The first day of the King Tide, on January 2, Spangled says that the barometer was reading 1012 hPa and then yesterday (January 3) it was reading 1002 hPa.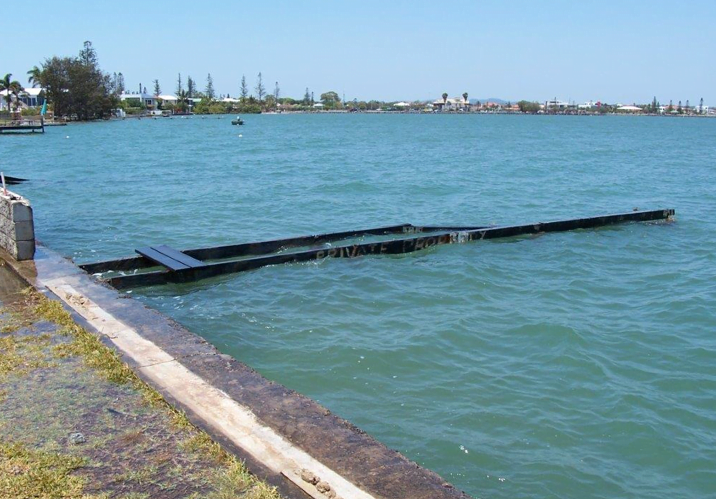 Of course sea levels vary around a coastline depending not only on the tides, but also melting poles (climate change), land subsidence and vertical land motion (tectonic and isostatic phenomena). So around Britain the deglaciation of Scotland that occurred thousands of years ago means the northern part of that landmass is still adjusting and shows uplift (relative sea-level fall) while southern England shows subsidence (relative sea-level rise).[1]
Along the Australian east coast it is well document in the scientific literature that sea level was higher during the mid-Holocene around 6,000 years ago and have fallen in total about 2 m to more or less the present position over the last few thousand years. This is consistent with global climatic change over this period, in particular an overall trend of global cooling since the early Holocene.
So while the Bureau of Meteorology and CSIRO may nag on about a few centimeters of sea level rise over perhaps the last hundred years, the overall more significant trend during the present geological epoch, the Holocene, is one of sea level fall. The only real point of contention seems to be whether the fall has been smooth or oscillating over the last few thousand years.[2]
PS. I shall make some comment on the latest claims from the Bureau of Meteorology that 2013 was the hottest year ever in due course after I have had time to look properly at the data. In the meantime, my blog post from March is still very relevant http://jennifermarohasy.com/2013/03/cooking-books-for-hot-summers/
***
References
1. This is all nicely explained in a paper by Ian Shennan et al. entitled Late Holocene vertical land motion and relative sea-level changes: lessons from the British Isles published in the Journal of Quarternary Science (volume 27, pages 64-70).
2. Lewis et al. published a controversial summary in Terra Nova (volume 20, pages 74-81) entitled Mid-late Holocene sea-level variability in eastern Australia.