We live on a rotating planet, differentially heated by the Sun, and mostly covered in sea water. The largest body of water is the Pacific Ocean, and on its south western edge is the Great Barrier Reef. This is arguably the largest coral reef system to have ever existed on planet Earth. It is but a thin veneer growing on top of at least five previous extensive reef systems; each destroyed by past dramatic falls in sea level.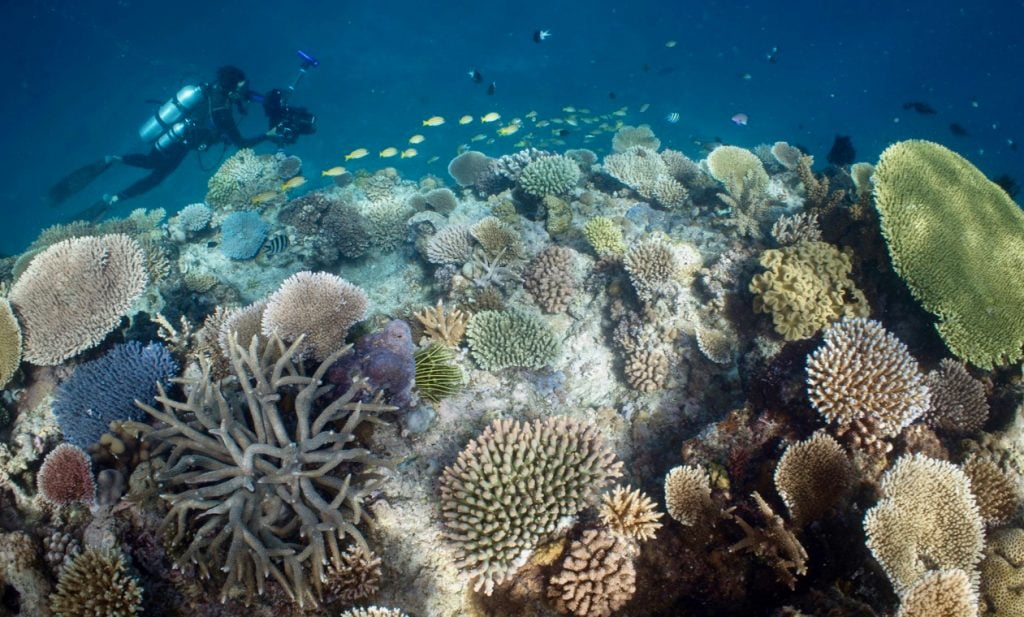 Twenty thousand years ago, at the height of the last glacial maximum — there was so much ice at the North and South Poles — sea levels were up to 110 metres lower than they are today.
Early January 2020, I spent one week at the northern edge of the Great Barrier Reef diving the cliff faces of these Ribbon reefs that follow the edge of Australia's continental shelf. When sea levels were much lower, these underwater cliffs that are now covered in coral were the land's edge: where the land mets the sea.
A highlight was exploring an underwater limestone cave. I swam into it at 12 metres, once upon a time it would have been possible to walk into it.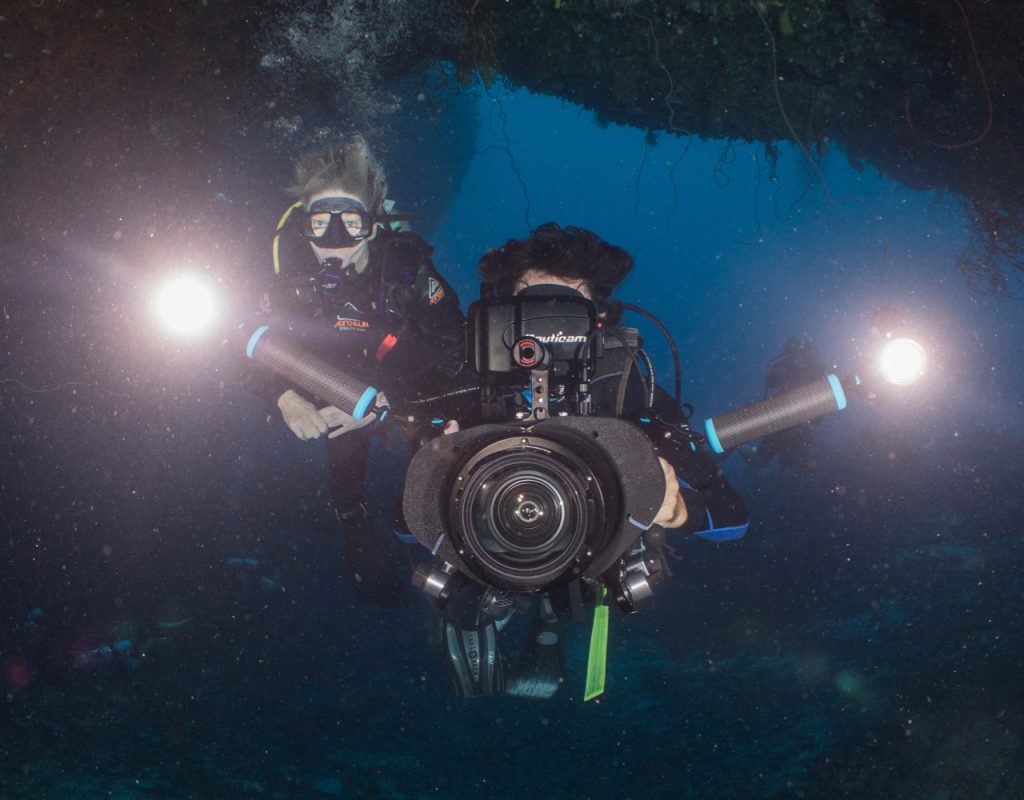 Limestone is hardened, impure calcium carbonate made from corals and also shells.  Being made of a single, relatively stable chemical it is not easily eroded. But limestone is soluble in rainwater, which will dissolve the carbonate along bedding planes and fractures where it is constantly exposed to dripping water. 
The week was spent filming including evidence of cycles of growth and decay. There will be a mini-documentary or two that will follow. To stay up-to-date with progress, consider subscribing for my irregular email updates.
In the meantime my first mini-documentary, Beige Reef, is available on YouTube.
Sea level change is a consequence of cycles within cycles, mostly driven by the extra-terrestrial. As I've previously explained, the shoreline near where I live in Noosa, suggests significant sea level fall over the last few thousand years. This is not consistent with the dominant narrative, with the zeitgeist of our times, but I see it in the geology: the marine pot holes, and that wave-cut notch, which is just above my favourite wave-cut platform. I will likely be at the marine potholes 40 minutes before the highest tide each month, I will then walk on to the cliff face to be there for the moment of the highest tide.
Jennifer Marohasy BSc PhD
Noosa, Queensland, Australia on 17th January, 2020
P.S. I am a scientist, natural historian and writer. I have more than a dozen technical papers published in peer-reviewed climate science journals and as book chapters. I have also published on mangroves, midges and  many other things.
More recently I've been attempting to recast the climate narrative away from one of fear, towards awe in understanding natural climate cycles.
I base my arguments and conclusions on evidence, and I apply logic. Of course, science is a method. Science is never 'settled'. Those who appeal primarily to the authority of science and the notion of a consensus are more interested in politics. Central to the scientific method is the hypothesis that can be tested: that can potentially be falsified. We must therefore always be open-minded, tolerant and ready to be proven wrong.
I am also a senior fellow at the Melbourne-based Institute of Public Affairs. I am grateful for the IPA's continuing financial support through the B. Macfie Family Foundation. A major project over the next year with the IPA will be the publication of the next book in the 'Climate Change: The Facts' series.
Towards the goal of improved weather and climate forecasting using Big Data and Artificial Neural Networks (ANNs), I incorporated the Climate Lab Pty Ltd.   Two years ago I was delivering training program with the Queensland University of Technology (QUT) in big data and artificial intelligence for better climate services.
Despite a significant inter-governmental investment in climate-related research over several decades, there has been no improvement in the performance of medium to long-range weather and climate forecasts. The current approach attempts to simulate actual physical processes, while assuming a dominant role for carbon dioxide as a driver of climate change. The future is in a radically different approach based on a new paradigm, already made possible by the advent of Big Data and Artificial Intelligence (AI) – specifically Artificial Neural Networks (ANNs). ANNs can be used to mine historical climate data for patterns, construct statistical models, and then using these to forecast.
This approach to forecasting does not involve the coding of equations that describe weather processes. Rather it involves mining historical data and building statistical models.
Measurements of any variable associated with weather and climate, when arranged chronologically at the appropriate scale, show patterns of recurring oscillations. The oscillations may not be symmetrical, but they will tend to channel between an upper and lower boundary – over and over again.
Most of these oscillations can be deconstructed into sine waves of varying phase, amplitude and periodicity. These oscillations may, or may not, represent real world phenomena that can be explained in terms of atmospheric physics and chemistry, and/or the gravitational-pull of the Moon, and/or variations in the electromagnetic field of the Sun, and its changing declination relative to the tilt of the Earth, et cetera – but they exist.
As long as the relationships embedded in the complex oscillation continue into the future – and it is these relationships that we model – an accurate forecast is theoretically mathematically possible.
Of course, the quality of data used to construct the arrays and entered into the ANNs is important. Thus, my longstanding concerns about the appropriate calibration of equipment used to measure surface temperatures by the Australian Bureau of Meteorology – and also the inappropriate remodelling of data through a technique known as "homogenisation". I've detailed some of these concerns in a letter to the Chief Scientist.
The extent of the remodelling can now be explored through an interactive table, unique to this website, with maximum and minimum annual series for all 112 ACORN-SAT sites (versions 1 and 2) juxtaposed against the raw data.