Small teams of motivated people with completely different skills and interests, but a shared purpose, can get stuff done. I am so grateful to Rachel, Scott, John (Roskam) and their teams for being such expert fundraisers, book sellers and for caring about learning and scholarship and testing the truth. I am also so grateful to Leonie, Susan, John (Castle) and Arthur for helping me produce the new book (Climate Change, The Facts 2020) – not to mention the 19 authors of the different chapters and the publisher (Australian Scholarly Publishing). You can read my introduction to the book, which is an overview, online here. But more than anything else, I'm grateful for the opportunities I had to visit the Great Barrie Reef this last year (2020), and swim under the water. A huge thank you to Rob (McCulloch) for getting me, and the rest of the crew, safely to Myrmidon reef and back – in the beautiful Kiama.
A special thanks to Bryant (Macfie) for continuing to believe in me, and evidence-based public policy.
I continue to be motivated by the natural environment, and all the creatures that still inhabit mangrove forests, rocky headlands and coral reefs.
Albert Einstein said:
Look deep into nature and you will understand everything better.
One of my favourite places is Noosa National Park, and the evidence etched in the rocks along that shoreline contradict so much of what is reported in the technical journals about climate change. As I began a recent blog post, should we believe the claims of experts or what we can see with our own eyes?
My first film was about exactly this, called 'Beige Reef' (and first released on YouTube here), it is about a beautiful coral garden denied by the experts including the head of the Great Barrier Reef Marine Park Authority (GBRMPA).
I am hoping to have a new film that is at least twice as long as 'Beige Reef', and with so many sharks (!), as well as so much coral, out sometime in the new year (2021). This work is in part to support Peter (Ridd) and his fight for freedom of speech and the integrity of science.
All the very best to you, and your team, for Christmas and for the year ahead, 2021.
Jennifer Marohasy
Sunshine Beach, Queensland
12 December, 2020
****
Postscript
So many of our once most trusted institutions are now engaged in little more than keeping us, the public, in a state of unnecessary and constant fear. It is so wrong. And it will stop people from visiting the still magical Great Barrier Reef.
Managers at the Australian Bureau of Meteorology have for years misled the public on the state of the climate. It is not getting drier, and the extent to which some coastal locations may have warmed over the last hundreds years is unclear because of all the changes to the measurement methods. Also, the extent of the remodelling of the temperature record can now be explored through an interactive table, unique to this website, with maximum and minimum annual series for all 112 ACORN-SAT sites (versions 1 and 2) juxtaposed against the raw data.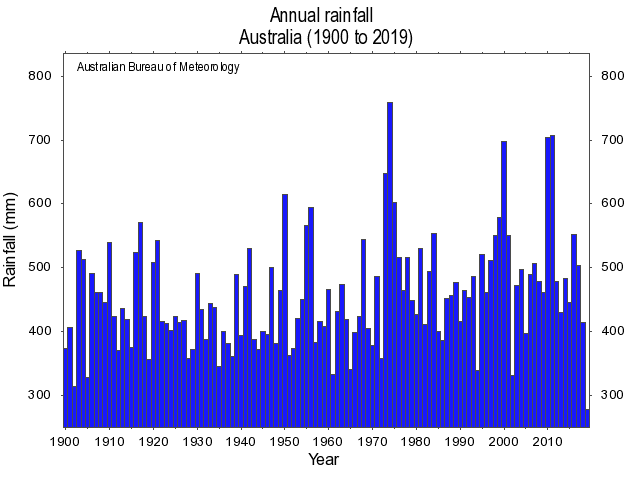 I've spent a lot of time over the last decade researching a technique for forecasting rainfall using artificial neural networks, a form of artificial intelligence. A list of my published technical papers detailing the technique can be found at https://climatelab.com.au/publications/.