We all have choices in life. Some people lift us up, some people drag us down, and steal our time. It is up to us as individuals to choose who and what, we respond to, who and what, we spend time with. This will ultimately determine what we become. It is also the case that we can go along with the popular (the zeitgeist), or we can take some time to think things through for ourselves and make the hard choices. It takes so much more discipline to be honest to the evidence: to reality.
Albert Einstein said:
Look deep into nature and you will understand everything better.
One of my favourite places is Noosa National Park, and the evidence etched in the rocks along that shoreline contradicts so much of what is reported in the technical journals about climate change. As I began a recent blog post, should we believe the claims of experts or what we can see with our own eyes?
My first film was about exactly this, called 'Beige Reef' (and first released on YouTube here), it is about a beautiful coral garden denied by the experts including the head of the Great Barrier Reef Marine Park Authority (GBRMPA).

There is a tendency for people to 'parrot' what their peers say, rather than what they can see with their own eyes. But there is always the opportunity for the individual to just 'stop'. It might then be worth considering whether, what you are expected to do or say next, really matters. What could be your priority, and how might you make it happen and why is it more important?
So many of our once most trusted institutions are now engaged in little more than keeping us, the public, in a state of unnecessary and constant fear. Managers at the Australian Bureau of Meteorology have for years misled the public on the state of the climate. It is not getting drier, and the extent to which some coastal locations may have warmed over the last hundreds years is unclear because of all the changes to the measurement methods. Also, the extent of the remodelling of the temperature record can now be explored through an interactive table, unique to this website, with maximum and minimum annual series for all 112 ACORN-SAT sites (versions 1 and 2) juxtaposed against the raw data.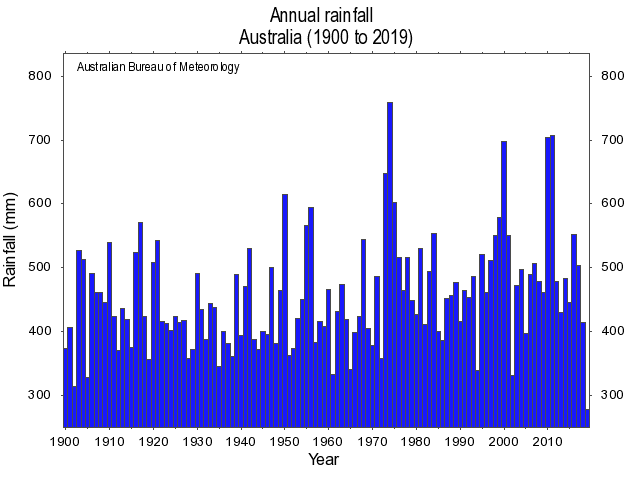 I've spent a lot of time over the last decade researching a technique for forecasting rainfall using artificial neural networks, a form of artificial intelligence. A list of my published technical papers detailing the technique can be found at https://climatelab.com.au/publications/.
Over the last year I've put time into editing a new book, Climate Change: The Facts 2020. I have not been able to include everything or everyone in this book. I sincerely thank those scientists who submitted chapters that did not make it all the way to print. In the end judgements must be made about the extent to which a conclusion is adequately supported by the available facts – and there can only be so many pages in each book in this 'Climate Change the Facts' series. This next book has an emphasis on 'water' in its various forms, including water vapour as a driver of tropical convection by physicst Peter Ridd. The geographic location of interest is Antarctica, with a story about 'wrestling' penguins by biologist Jim Steele. The last chapter is philosophical and literary and categorises various high profile sceptics based on the extent of their perceived descent into 'hell', as defined by Dante's Inferno. It is by my colleague Scott Hargreaves, who is very clever.
Climate science necessarily touches on many different scientific disciplines, and it is complicated. It can also be so much fun! Treat it as a puzzle, that is my advice in the book. Also, remember, it is much better to have questions that cannot be answered, than living and doing science according to answers that cannot be questioned!
Over the next year it is my plan to start making films. I have so much footage now from a talented underwater cinematographer. We spent two weeks in early January 2020 diving the underwater cliff faces at the Ribbon Reefs. There are ten such coral reefs approximately 60 kilometres offshore from Cooktown, growing over the top of the most north-eastern edge of Australia's continental shelf.
We went in search of coral bleaching, but instead found healthy corals, curious clown fishes, a giant potato cod, reef sharks and an underwater cave. Much of the coral is growing vertically and would thus be invisible to aerial surveys from which it has been claimed they are ruin. I have six plus hours of extraordinary footage from this trip that needs to be made into more than one documentary. Subscribe for updates to know when the first little film from that expedition is public.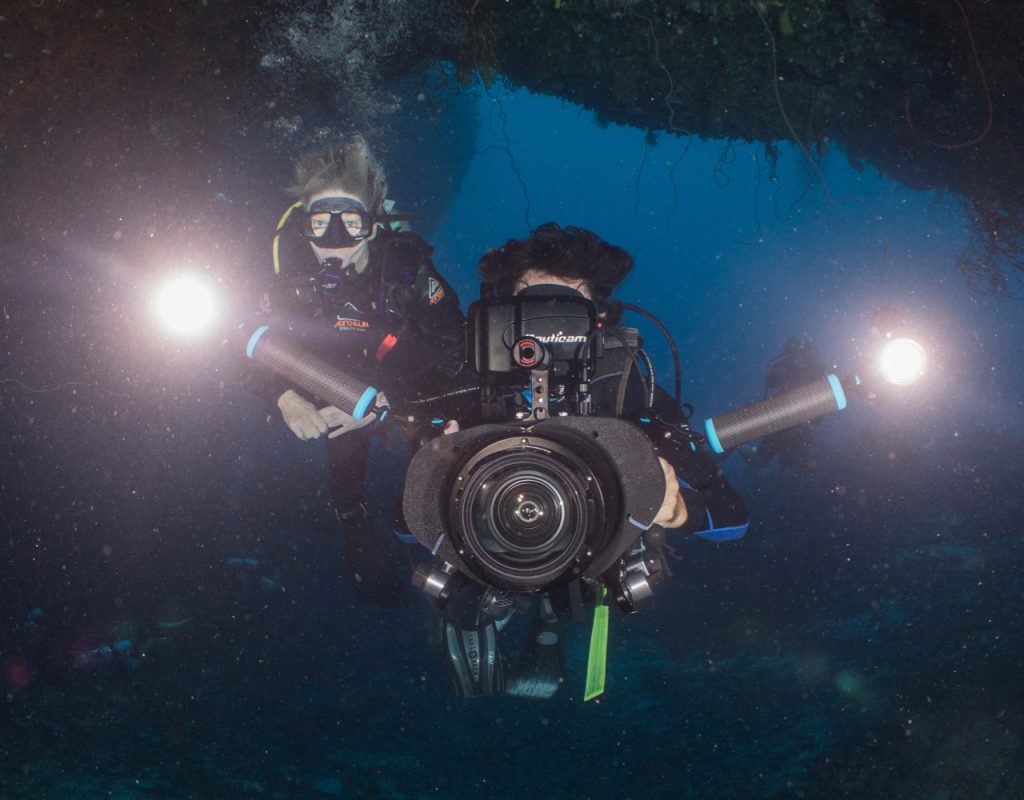 It is a fact that we live on a rotating planet, differentially heated by the Sun, and mostly covered in sea water. The largest body of water is the Pacific Ocean, and on its south western edge is the Great Barrier Reef. This is arguably the largest coral reef system to have ever existed on planet Earth. It is but a thin veneer growing on top of at least five previous extensive reef systems; each destroyed by past dramatic falls in sea level. It lends itself to film making, at least for those prepared to jump over the edge and go under-the-water.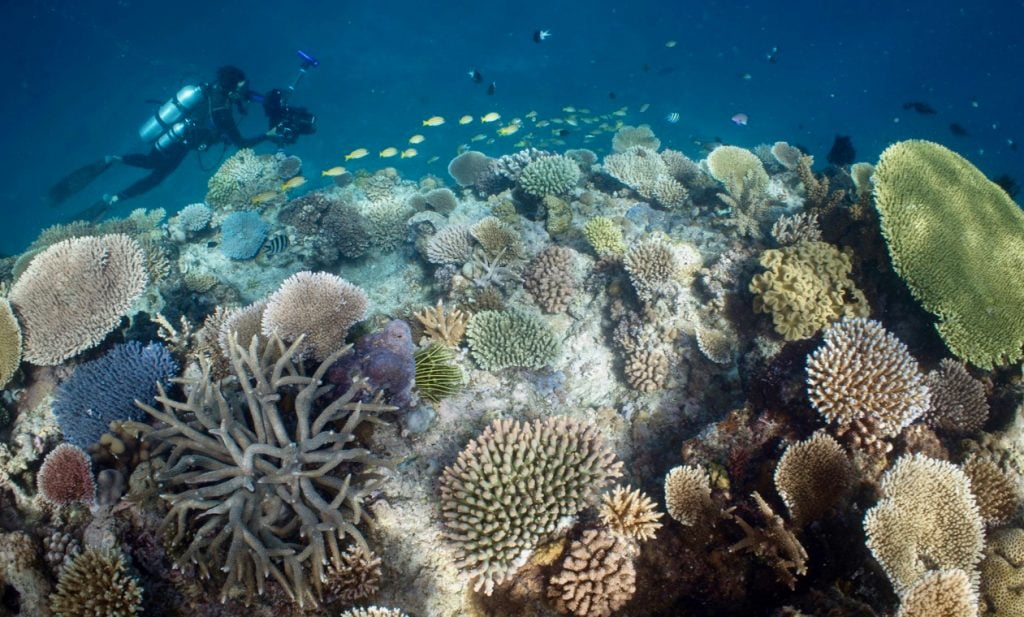 I am a scientist, natural historian, writer and hopefully soon to be film producer. I want to recast the climate narrative away from one of fear, towards awe in understanding natural climate cycles.
I will always base my arguments and conclusions on evidence, and I will always apply logic. Of course, science is a method. Science is never 'settled'. Those who appeal primarily to the authority of science and the notion of a consensus are more interested in politics. Central to the scientific method is the hypothesis that can be tested: that can potentially be falsified. We must therefore always be open-minded, tolerant and ready to be proven wrong.
So much thanks for reading this far!
Jennifer Marohasy
Noosa, Queensland, Australia
16th September, 2020
PS Lost time is never found.