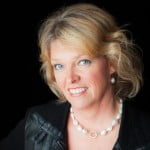 Jennifer Marohasy is a scientist, author and speaker.
Dr Marohasy has a PhD from the University of Queensland, worked for twelve years as a researcher for the Queensland government (much of this time based in Madagascar and then Kenya), six years as environmental manager with the Queensland sugar industry, and then six years as a senior fellow at the Melbourne-based Institute of Public Affairs. She is currently an adjunct research fellow at Central Queensland University funded by the B. Macfie Family Foundation.
STOP PRESS: Jennifer Marohasy recently presented at the Ninth International Conference on Climate Change in Las Vegas. Read and see her presentation on 'The Need for a New Paradigm, Including for Rainfall Forecasting' by CLICKING HERE.
Dr Marohasy is sceptical of the consensus on anthropogenic global warming. In her opinion there is no unifying theory of climate and many drivers of climate change.
Concerned that public policy on environmental issues is increasingly driven by moral crusading, rather than objective science or need, Dr Marohasy has worked to provide an important counterpoint in public debate and discussion. She gives informative talks on rainfall forecasting, fiddling of temperature records, the Great Barrier Reef and the need to restore the Murray River's estuary.
The blog is a gathering place for people with an interest in environmental issues, particularly climate change issues.
The stream in the banner runs through the Grose Valley, Blue Mountains, Australia. The photograph was taken by Dr Marohasy when she visited the famous Blue Gum Forest on 3 February 2008. Contrary to media reporting, it had survived the back burning of a year earlier.