Posted by jennifer, May 18th, 2013 - under Information, Opinion.
Tags: Murray River
Comments: none
MANY South Australians, and the Australian government, and the Murray Darling Basin Authority, claim that it is necessary to have barrages across the bottom of the Murray River because of the upstream irrigation industries [1]. There is no equivalent large-scale irrigation in Singapore, but they have barrages across the Marina channel.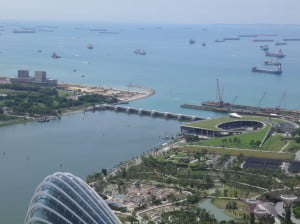 In Singapore, unlike Australia, the government freely admit that the barrages have dammed the estuary to create a freshwater reservoir. Such refreshing honesty.
Singapore is a tiny country with not much freshwater [2]. An official website explains [3]:
"Built across the mouth of the Marina Channel, the Marina Barrage creates Singapore's 15th reservoir, and the first in the heart of the city. With a catchment area of 10,000 hectares, or one-sixth the size of Singapore, the Marina catchment is the island's largest and most urbanised catchment. Together with two other new reservoirs, the Marina Reservoir increased Singapore's water catchment from half to two-thirds of the country's land area in 2011."
"As the water in the Marina Basin is unaffected by the tides, its water level will be kept constant all year round. This is ideal for all kinds of recreational activities such as boating, windsurfing, kayaking and dragonboating…"
And this blog post is to reintroduce you to the revamped Myth and the Murray website that includes more information about the River Murray barrages … www.mythandthemurray.org