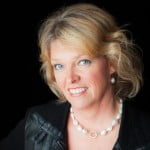 The Australian Bureau of Meteorology takes a revisionist approach to history, changing the historical temperature record so that it accords with the theory of anthropogenic global warming. This process of homogenisation is explained in 'Modelling Australian and global temperatures: what's wrong? Bourke and Amberley as case studies', recently presented at a meeting of the Sydney Institute by Jennifer Marohasy, and published in Issue 26 of the Sydney Papers Online.
Dr Marohasy also recently presented at the Ninth International Conference on Climate Change in Las Vegas on 'The Need for a New Paradigm, Including for Rainfall Forecasting'.
Dr Marohasy is sceptical of the consensus on anthropogenic global warming. In her opinion there is no unifying theory of climate and many drivers of climate change. But she doesn't necessarily agree with everything sceptics have to say, and recently wrote 'Three Facts Most Sceptics Don't Seem to Understand' to encourage skepticism of entrenched dogmas, while warning against opposition to new big ideas.
This home page used to be the blog, the blog is now HERE. Thoughtful comments are encouraged.
There is more to read by Dr Marohasy at The Myth and the Murray website: its all about the need to restore the Murray River's estuary. But if your looking for recent scientific publications best to click here.
****
The photograph that features in the top banner was taken by Dr Marohasy when she visited the famous Blue Gum Forest in the Grose Valley, Blue Mountains, Australia, on 3 February 2008. Contrary to media reporting, the forest had survived the back burning of a year earlier.