LATE last year the Australian government appointed a panel to review the official national temperature record for Australia.  This "homogenized" dataset, which suggests continuous warming since 1910, bears little resemblance to the temperatures as actually recorded.
This has been of concern to me, and also several of my more skeptical friends.  So, we have wasted no time in making recommendations to the panel, and encourage you to read our efforts which can be accessed and/or downloaded here.
In my submission, I suggested that the panel recommend to the Australian Bureau of Meteorology that they:
1. Use the same locations when calculating the average mean temperature for different years.  Adding hot stations later, generates its own artificial warming bias.
2. Start the official record from 1880, not 1910, thus including the hot years of the Federation drought (1895-1903).   To suggest this is impossible because there were no Stevenson screens before 1910 is inconsistent with the historical record.
3.  Don't homogenize individual temperature series, changing actual recorded temperatures, unless there was a documented equipment change or site move.
---
I live in Noosa, and when I am not working on temperature reconstructions or a new experimental technique for long-range weather forecasting using artificial intelligence, I enjoy swimming in the ocean, yoga, meditation and the occasional walk in the rain.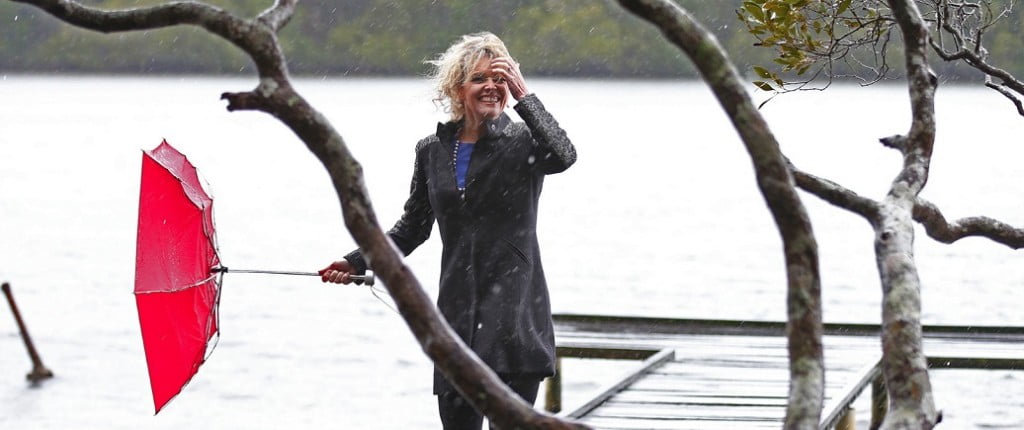 ---
For a list of my scientific publications, click here.  Over recent years I have been published in: Atmospheric Research, Advances in Atmospheric Research, Wetlands Ecology and Management, Human and Ecological Risk Assessment, Public Law Review and  Environmental Law and Management.
I was published every fortnight for about 10 years by The Land newspaper, Fairfax Media Ltd (April 2004 – November 2014).  I resigned as columnist, and also stopped blogging, to concentrate more on my scientific research.  This work  is focused on historic temperature reconstructions and monthly rainfall forecasting.  The two are linked because, with Professor John Abbot at Central Queensland University, I am developing statistical models based on a machine learning technique to forecast monthly rainfall up to 18 months in advance.   The skill of our forecasts is documented in past, and upcoming, technical papers in terms of root mean square errors (RMSE) and mean absolute error (MAE) relative to observed rainfall.  This means that our forecasts could be easily compared in a rigorous and quantitative way against the forecasts from general circulation models including the Bureau's POAMA.  However, so far, the Bureau has resisted any comparisons being made, as I detailed in a letter to Simon Birmingham in August last year, which can be downloaded here.
Our research on rainfall forecasting and temperature reconstructions is funded by the philanthropic B. Macfie Family Foundation.
For many years I have advocated the restoration of the Murray River's estuary, and maintain The Myth and the Murray website.
---
On Line Opinion, Australia's e-journal of social and political debate, has published me since 2003.  The following opinion articles on a variety of subjects relating to management of the natural environment can be accessed here:
Cyclonic inflation – 23/02/2015.  Slots in dyke walls, won't fix mulloway fishery – 3/06/2014. When Ngurunderi walked across the Murray's mouth – 7/02/2014.  No increase in warm nights or mild winters at Bathurst – 30/10/2013.  No increase in hot days at Bathurst – 28/10/2013.  Mulloway, not carp, belong in the Murray River's estuary – 13/08/2013.  FOIA, government-funded climate science and hole-digging – 20/03/2013. Restoring the Murray River's estuary – 26/03/2012. Great Barrier Reef 'research' – A litany of false claims – 10/10/2011.  Carbon tax nonsense – 6/05/2011. Snowy Hydro derivatives play submerges farmers – 17/02/2011.  Snowy Hydro tops up floods with environmental flow – 1/02/2011.  Water Plan will decimate Murrumbidgee frogs – 11/10/2010.  Add salt at the mouth to save the Murray – 6/10/2010.  The battle for the red gum forests – 1/09/2008. Saving the Coorong by restoring its native state – 14/08/2008.  Carbon rationing or freedom – 14/03/2008. John Howard, environmentalist – 24/12/2007.  Rachel Carson: too successful for her own legacy – 28/05/2007. Reef may benefit from global warming – 1/02/2007.  The campaign to stop mining – 15/11/2006.  Windmills are not a solution to this drought – 27/10/2006.  Environment lost in rush to build dams – 7/09/2006. Steve Irwin's legacy to conservation – 5/09/2006. Democracy versus leadership in Poowoomba – 31/07/2006.  So rich, we can afford to keep 'Saving the Murray River' – 10/05/2006. Fat ducks equals fat cows – 18/04/2006.  Costly harvest of ignorant GM campaign – 16/12/2005.  Jared Diamond's gated community of the mind – 4/11/2005. Let's eat kangaroo – 23/09/2005. Greenpeace anti-GM campaign doomed– 15/08/2005. No science and no respect in Australia's anti-whaling campaign – 7/07/2005.  Save the forests: Support evidence-based environmentalism – 6/06/2005. Drip-fed figures – 31/05/2005.  So now Kyoto is a reality, will it get cooler? – 16/02/2005. Beware of doomsday forecasts – 4/01/2005.  The ABS's environmental statistics reporting fails the basic test of rigour – 29/03/2004.  Beware: everyone in the environment debate has an interest to protect – 13/02/2004.  Received evidence for deterioration in water quality in the River Murray – 20/08/2003.