Posted by jennifer, April 17th, 2013 - under Information.
Tags: Animal Rights, Hunting
Comments: 35
I'M often confronted, via my Facebook News Feed, with grotesque images of butchered animals and an expectation that I participate in the emotionally satisfying activity of clicking 'like' and thus demonstrating that I'm against animal cruelty and for conservation. I've never once seen something in my Facebook News Feed that promotes the sustainable use of wildlife. Yet this is more likely to contribute to the long term survive of species like the Rhinoceros.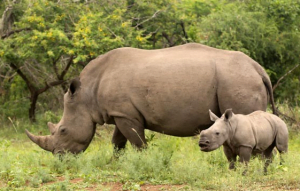 The last few years has seen a dramatic rise in the incidence of rhino poaching. Previously secure populations are now being targeted by aggressive poaching operations, backed by international crime syndicates. Part of the problem is that the legal trade has been banned following campaigning by the ignorant self-righteous.