Insert that word – Ivermectin – even once into a Facebook post and you risk being cancelled, especially if you combine it with the word vaccination.   There was a warning the first time I did it, but more recently everything just disappeared.  Well, it seems that way when I couldn't find the post: not anywhere.   Not even the photograph of Patrick!
I remember when my friend Craig Kelly was cancelled, well more than cancelled, he was eventually properly scrubbed from that social media platform.
The more Craig drew directly from published peer-reviewed studies for his Facebook posts, to ask why Ivermectin was not being promoted here in Australia as a prophylaxis against Covid-19, the more he upset the Facebook gatekeepers.
The gatekeepers claimed it was about 'community standards'.
No.  It was about censorship – and power.
Interestingly, new social media platform Truth Social (aka TrumpBook), is trending as the number one download from the Apple apps store right now.   I hope to be your friend there one day soon, though I'm so far yet to find the time to click across and download that app.
Meanwhile in the real world, those who rule over us have decided that we are all to be vaccinated against Covid-19, not just once but for as long as it takes.   They don't want us to even consider that there could be alternatives, like Ivermectin.
Australia's Chief Medical Officer Paul Kelly keeps repeating that there are no studies with Ivermectin that have shown it to be effective – yet they keep getting published!  There was a summary by Jo Nova last September, and more recently a review of Ivermectin trials published in the American Journal of Therapeutics (volume 28, pages 434 – 460).  This review concludes that given the evidence of efficacy, safety, low cost, and current death rates, Ivermectin is likely to have a positive impact on health and economic outcomes of the pandemic across many countries.  The same review article explains that Ivermectin is not a new and experimental drug with an unknown safety profile. It is a WHO 'Essential Medicine' already used successfully to treat other diseases and very safe at correct doses.  The review article also states: 'Ivermectin is likely to be an equitable, acceptable, and feasible global intervention against COVID-19. Health professionals should strongly consider its use, in both treatment and prophylaxis.'
Yet the Australian government has banned my new doctor from prescribing Ivermectin for use as either a prophylaxis or treatment against Covid.
My Facebook post the day before yesterday seemed innocent enough, and was inspired by a list of studies, not on Ivermectin, but on the side effects of the Pfizer vaccine against Covid-19.  I wrote:
When it came to considering getting vaccinated against Covid in August last year, I didn't go to my usual doctor. I knew she would just arrange for me to be injected with whatever was on offer. It is not that she is a bad doctor, but rather that she has a tendency to uncritically go along with the consensus on most things. Like most people.

I went to the doctor that my friend Patrick had found, a doctor who at that time was prepared to write a script for Ivermectin. That was before it was banned by the TGA.

Anyway, this new doctor (young, foreign-trained) was quite specific in his advice to me. He was against the Covid-19 Pfizer vaccine because he was aware of a growing list of adverse reactions particularly the issue of myocarditis. He acknowledged there are always risks, but he said to me quite bluntly that myocarditis is particularly difficult to manage should you be unlucky enough to get it as a side effect of the vaccine. He said this was not a risk should I be vaccinated with AstraZeneca.

I am perplexed by the number of my Facebook friends who in the public threads, or by messenger, or even to me by email insist that myocarditis is something that is 'easily' managed. As though it is something like the seasonal flu, even the variant of Covid-19 that went through Noosa a month or so ago, something you get over in a few days.

Anyway, a new friend Bud Bromley has put together a list of peer-reviewed medical papers submitted to various medical journals evidencing a multitude of adverse events in covid-19 vaccine recipients. And he begins with Myocarditis and comment that it is: An inflammation of the heart muscle (myocardium). The inflammation can reduce the heart's ability to pump and cause rapid or irregular heart rhythms (arrhythmias). Signs and symptoms of myocarditis include chest pain, fatigue, shortness of breath, and rapid or irregular heartbeats. In a small percentage of cases persons with myocarditis can be at risk of sudden death following strenuous activity. Some sufferers of myocarditis may require heart surgery or a heart transplant later in life.
The list is here:
https://budbromley.files.wordpress.com/2022/02/updated_peer_reviewed_medical_papers_submitted_to_various_medical.pdf
When I started to work my way through some of the published papers in Bud Bromley's list, I was reminded of what was originally promised by the vaccines.
The first paper on his list reminded me that the Pfizer vaccine was meant to provide 94–95% efficacy in prevention of severe Covid-19.   There is no mention that this efficacy lasted but a few months.
The second paper reminded me that none of the clinical trials reported myocarditis as a side effect.   It is now recognised as a real issue, particularly for fit young boys and men who play sport.
Covid-19 has proven to be a problem for certain demographics: the obese, the elderly, those with comorbidities.    And it comes in waves.  It is not likely to be an issue for healthy children – in fact, most of us are not at risk of severe Covid-19.
I am not against vaccines, but I am against the Covid-19 vaccines because the risk to reward ratio doesn't seem to stack-up anymore.   Not for children anyway.   And what is more important than the health of our children.
Gatekeeping is a process by which information is filtered to the public by the media and increasingly by social media platforms.   With the legacy media it was editors who choose which stories would reach people every day.  With Facebook it seems to be more a case of deleting rather than necessarily promoting, though the result may be the same.   We never come to understand the alternatives.
The image at the very top of this blog post is of my friend Patrick at Granite Bay in Noosa National Park a couple of years ago.  I thought it as good a photograph as any to post – with the quick note that I penned for Facebook two days ago.  And I included it as an acknowledgment, that there are some people to whom I owe a debit of gratitude for past efforts to make alternatives like Ivermectin a reality for me.
It was August 2021, there was talk about a vaccine mandate and Craig Kelly had just resigned from the Liberal Party because of all the anguish around him promoting Ivermectin.   I said to him please don't resign you are better staying within the Liberal Party, he said that he couldn't if he wanted to keep researching and reporting on Ivermectin.
Back then, Patrick phoned-about to find out where we could legally source Ivermectin.  He ended-up on the phone to Robert Clancy from Newcastle University.  The professor told Patrick that first he needed to get Thomas Borody's Triple Therapy Protocol and get this to a compounding pharmacy.
As it turned out the compounding chemist told Patrick to get his doctor to call them – they couldn't legally give Patrick the protocol, not directly.
Neither of us knew a doctor who wanted to get involved in all of this, not back then.
Patrick went to some trouble to find a doctor on the Sunshine Coast who would both:
Get the protocol, and
Prescribe it.
Patrick was not deterred when most of the doctor's clinics he phoned cautioned him against Ivermectin – while being unable to justify their position.   They were against it because they had heard it didn't work against Covid.  That remains the myth here in Australia: a widely held but false belief or idea.
They had heard it was for horses and sheep, as though we don't also use antibiotics against a variety of diseases affecting horses and sheep – and also us.
The Triple Therapy that works best against Covid includes an antibiotic and also zinc as well as Ivermectin.
As Jo Nova explains in a more recent blog post, as early as July 2020 El Salvador was trialling kits to treat Covid that included Ivermectin.  Cases were starting to rise, so on August 9, 2020 the President Nayib Bukele made a national announcement that treatment kits and tests were available. Anyone with symptoms could call up the helpline and a box would be delivered to their home. The treatment kits included ivermectin, azithromycin, zinc, Vitamin D, Panadol, and an antihistamine.
It stopped that wave of Covid-19 dead: numbers of people being infected plummeted.
By January 2021 cases were on the rise again and so Ivermectin was made available over the counter without a prescription for anyone to buy at pharmacies – in El Salvador.
Ivermectin, Ivermectin, Ivermectin.
Remind me, why is it banned here in Australia?
There is a lot at stake in all of this: access to safe medicines – and the right to choose given our age and health and the levels of Covid in the community which will change with time.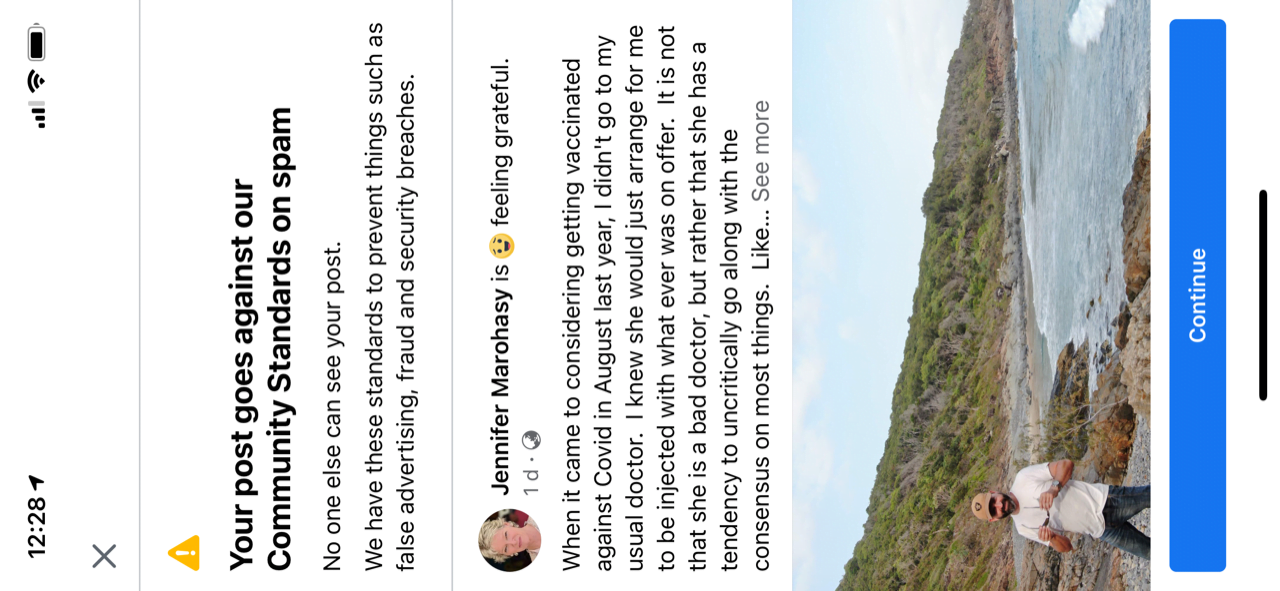 Some 24 hours after Facebook took down my post it sent me advice suggesting that my words, and the picture of Patrick, were spam.   What misinformation!  Ivermectin Ivermectin Ivermectin.
UPDATE
I have not contacted Facebook to dispute the claims, nor did I post anything more about Ivermectin or the vaccine mandates.  However, since late Thursday 24th I've been banned from Facebook for five (5) days.  I'm planning to move my social media activities perhaps to Twitter and also Substack.  I've just opened a Substack account, jennifermarohasy.substack.com  at Twitter I'm JennMarohasy