Being able to sink below the waves at the edge of Australia's continental shelf with the reef sharks and the colourful corals, is a rare privilege that I enjoyed just last week. It is possible because Jacques Cousteau invented the aqualung in 1942 providing a system for breathing and swimming safely at depth.
Ribbon Reef No. 10 is the longest of these most northern outer barriers with an inside (westerly-facing) edge that drops to 40 metres and an outside (easterly-facing) edge that drops vertically to 2,000 metres. This Ribbon also has what are called 'Patches', as shown in the screen shot from drone footage.
At the southern tip of this ribbon is an opening that was once where the Starke River entered the sea; that was more than 16,000 years ago when sea levels were up to 120 metres lower than they are today. This opening is between Ribbon No. 10 and Ribbon No. 10, Patches No. 3.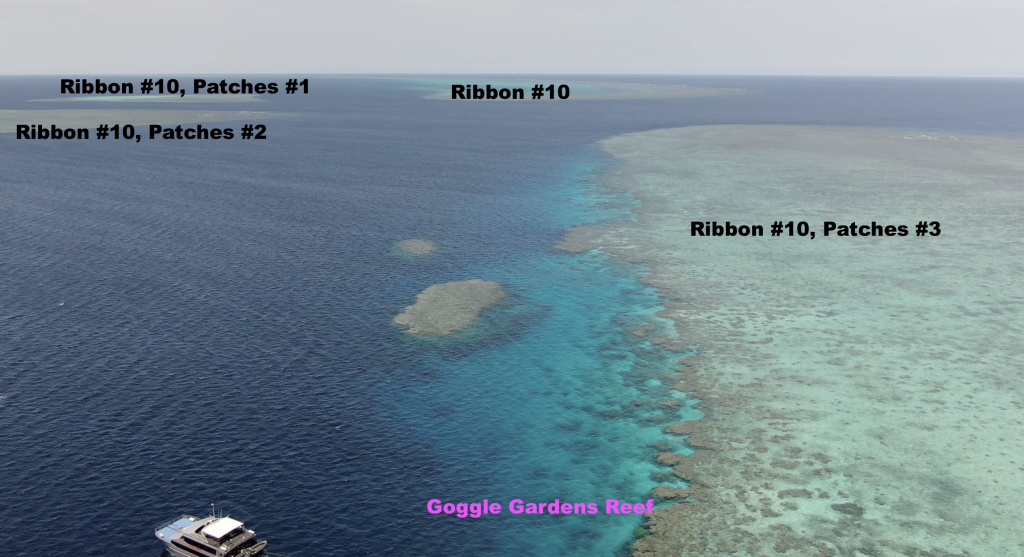 That river canyon is now underwater with strong currents, that wash in nutrient rich upwelling from the Pacific Ocean twice a day. The water rushes in, and then out. So I was pleased that there was a lookout on the top deck of our boat the entire time I was diving, with a tender handy, should I come up in a current that I couldn't kick against and needed to be picked up. In fact, I always surfaced at the stairs to the boat, thanks to the great navigation skills of my underwater buddy.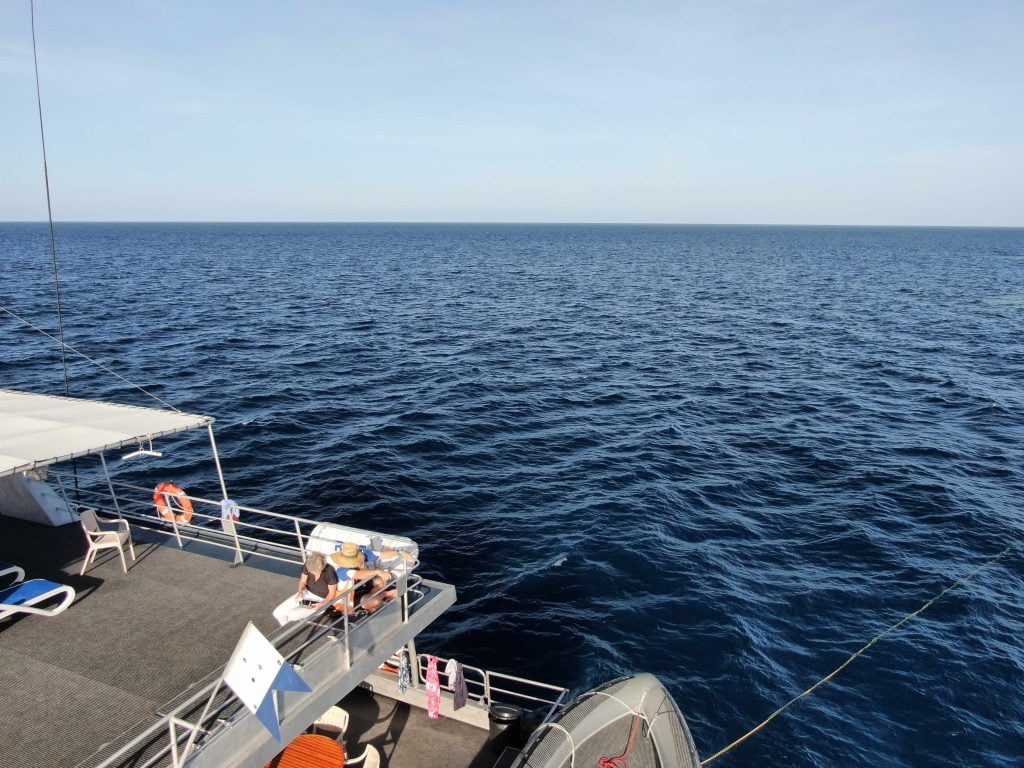 On the sheltered side of Ribbon No. 10, Patches No. 3, is the dive site known as Goggle Gardens. The corals here are at 15 metres and were totally bleached white from March to October 2016.
What I learnt from a diver and her photographs is that white and bleached coral is not necessarily dead coral. The zooxanthellae — unicellular algae that give coral its colours and normally feeds it with energy from the sun via photosynthesis — were expelled, as the corals were stressed by the exceptionally warm waters during the summer of 2015 – 2016.
But the corals at this dive site did not die.
Coral polyps also have tentacles, and these tentacles were used to feed on small animals and plankton and also to clean away bad algae that would otherwise settle and smother it.
So, corals are not necessarily totally dependent on zooxanthellae, they can be omnivorous.
In fact, bleached coral can take-back zooxanthellae, become colourful again, and reshoot after months of being stark white and bleached.
I hope to show how this happened at this dive site in my next mini-documentary.
I've even been told, and may be able to get footage, of bleached corals spawning!
My buddy and underwater photographer dived this site three times last week, and we have so much footage. If you want to know exactly when this film will be released, then consider subscribing for my irregular e-newsletters.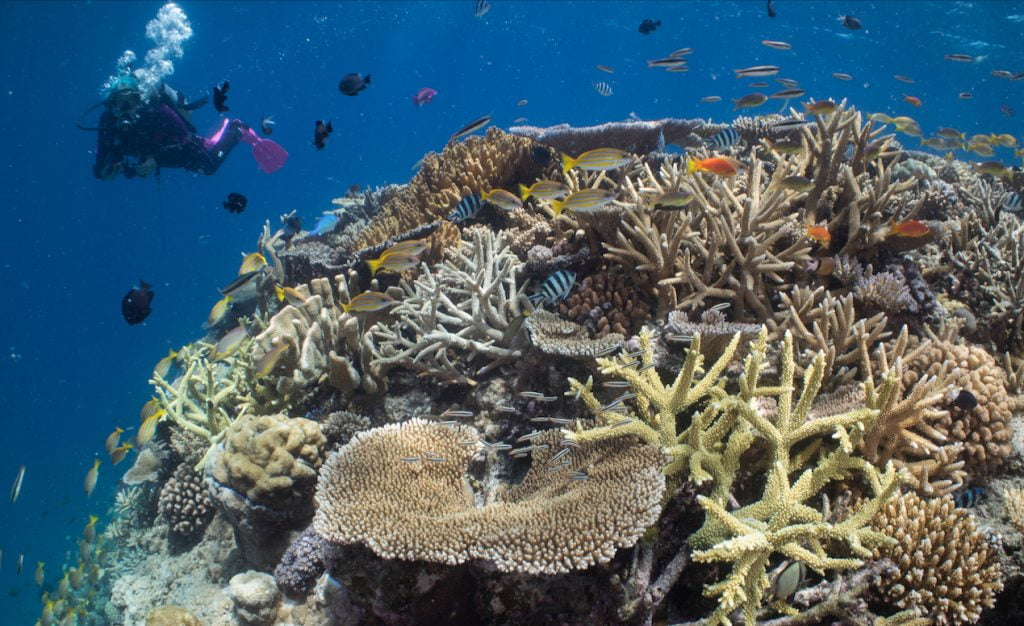 *********
The feature image at the very top of this post is me with a large and friendly Potato cod, taken at one of the Ribbon reefs in January 2020.
UPDATE 10TH FEBRUARY 2020:
The map has been replaced from the original posting, I had incorrectly referred to Patches No. 3 as Ribbon No. 11. There is no Ribbon No. 11.