MOST people rarely venture into nature – they certainly don't spend much time on coral reefs. When they do, they may expect the fish and corals to be as bright, colourful and perfect as the last nature documentary that they saw in full surround-sound on a wide screen.
Such images come from professional photographers staying underwater for hours, perhaps after having waited days for very calm weather, so the water is exceptionally clear. Of course, such photographs are enhanced by bright lighting, so most of the footage would be taken on very sunny days. Also, a great expanse of shallow water – gives depth to the footage, and the further off-shore generally the clearer the water.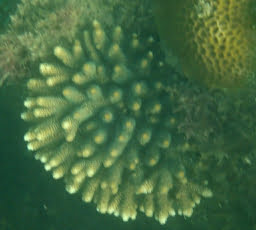 The Great Barrier Reef is vast. If you click onto the webpage at this link you will find zoning maps that give an idea of how long and how wide – in fact the area is visible from outer space.
Scroll down and click on Map 9, and you will find a map showing so many reefs off Bowen.
Bowen has made headlines for some years now – it is the place where Terry Hughes and other leading academics claim the reef is totally dead, and that this is representative of the whole inshore Great Barrier Reef. They are so wrong.
There is so much coral here off Bowen, and there are so many extensive areas of coral reef, and most are a very long way off shore – making the visit to just one of the outer reefs a long day trip by fishing boat.
Because cyclones and coral bleaching are a regular occurrence, the exact state of the corals at particular reef is not always predictable and in constant flux. This has been the case for thousands of years.
The Great Barrier Reef has existed for about 10,000 years: when sea levels rose at the beginning of the current geological epoch known as the Holocene. Because the reefs have been growing up-wards for thousands of years – while sea levels have fallen over one metre in the last 5,000 years – they are very vulnerable to bleaching, particularly when there is calm weather on a very low tide leaving corals high and dry for long periods.
Nevertheless, it is possible to find so much healthy coral, even at Bowen … at Horseshoe Bay, which is just around the corner from Queens Bay that is shown in the far-left corner of Map 9.
I've been in Bowen for several days now … waiting for the strong south-southeasterly winds to ease so we can take the boat out to visit some off-shore islands. The Skipper did take me out late yesterday (when we had a few hours of calm) to see the coral the other side of Bramston reef – I'm meaning beyond the mud flat and reef flat that I walked last Friday on the very low tide.
It is so wrong for Terry Hughes to suggest that this reef has all been reduced to mud flat. That the coral off Bowen is all dead.
There is live coral, and lots of it, at depth at Bramston reef. I got lots of photographs from my cheap camera and just snorkelling (no tank) and I might post more in due course.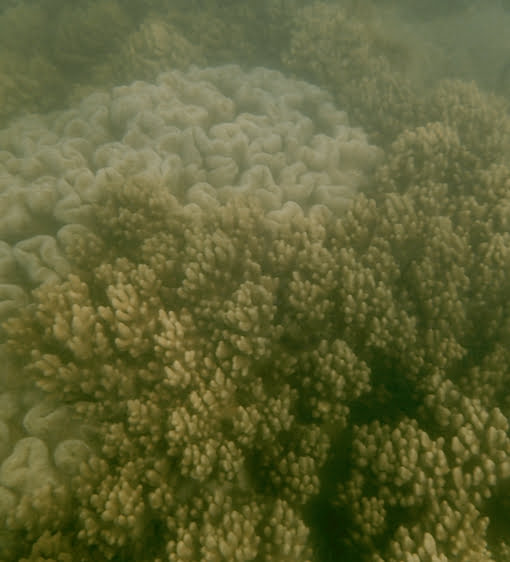 My preference would be to get a professional underwater photographer to take better photographs and as a movie so you can see the full extent of this ancient reef.
Late yesterday some of Bramston reef looked so eerie – then again it is about 4,500 years old.
Someone needs to go down with a good camera and a tank of oxygen and get extensive footage that shows the great diversity, and all the fish – there might even be a crocodile hiding somewhere.
Parts of Bramston reef have been reduced to rubble, some from Cyclone Debbie that hovered over Bowen just two years ago. But there is also new coral, and extensive areas of healthy and live corals at this ancient reef.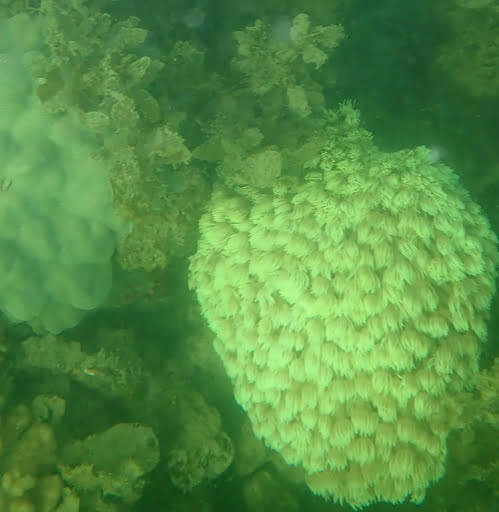 I'm hoping to see another ancient reef off Bowen this afternoon … perhaps the Skipper and Matt will take me to Middle Island.
In the meantime, subscribe at my blog, so you are sure to be one of the first to find out when, and if, I can find a professional underwater photographer to show you ancient Bramston reef, including the crocodile.
If you are impatient and overseas, just jump on a plane and then bus or train it to Bowen. Nicole Kidman has even been here, but she thought Bowen was Darwin. Don't believe Hollywood, the academics or doomsayers (the Elites can be so lame) – there is so much more than mudflats and cowboys at Bowen.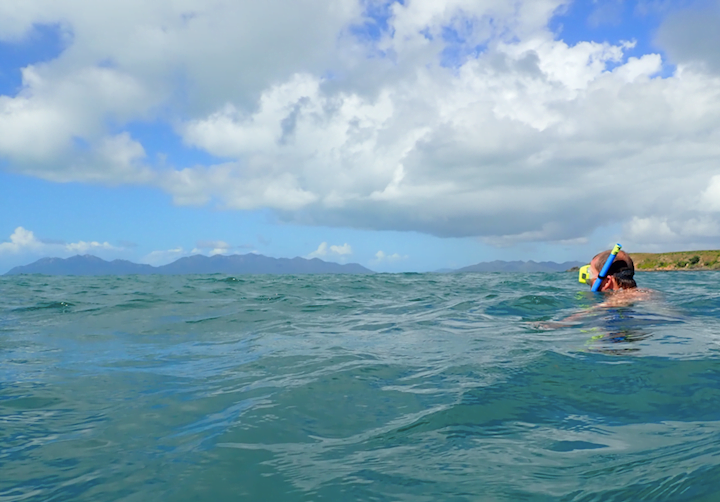 *****
The feature image is of me, and very happy, because I had just been snorkeling at Horseshoe Bay (Bowen) – and there are so many pretty corals, and I saw a sting ray.