FOR over a decade the Bureau of Meteorology, and CSIRO have been predicting on-going drought in the Murray Darling Basin. Hundreds of scientists have been employed –at the expense of tax payers – to run General Simulation Models all predicting the same outcome.  This forecast decline has been blamed on global-warming and has resulted in far-reaching legislative changes, which by reducing the amount of water that can be allocated to grow crops, has affected employment in regional centers.
Yet when we look at the hard data, there has been no overall decline in rainfall. The wettest year in the Murray Darling Basin was 2010 – that is the wettest year since 1900 according to the official Bureau of Meteorology statistics.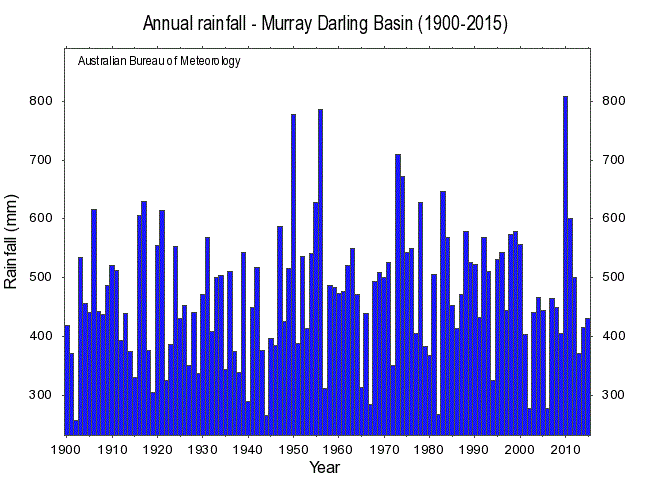 It has also been repeatedly stated that the drought conditions are going to be most pronounced over the cooler months, specifically from April through to October.
Yet the Basin has just experienced its wettest September on record – that is the wettest September since 1900 according to the official Bureau of Meteorology statistics.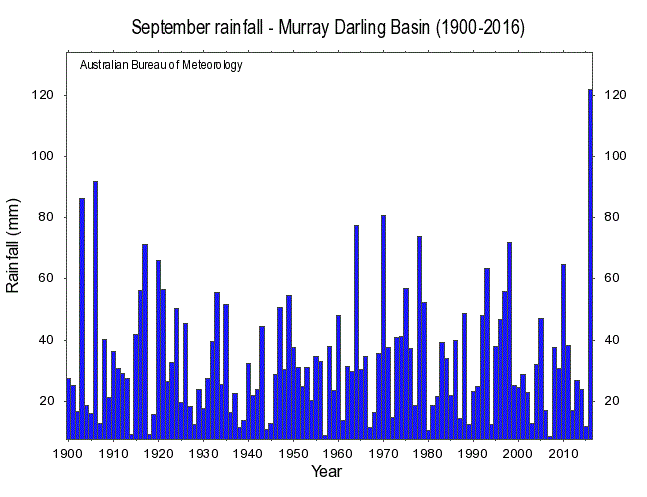 Some argue that the hoarding of water in the dams based on wrong forecasts by the Bureau of Meteorology has exacerbated current flooding particularly along the Murrumbidgee and Murray Rivers – perhaps also in the Lachlan River that runs through Forbes.
The problem is that the Bureau, working with the CSIRO, have become wedded to General Circulation Models, and the failed theory of anthropogenic global warming. Over the last year we have irrigators in the Murray Darling with very limited water allocations, paying ridiculously high prices for temporary water, during a season when even the Bureau was forecating above median rainfall: remember in May while Agricultural Minister Barnaby Joyce was announcing concessional loans, the price of 'temporary water', on the market – increasingly controlled by governments – had increased from $30 per megalitres to almost $300 per megalitres as a direct result of the water buybacks – and limited water allocations for 'general security' water licence holders.  This is no way to run a productive agricultural sector.