SEVERE Tropical Cyclone Ita, Category 5, is expected to move in a general southwest direction towards the far north Queensland coast tonight and into Friday, while possibly intensifying further. That's the advice at the Bureau of Meteorology website.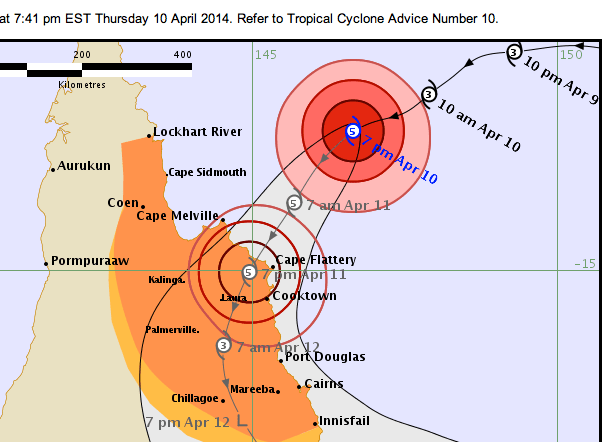 Neil Hewett, who has contributed so many beautiful photographs to this website, and his beloved Cooper Creek Wilderness, are in the anticipated path of the cyclone.
I know Neil built the family home, nestled in the the oldest surviving rainforest on earth, with a cyclone bunker: a specially reinforced windowless pantry. That is where Neil and his family sheltered through Cyclone Yasi, a category five that hit the Daintree Rainforest in 2011.
Anyway, my thoughts will be with the Hewett family over the next couple of days.
Update: Hewett family and cassowaries survived Ita! Walking trails have already been cleared of debris and Cooper Creek Wilderness is back open for business. Neil expects that there will be increased flowering and fruiting over the next year, and perhaps even two breeding periods for the cassowaries, in response to the cyclone. More here…http://www.ccwild.com/enews/display.php?M=1776&C=46f0d1866283fd3d64930902be67673c&S=366&L=14&N=114