THERE has been much commotion in the Australian media about the Western Australian government's plans to introduce drum lines to cull an increasing shark population.
While the ABC has been interviewing experts from around the world about the potential impact of this program on shark populations, I'm yet to hear any mention of the current program that has been in place for decades now off the east coast of Australia.
Indeed just off Lammermoor Beach, near where I live some of the time in central Queensland, you can see yellow plastic floats. They are attached to chains with large hooks and fresh meat designed to lure and kill sharks.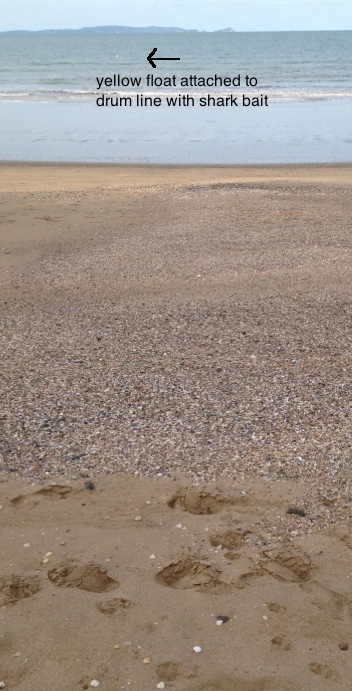 The local paper proudly announces the kill at the end of each year. A total of 111 sharks were caught off the combined Capricorn Coast beaches of central Queensland in 2013. The breakdown is as follows:
43 bull whalers
23 long-nose whalers
18 tiger sharks
12 blacktip reef whalers
9 spot-tail whalers
3 great hammerheads
2 sandbar whalers
1 bronze whaler
I often walk along Lammermoor Beach but I don't much swim there. I find the yellow plastic floats off-putting, along with the stingers, stingrays, and I worry about encountering a wandering crocodile. In fact very few people swim at Lammermoor beach so I wonder why they even bother with the baiting program?
The history of the Queensland program is detailed here:
"The Queensland (QLD) Shark Control Program was introduced to the Gold Coast, Sunshine Coast and Cairns in 1962 and was extended to include Townsville and Mackay in 1963. Since then, the Program has been extended to include Rockhampton (Capricorn Coast) (1969), Bundaberg (1973), Rainbow Beach (1974), Tannum Sands (1983) and Point Lookout (1984) (QLD DPI, 2003). There have been frequent changes to the location and configuration of shark control equipment (mesh nets and drum lines) within each of these areas since the Queensland Shark Control Program was implemented in 1962 (Anon, 1998). The most recent major change to the configuration of shark control equipment occurred in 1992 and 1993, following a review of the operation and maintenance of shark meshing equipment in Queensland (Anon, 1992). In 1992 and 1993, mesh nets were replaced with drum lines in many areas, in order to reduce the catch of non-target marine species, such as dugongs, dolphins and whales.
In Queensland, mesh nets and/or drum lines are currently used on 84 beaches, within 10 districts (known as contract areas). The Queensland Government reports that a total of 338 drum lines are deployed across the 10 contract areas and a total of 37 mesh nets are deployed across 5 contract areas (Cairns, Mackay, Rainbow Beach, Sunshine Coast and Gold Coast). Nets are replaced with drum lines during whale migration and turtle seasons in some areas (Anon, 1998). In Queensland, shark control equipment remains in the water the entire year round, except in Cairns and Rockhampton (Capricorn Coast) where equipment is seasonally removed (Anon,1998; Queensland Shark Control Program). Each piece of equipment used in the Shark Control Program is serviced every second day, weather permitting (QLD DPI, 2003). Regular servicing of equipment means that non-target marine species caught on shark control equipment are more likely to be released alive."
***
Picture of Lammermoor beach with yellow float taken sometime over the last year.