I've been reading about the Commission: the Climate Commission established to provide all Australians with an independent and reliable source of information about the science of climate change.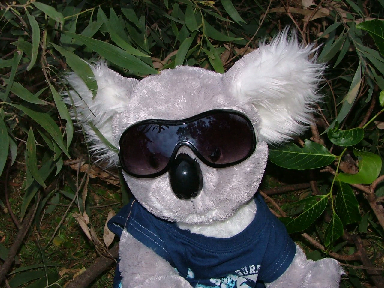 Two of the commissioners, Professors Will Steffan and Lesley Hughes, have just published a report stating that New South Wales is becoming hotter and heatwaves will become more severe.
My name is Mr Koala Bear and I've been studying their report 'The Critical Decade: New South Wales Climate Impacts and Opportunities'. And that is not what the data says, not all the data.
Scientist Basil Beamish begins at the beginning. He has plotted climate data for two sites in NSW for which there is data back to 1890: Bathurst (pink line in chart) and Observatory Hill (blue line in chart). One of these is an inland site and one is coastal. One is to the east of Parramatta, the site favoured by the Cimate Commissioners and one is to the west.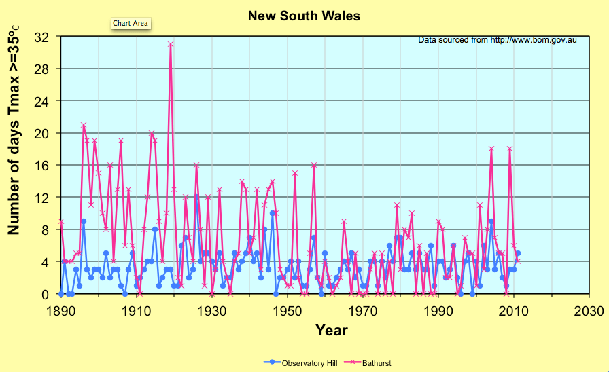 This data suggests that that it was hotter back in the period 1910 to 1930. It was indeed very hot at Bathurst in 1919 with more than 31 days above 35.0°C (pink line in chart).   At Observatory Hill, the hottest year measured by days above 35.0°C was 1926 (blue line in chart).
If Professor Steffan and Hughes are going to make statements about temperatures trends they have an obligation to consider all the instrumental data that is available. I mean they have an obligation to begin at the beginning, not 1960 as they do in their very misleading report.
I am not keen on the idea of counting day above 35.0 °C by calendar year as a measure of global warming. A problem is that the calendar year separates the hot months in each summer; it arbitrarily splits this one discrete period into two repeatedly. But never mind, if the Commissioners want to do this they can. But they must start at the beginning.
Professors Hughes and Steffan have no business being Climate Commissioners.
I want to start a petition: Basil Beamish for Climate Commissioner!
************
Support independent media. Make a donation so Jen and I (Mr Koala Bear) can get this website a makeover. I want some new buttons linking to my Facebook site and also a petition for Basil Beamish for Climate Commissioner.
Send dollars here by bank transfer:
Jennifer Marohasy
BSB 06 4449
Account Number 10376039