Exquisite: that is my word for an important book published this year, entitled 'A Stray Liana'.
It is replete with the most beautiful photographs all by Neil Hewett, and all taken amongst the Daintree Rainforest where he has lived for perhaps two decades now.
Before that Neil lived for seven years within a remote Northern Territory Indigenous homeland.
The book is not just exquisite photographs, but Neil's story about reconnecting with nature: how we are a part of nature with an obligation to manage our landscapes wisely.
Neil has long argued that it is only through the sustainable harvest of our natural wealth that wild places and wild creatures can truly flourish.
'A Stray Liana' is a large and heavy book replete with wildlife and also wise words.
On pages 248 and 249 there is a Chameleon Checko (Carphodactylus laevis) drinking from a leaf. The image fills the entire two pages and yet we only get to see the eyes and snout of the creature! This is enough to discern a personality.
Another favourite for me is the Northern Barred Frog (Mixophyes schevilli) sitting so quietly in that stream. Then there is the bright yellow moth caterpillar (Dysphania numana) like something from outer space daring a bird to not eat it.
If you are looking for the ultimate Christmas present, this book is it:
https://www.astrayliana.com.au/product/a-stray-liana-book/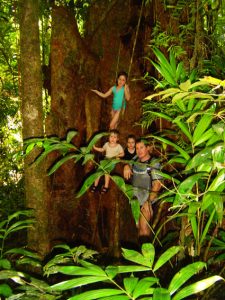 ****
Neil shared the image of the lichen spider that features at the top of this blog post with me many years ago. I have a whole collection of them, different lichen spiders … from the Daintree, from Neil.