ALWAYS in search of an ultimate truth, I'm rarely one to admit that everything is relative. When it comes to shorelines and the age of 'wave cut platforms', however, there is no escaping it … the relativism.
The sea and the climate are modelling our coastline as a sculptor might work a piece of clay … except over a longer time frame, and the shoreline is made of materials that are much tougher and much less consistent than clay. I'm specifically referring to the coastal sandstones, and also the granites, and even the igneous intrusions (from past volcanoes), along the coastal track from Main Beach at Noosa Heads to Hell's Gates in Noosa National Park.
Geological time can be thought of in terms of the last few thousand years, the last few 100 thousand years, and also in terms of millions of years.
Over these periods sea levels along the east coast of Australia have risen, and fallen, and risen again. The factors causing the change in sea level over these time periods can be understood in terms of the varying orbits, tilts and wobbles of the Earth around the Sun, and also the varying levels of radiation emitted from the Sun. There are other factors. For example, varying declination of the moon may cause a 18.6 year pattern in sea levels. But this is unlikely to leave a mark on the shoreline … unless there are corals, as I will discuss at the Maroochydore Surf Lifesaving Club this Sunday*.
*****************************
If you are coming on Sunday, please book here: https://www.trybooking.com/book/event?eid=520591
******************************
Waves pound at cliff faces. Sometimes until they are cut back to sea level.
So, along the east coast of Australia – along the path I often walk from Hasting Street/Main beach to Hell's Gates – and back, I find what are called by geologists 'wave cut platforms'.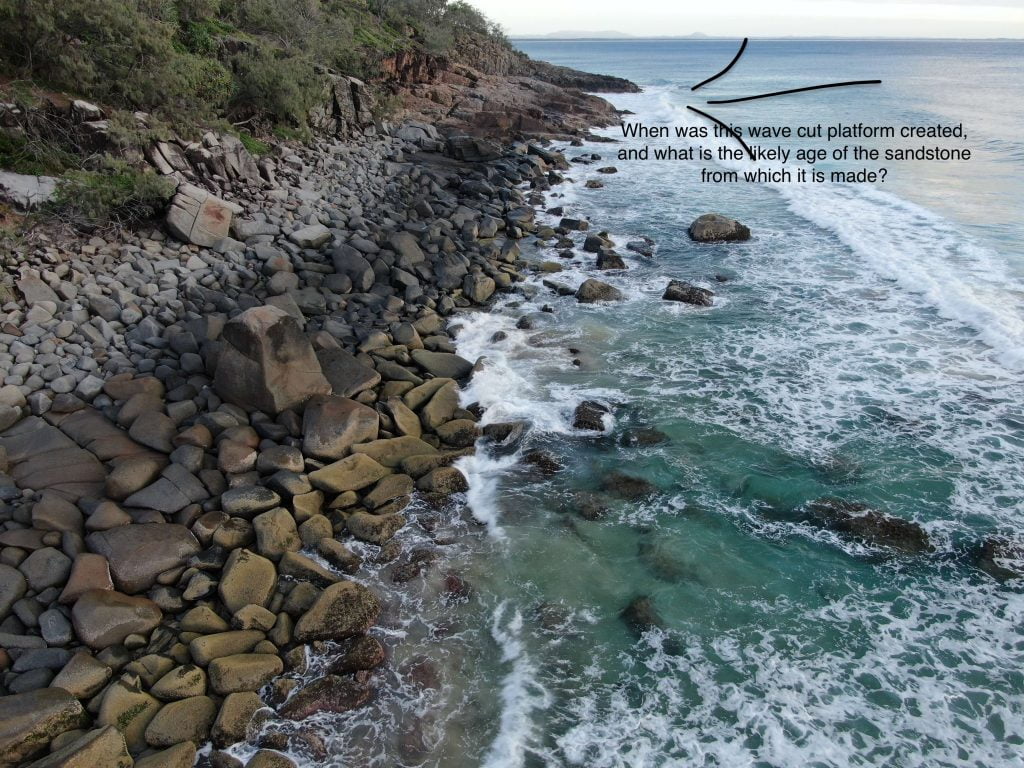 These 'wave cut platforms' exist where the sea has cut into the cliff face, creating a flat area that we would expect to be at sea level.
Well … we would expect the wave cut platform to be at sea level only if sea levels did not change.
If sea levels are rising then these platforms should be underwater.
The potholes in the rock platform to the north of Tea Tree Bay are above the high tide mark. These holes in the sandstone are thought to be formed from boulders working as grinding stones in the surf, as explained in the comments thread of a previous blog post.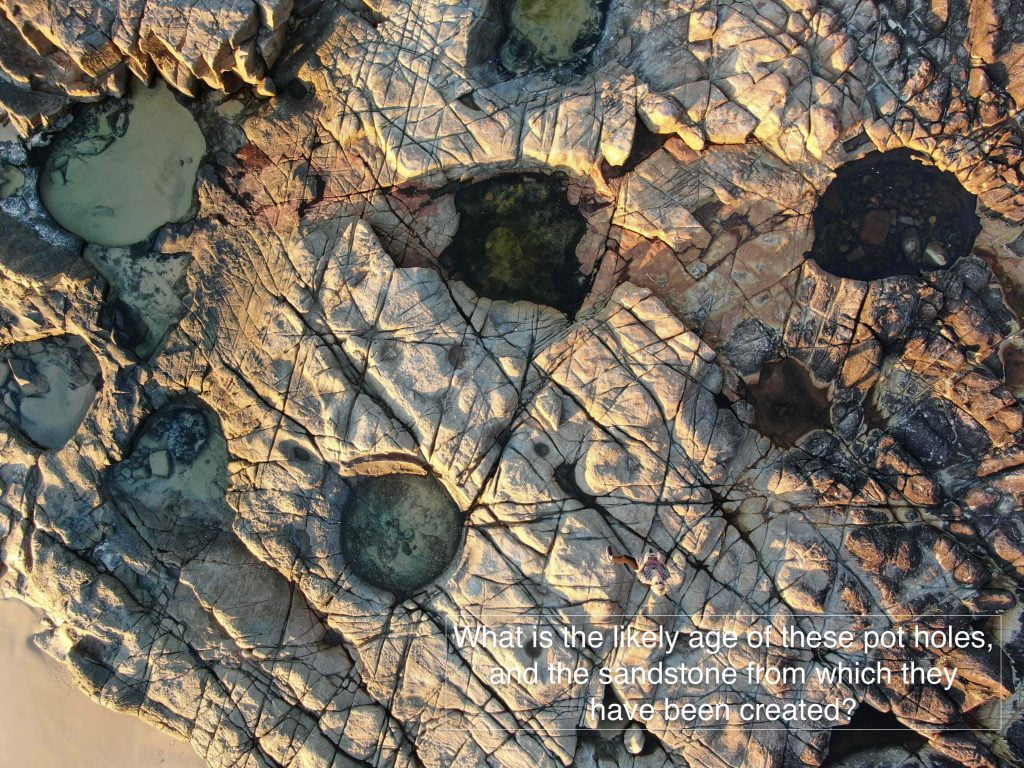 Mostly, I see wave cut platforms above sea level. Yet, the east coast of Australia is often defined by geologists as a "relatively young sea-coast" — for example in W.J. Dakin's book entitled 'Australian Seashores'.
Where there are rock platforms that are well defined, yet a couple of metres or so above the highest tides, is this perhaps evidence that sea levels have fallen relatively recently. But exactly when?
This blog post is partly a shout-out to knowledgeable geologists …
Considering the coastline in these pictures taken from my new drone (called Skido):
1. When are the sandstone platforms likely to have been cut by the waves?
2. Would the rock platform with the pot holes have been cut during the last inter-glacial period from perhaps 140,000 to 120,000 years ago?
3. Is there any evidence of the more recent Holocene high-stand, which I understand to have been about 6,000 years?
I understand that sea levels were about 2 metres higher 120,000 years ago, and about 1.5 metres higher 6,000 years ago?
According to Warwick Willmott's book entitled 'Rocks and Landscapes of the Sunshine Coast' the headlands of Noosa, Coolum and Point Cartwright were islands during the last inter-glacial.
In between this last-interglacial and the beginning of the Holocene (some 11,600 years ago) we had a fall in the sea level of about 150 metres along the Sunshine Coast – I'm quoting again from Warwick Willmott.
I should like to take some photographs of the underwater platforms that are evidence of the 150 metre fall in sea level. So, how far off the coast will I need to send my drone?
*****************
UPDATE 11 JUNE 2019
I've walked over these potholes at high tide, and was sure the surf didn't get that far … but I had to check, and get some photographs to be sure. So, I went this afternoon for what was a relatively high tide of 2.0 metres at 4.30pm. The highest for this year was 2.32 metres on 22nd January. The second highest will be on 1st August at 2.27 metres.
Anyway, following are three photographs (from today on the highest tide) to provide additional perspective.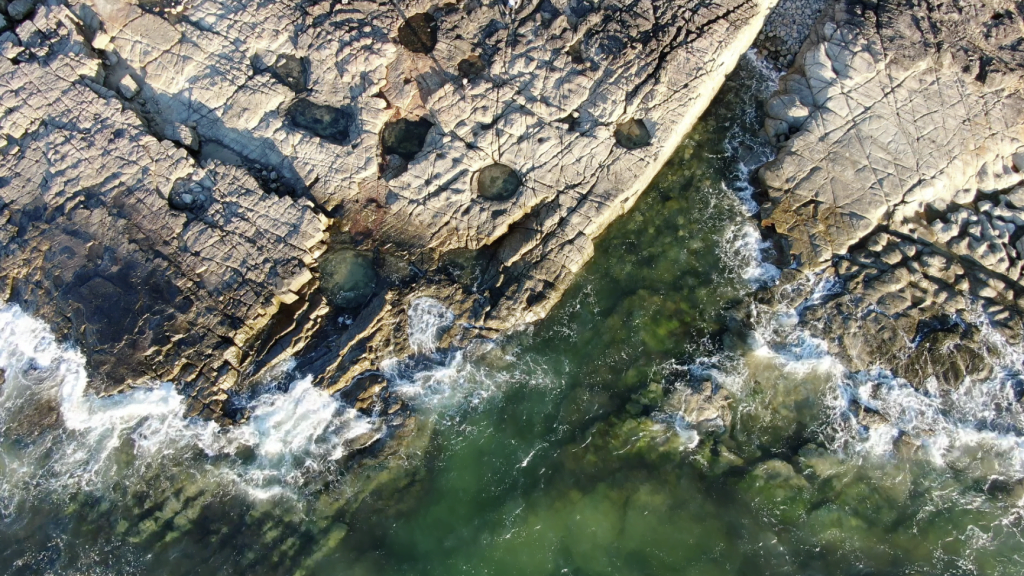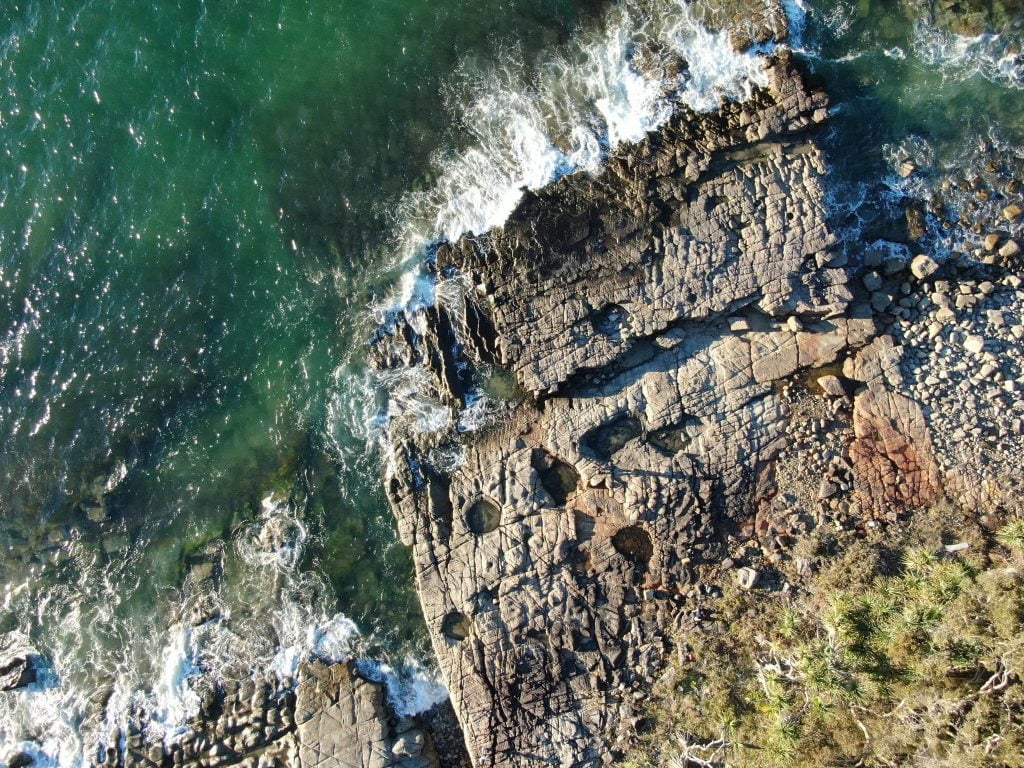 A photograph of the pot holes, on the very high tide today, 11th July 2019./caption]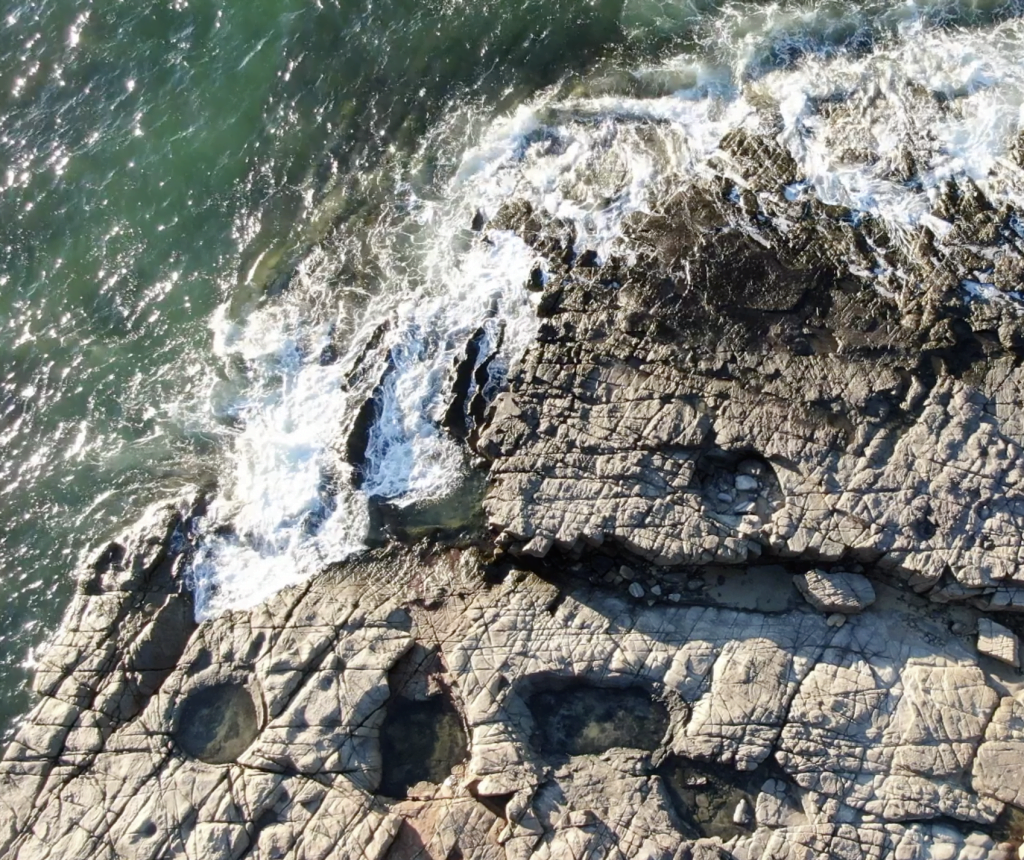 ****
*I shall be showing these photographs of rocky landscapes, and many more of corals, at the Maroochydore Surf Lifesaving Club this Sunday (14th July) at 2pm. Coral can give us an indication of sea level fall over much shorter time frames, for example, since 1950 as I will show on Sunday.
Everyone is welcome at the surf club, entry is $10, please register online here. The instructions are to go to Level 3, which is the Conference Room. The address is 36 Alexander Parade, Maroochydore. I'm told the $10 includes afternoon tea!