TWO weeks ago, in response to my queries the Australian Bureau of Meteorology acknowledged that it had put in place limits on the lowest temperature that an individual weather station could record.  So, when the automatic weather station which now operates in the town of Goulburn (not far from Canberra), recorded a measurement of minus 10.4 degree Celsius, the 'quality control' system in place 'corrected' this to minus 10.0 degree Celsius. None of this is denied.  When we protested, the Bureau emailed:
"The correct minimum temperature for Goulburn on 2 July, 2017 is -10.4 recorded at 6.30am at Goulburn Airport AWS… The Bureau's quality control system, designed to filter out spurious low or high values was set at -10 minimum for Goulburn which is why the record automatically adjusted.

The error was picked up yesterday internally and quality control processes are being reviewed for those stations where temperatures below -10 are possible.
Further attempts at clarification have been met with stonewalling. Though after three days the Bureau did insert the correct measurement of -10.4 degree Celsius into the CDO dataset, where -10.0 had previously been showing.
I reported some of this in a note for The Spectator.
I had assumed that after this unfortunate incident the Bureau would remove the new absurd limits on how cold a temperature could actually be measured.   Indeed, the implications for the integrity of invaluable historical meteorological records are too horrible to contemplate.
I suffer, however, from a propensity to always check things.  So, when I thought temperatures might yet again dip below -10.0 degrees Celsius somewhere, I set my alarm for 5am, to get up early that morning to check (yes check) the values actually being recorded by the new automatic weather stations — particularly those scattered across the Australian Alps, given the weather-setup.  Then I would be in a position to subsequently check (yes check), to be sure any values measured below -10.0 were also taken forward into the official raw temperature dataset.
So, last Sunday morning (16 July) I got up at 5am and started checking the latest weather observations for the Snowy Mountains, including the locations of Perisher, Cooma and Thredbo.  At 5.30am the automatic weather station at the Thredbo Top Station (Number 071032) showed -10.4 degrees Celsius. I took a screenshot, and saved it on my computer.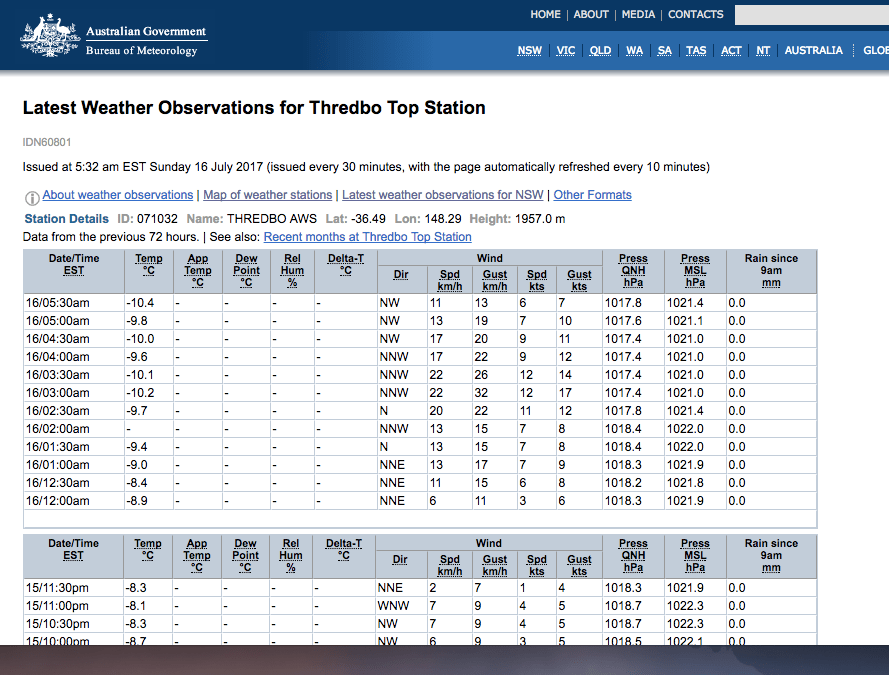 This 'latest weather observation' pages automatically refreshes every 10 minutes. So, if this value was going to be erroneously reset to -10.0 — as the Bureau wrongly reset the -10.4 recorded at Goulburn two weeks earlier — I would want the screenshot as evidence.
I thought this would probably be the end of it.  Temperatures have actually got as low as -14.7 at Thredbo Top Station – with this value recorded on 28th July 1980.  Surely the Bureau would not reset the cold, but not exceptionally cold, value of -10.4 at Thredbo that I saw measured at 5.30 by that AWS on Sunday 16th July 2017.
Nevertheless, the next morning (Monday morning) I checked the 'Daily Weather Observations' sheet for the Thredbo Top Station at the Bureau website to be sure that the value of -10.4 had indeed been brought forward as the lowest value recorded so far this month at that weather station.
But alas! There was no minimum value recorded for Sunday 16th July.  And the sheet stated that -9.6 was the lowest/the coldest value so far recorded at Thredbo this July 2017.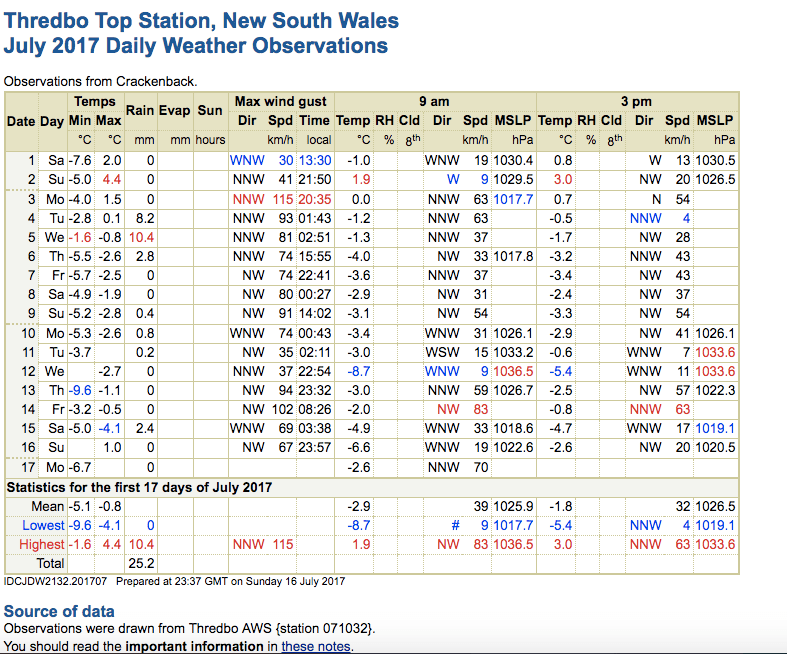 This morning (Tuesday), I held out some hope that the correct value of -10.4 would nevertheless be recorded in the CDO database as the minimum for Thredbo on Sunday 16th 2017. But alas, they are again leaving a blank.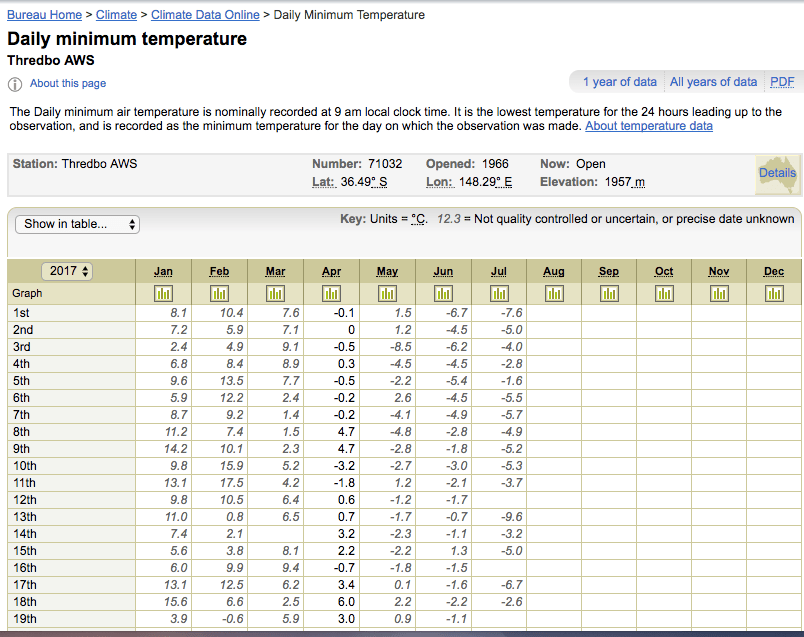 This is unforgiveable, surely someone is going to be sacked?  This either reflects an extraordinary incompetence, or a determination to prevent evidence of low temperatures.
While the Bureau just two weeks ago was adjusting values below -10.0 to -10.0 creating something of a bodge at Goulburn, they now appear to be leaving a blank — at least at Thredbo.
We know from the Climategate emails that the Manager of Climate Monitoring and Prediction at the Bureau, Dr David Jones, has little regard for numbers.  He wrote in an email on 7th September 2007 (ten years ago) that: "Truth be know, climate change here is now running so rampant that we don't need meteorological data to see it."
*****
Additional information