Despite an exceptionally cool end to this October, the CSIRO and Bureau of Meteorology have just put out a joint report claiming that there is going to be an increase in the number of hot days and thus an increased risk of devastating bushfires — based on homogenised (remodelled) temperatures, of course.
CSIRO experts forecast bushfire risk based on Bureau temperature data, but they don't first undertake any quality assurance of the Bureau's data.
If we consider one of the best long and continuous temperature series for southern Australia, which is the Rutherglen raw temperature data, and just maximum temperatures in summer: the hottest summer was back in 1938-1939, as shown in this chart.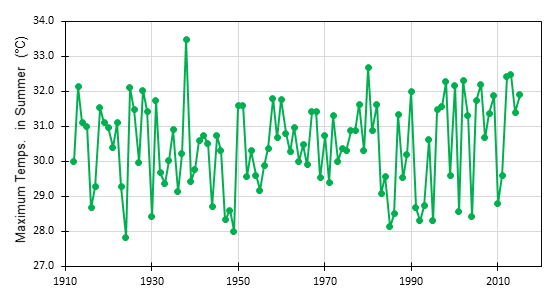 On 13 January 1939 this region experienced one of the worst bushfire disasters in Australia's history; it became known as Black Friday.
At 33.5°C, the summer of 1938–39 was 2.2°C hotter than the average maximum temperature during the ten most recent summers at Rutherglen, and a full 3°C hotter than the average maximum summer temperature at Rutherglen for the entire period of the record.
And yet today the Bureau and CSIRO are suggesting we should be concerned by a 1°C increase in average temperature over the last 100 years.
Rather than fear mongering, the CSIRO would do well to actually consider the actual integrity of the data being provided by its partner – the Bureau of Meteorology.
In a recent article published by On Line Opinion, I explained that the difference between the official-adjusted maximum temperature for Rutherglen on 13th January 1939 versus the actual measured value is rather large– more than 5 °C. Historical temperature data is used to model and forecast the likely impact of future bushfires, with Fire Danger Indices sensitive to small changes in temperature.
********************
1. The BOM-CSIRO State of the Climate report is here http://media.bom.gov.au/releases/308/state-of-the-climate-2016-delivers-the-latest-science-on-our-changing-climate/ , some media is here http://www.abc.net.au/news/2016-10-27/bom-csiro-forecast-more-hot-days-fire-season-climate-change/7968992
2. Homogenised temperatures, and planning for bushfires
http://www.onlineopinion.com.au/view.asp?article=18490&page=1