ACCORDING to a Marxist, and good friend of mine, 'the left' has lost its way because too many adopt the 'correct line' on issues without any need to investigate first. In essence, they have stopped thinking.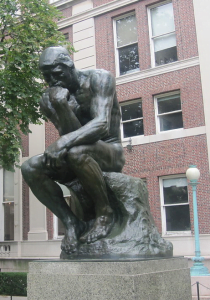 All this is explained in his first post at 'C21st Left' with the slogan/subheading, 'Sous les paves, la plage!' (beneath the paving stones, the beach).
But it's not just the left that has stopped thinking.
After I returned from the Heartland Climate Conference in Las Vegas I penned 'Three facts most sceptics don't seem to understand', as I despaired the absence of critical thinking, and
enlightenment values, in the most popular keynote addresses. I suggested that scepticism should be of entrenched dogmas, while supporting ideas and research that can potentially contribute to human progress.
My favourite Marxist touches on similar themes in his first blog post:
Support Progress. I use a capital 'P' in order to stress that there is such a thing. It happens through human imagination, ingenuity and engineering. As Engels pointed out long ago, humans are distinguished from all other animals in that we can create what we can imagine.

Harmony with Nature – Sustainability – have never been part of the left's lexicon. Marxists believe in unleashing the productive forces through the further mastery of Nature and through freeing research and production from the social relations imposed by capital. This is the opposite of the 'green' world outlook.
Here the Marxist is directly attacking the romantic vision that is now very much a part of correct thinking in Australia.
While this blog is normally focused on issues concerning the natural environment, I'm opening the following thread to thoughtful comments on the more general topic of 'correct thinking' with the addition of the following comment from 'C21st Left':
Internationalism: 'they' are 'us'. Be 'they' oppressed people resisting a fascist regime in Syria or asylum seekers reaching our shores in unauthorised boats. Or 'foreign workers' arriving lawfully on special visas. In a globalising world, humanity is one, as never before.
The circles one mixes in too often dictate responses to such issues as sustainability and immigration, when what is perhaps needed is more critical thinking.
A problem, to quote C.G. Jung, is that, "Rational argument can be conducted with some prospect of success only so long as the emotionality of a given situation does not exceed a certain critical degree. If the effective temperature rises above this level, the possibility of reason's having any effect ceases and its place is taken by slogans and chimerical wish-fantasies."
Empty slogans and wish-fantasies can be found everywhere and on all sides. The secret is, perhaps, to check whether or not we are 'thinking', rather than just adopting 'a correct line' dictated by someone who stopped thinking long ago.