Last night I presented a paper for the Sydney Institute entitled 'Modelling Australian and global temperatures: what's wrong? Bourke and Amberley as case studies'. The paper written with Ken Stewart, Dennis Jensen and John Abbot concludes with some thoughts on the New South Wales annual mean maximum temperature record. In particular we suggest that the record can be thought of as showing a cooling trend of -1.95 degree per century to 1960, and a warming trend of 2.48 degree per century since, Table 1.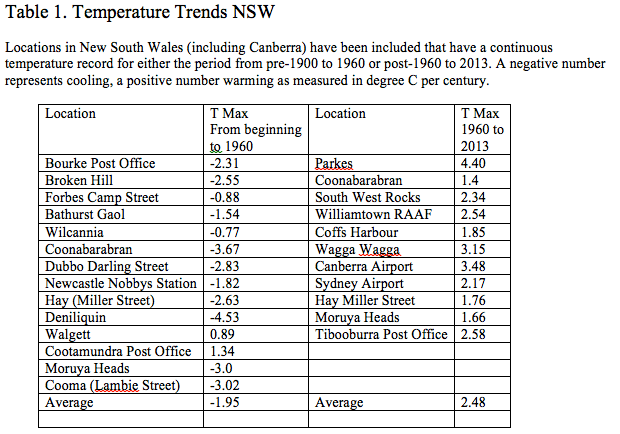 Taking these values and thinking about them in terms of a rate of cooling for approximately 70 years (1890 to 1960) and then a rate of warming for 54 year (1960 to 2013), we can estimate how much New South Wales cooled and then warmed. The sum of these values gives us the net change, a value that if we then multiple by a total period of 124 years, gives an indication of the rate of cooling per century.
This trend of -0.021 degree C per century suggests that the earlier cooling was almost, but not completely, negated by the later warming. To be clear, the overall temperature trend for New South Wales, calculated from the unhomogenized maximum temperatures as recorded at locations with long series, is one of cooling.