I first meet Ray Evans at a dinner at the Institute of Public Affairs. It must have been in about 2004, ten years ago, because I had just seen the movie 'The Day After Tomorrow'. Staring Dennis Quaid as a paleoclimatologist professor, the movie was about the Gulf Stream shutting down resulting in catastrophic global cooling and a new ice age.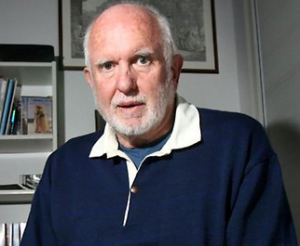 We were seated at the same table and I mentioned that I had enjoyed the movie, that it had been entertaining. He was scathing of my comment, while admitting he hadn't seen the movie, and didn't intend to. He understood that it was themed around advocacy for anthropogenic global warming. Ray was already vehemently opposed to the new doctrine. While he wasn't keen to discuss the plot of the movie, he was keen to engage me in a discussion of the Gulf Stream.
I think that the next time we meet was at a lunch in Perth, also hosted by the IPA. On that occasion he was scathing of my suggestion that wind turbines could be beautiful. I may have also attempted a defence of wind farms as a source of renewable energy. But was properly put in my place by Ray who had a great depth of knowledge, not only of the economics of wind farming, but also of the quantities of steel and cement used in the construction of each turbine and their associated carbon footprint.
Whenever we met, he always managed to challenge my opinion and impart new knowledge and win the argument.
I now know a lot more about renewable energy, especially after reading an article by Ray full of useful facts and distressing politics published by Quadrant in July 2012 entitled 'The Ruinous Privileges of Renewable Energy'.
Ray also knew a great deal about bushfires and the politics of control burning in Victoria. When it came to many issues, Ray Evans seemed able to see the wood and the trees and how big the forest was, but he never seemed daunted. Not in the least, and he always seemed to revel in the small facts.
You win arguments by understanding the detail. By forcing your opponent to engage with you on the detail. He once said something like that to me.
Ray stood for enlightenment values from a conservative Christian perspective and seemed to have a deep understanding and knowledge of everything that threatened that ethic.
And he believed you won arguments by getting into the detail. That is perhaps the most useful piece of information that he imparted to me, and by example.
Thank you Ray.