A new alliance between Al Gore and Clive Palmer is likely to result in the repeal of the carbon tax, but the big winner is probably the global warming industry, not the ordinary Australian. Indeed if you think your electricity bill is about to plummet, you've been mislead.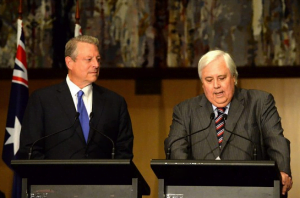 Much of the increase in the price of electricity over recent years can be attributed to the mandatory Renewable Energy Target (RET): a government legislated requirement on electricity retailers to source a specific proportion of total electricity sales from renewable energy sources including wind and solar, with the extraordinary costs paid by all electricity users.  
Al Gore appears to have convinced Clive Palmer, to support the repeal of the carbon tax on condition that the RET is consolidated. Earlier today Dennis Jensen spoke in the Australian parliament about some of the lucrative deals that Gore has done over the years:
Indeed Dr Jensen's speech provides some historical context, while Jo Nova explains what the conditions Palmer has placed on repeal of the carbon tax will mean longer term for Australia:
It seems now that Palmer's amendments to repealing the carbon tax do not include an Emissions Trading Scheme …  but keeping the $10b Clean Energy Finance Corporation is a win for Gore, and so is keeping the RET (Renewable Energy Target) and the Climate Change Authority — it's another government funded advertising unit for the carbon scare campaign. The more patrons who are dependent on the carbon-subsidies, the more pro-carbon lobbyists there are. And they lobby like their livelihood depends on it — because they have nothing if the government policies don't prop up their pretend free market.
As Ross Garnaut, a long-time proponent of climate alarmism and phony markets, commented today:
We're in a better position than when we were facing abolition of carbon pricing, major tampering with the Renewable Energy Target, abolition of the Climate Change Authority, abolition of the Clean Energy Finance Corporation.

It may not be the ideal way of doing things, but Mr Palmer's support for keeping existing arrangements will have important effects.