AT Bourke temperatures were carefully recorded at the post office for 125 years, from 1871 to 1996. But this record is ignored by those announcing new temperature records on local Bourke radio. They rely on a record that only goes back to 1998!
From about 1952 through until 1996 the Postal Service staff carefully read and recorded the weather in the Stevenson screen at 9am, 12noon, 3pm, 6pm and then went back to the post office each evening at 9pm, 3am – yes the temperature was read manually at 3am by Postal Service staff – and then again at 6am. This information was immediately relayed to the Bureau in Melbourne.
But go to weatherzone.com.au and it suggests that temperatures at Bourke have only been recorded since 1998. What a travesty.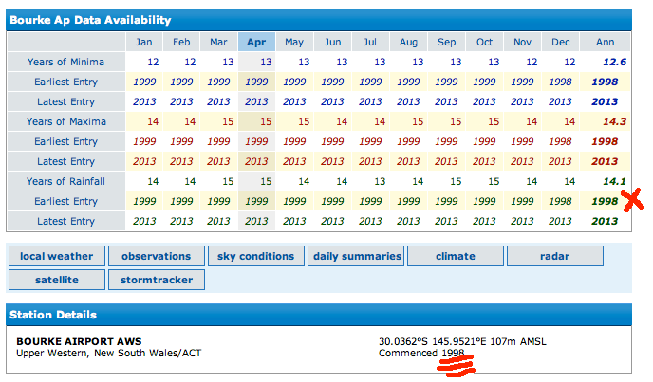 http://www.weatherzone.com.au/climate/station.jsp?lt=site&lc=48245
There have been complaints to the local radio station that keeps announcing record hot days on the basis of this much-truncated record; temperatures for Bourke back to 1998. The radio station says that it relies on weatherzone.com.au for its information. Complaints to weatherzone have resulted in comment that the Bureau are unable to merge data, and can only provide Weatherzone with information on a station by station basis with the 'Bourke Airport' the current open weather station for Bourke.
Meanwhile, when it comes to the generation of contrived temperature data for Australia's annual average temperature anomaly the Bureau have merged the airport and the post office, in fact the post office has been subsumed by the airport. This data has also been shortened, from 1871 to 1910, and of course 'homogenized'.
http://jennifermarohasy.com/2014/04/rewriting-the-history-of-bourke-part-2-adjusting-maximum-temperatures-both-down-and-up-and-then-changing-them-altogether/
Another travesty.