Dear Jennifer, I had a holiday on Lady Elliot Island in October 2013 and while there took the attached photos with the idea that I might send the one of the climate change sign to an Australian blog as an example of Federal Government alarmist propaganda.
Lately the tide seems to be turning against the CO2 global warming scam with the Akademik Shokalskiy debacle in the Antarctic, record polar sea ice totals, the circumpolar vortex in the northern hemisphere and Tom Switzer's article in the Sydney Morning Herald. However with the heat waves lately in Australia the warmists are fighting back with the usual dodgy forecast heat records which are very seldom reached but most people don't question them. I commend you for your open letter to the BOM requesting verification of the 2013 temperature record.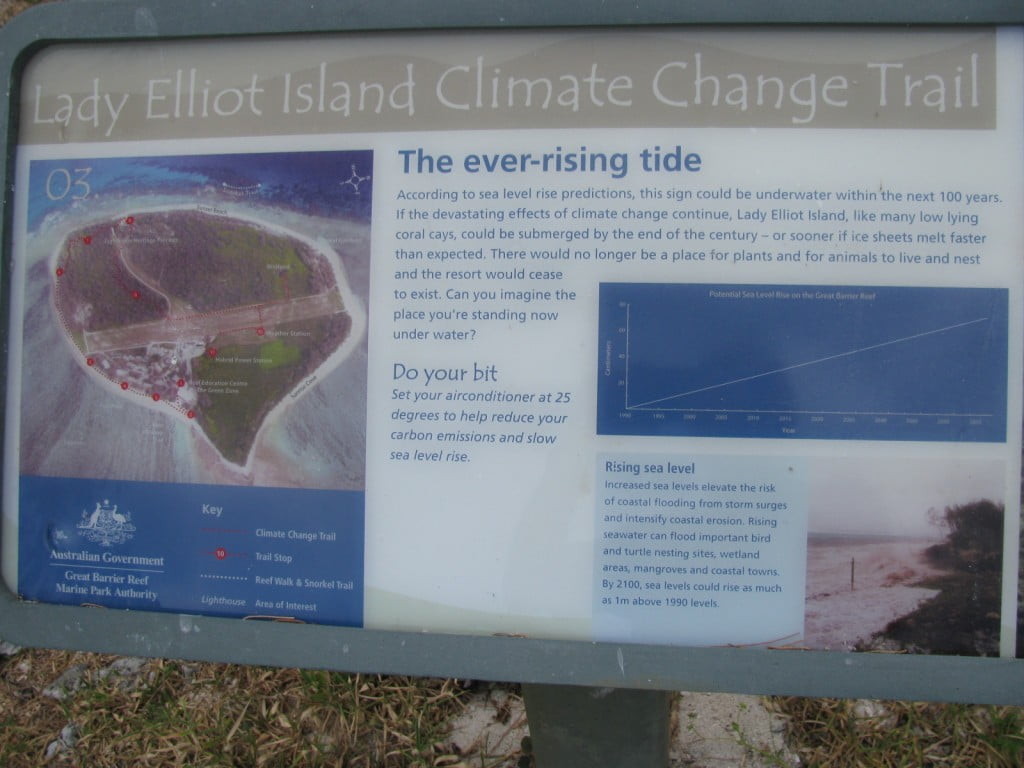 I had another look at this photo of the sign today to work out again how much sea level rise they showed in the graph from 1990 to 2013 and it scaled about 300mm or 13.04mm/year. As another check I scaled the 600mm rise over 57.5 years and only got 10.43mm/year which seemed extremely odd, (I'm a retired land surveyor used to working with graphs).
On further inspection I finally noticed that the 5 year intervals on the x axis read 2010, 2015 then jumped 15 years to 2030 and back to 5 year intervals from 2035 to 2055 which explained the yearly rise difference. The sign writer obviously made a booboo or the original information he was given was wrong. Either way the error should have been corrected before the sign was released for public viewing. The nearest National Tide Centre Gauge at Rosslyn Bay shows a rise of about 2.8mm/year and has only operated since 1993 so the 13mm/year rise on the graph is ridiculous.
As the Great Barrier Reef is in your bailiwick I thought you might be interested in publicising the gross errors on this "way over the top" sign and I assume that a similar one is also on most of the other islands controlled by the GBR Marine Park Authority but you will probably be able to find this out easier than I can. The 03 in the top left corner may be its sign number.
Regards
Sel Hopley
Click on the image for a larger and better view of the entire photograph including the how to save the Island by setting your air con at 25 degrees celsius.