In announcing yesterday's $320 million drought assistance package for farmers there was some mention of the situation out west being akin to a natural disaster. A more accurate description would be that its part of a natural cycle – not a natural disaster.
There are many reasons why landholders may be particularly vulnerable to this drought, but they mostly relate to government initiatives that have over the last couple of decades significantly eroded the resilience of farming communities, rather than exceptional climate.
We live in a land of highly variable rainfall that has historically experienced regular drought often broken with big floods.
The Bureau of Meteorology has been defining the drought as a rainfall deficient for a 16-month period (October 2012-January 2014) relative to a long-term average defined as the years 1961-1990. So according to the Bureau there has been a severe rainfall deficiencies (lowest 10% to 5% of records) in place across much of inland Queensland, central northern New South Wales and in a small area on the coast of Western Australia near Shark Bay. Also, most of Queensland west of the ranges, northern New South Wales, northeastern South Australia and the southeastern Northern Territory has received less than 65% of the long-term (1961–1990) average rainfall for the 16-month period.
While I am sympathetic to farmers struggling to make ends meet, and I don't begrudge anyone some government support when the chips are really down, to suggest there is a natural disaster because rainfall is less than 65% of what it was during the period 1961-1990 for a period of a bit over a year is absurd.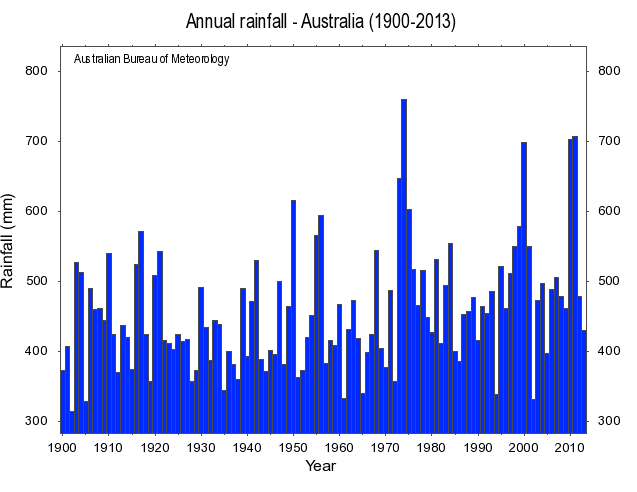 *****
Links/References/Notes
Chart shows annual average rainfall for Australia since 1900.
http://www.bom.gov.au/cgi-bin/climate/change/timeseries.cgi?graph=rain&area=aus&season=0112&ave_yr=0
Information from BOM on drought definitions… http://www.bom.gov.au/climate/drought/
Media clippings…
More than 70 per cent of Queensland and half of NSW is in drought, with the weather bureau forecasting a dry autumn.
Farming families without an income, but holding farm assets of up to $2.5 million, will be able to access support payments from March 3 under the new plan. http://news.ninemsn.com.au/national/2014/02/26/02/33/drought-package-to-be-announced
TONY Abbott will unveil a relief package today for drought-hit farmers aimed at increasing access to government-backed concessional loans to allow them time to ride out a "natural disaster", and a suite of health initiatives focusing on battling depression. Cabinet was meeting last night to finalise the package, which crystallised after the Prime Minister toured drought-affected areas in Queensland and NSW earlier this month with Agriculture Minister Barnaby Joyce. More than 70 per cent of Queensland and 62 per cent of NSW have had no significant rain for two years, with most rural regions officially drought-declared. http://www.theaustralian.com.au/national-affairs/tony-abbott-to-unveil-drought-relief-package/story-fn59niix-1226837708814#
@senatormilne Akin to a natural disaster Abbott re drought. When is he going to admit climate change is intensifying drought, heat waves and fires? #auspol
Fiona Simson: Unfortunately rain doesn't – one rainfall doesn't break a drought and some of the areas we're seeing across NSW – I actually missed the rainfall this morning so I'm thinking it didn't potentially break the drought – I think some of the areas across NSW have received widespread rains over the last week, but what is important is continuation of that rain. Clearly we now have a soil that is absolutely depleted of moisture. There is no sub-soil moisture, there is no moisture there to grow the crops. There is no moisture there to grow the pasture and we need continued rainfall for many weeks to actually fulfll those soil reserves again and to create groundwater. And, travelling around this region, I have been down here over the past couple of weeks at the Henty Field Days and again this week. There is a shortage of groundwater and it is very dry so I think clearly the people down here will need continued rain, they will need their seasonal break, which is when it normally occurs – in about April I think it is down here – to make sure they actually get their crops in the ground. http://www.theherald.com.au/story/2114542/video-nsw-farmers-responds-to-drought-assistance-package/?cs=310
Queensland and NSW and has now extended its grip into the Upper Hunter, one of the state's prime food-producing areas. Parts of the region have not had decent rain for more than a year and ground water reserves are getting dangerously low. It follows a year of record hot weather throughout Australia. Several record temperatures were also set in the Hunter, including one for the hottest September day. Until recently the Upper Hunter could have been drought-declared and its farmers eligible for assistance. Because of national reforms, areas are no longer considered "in drought" but are assessed using regional "seasonal conditions reports", which rely heavily on computer modelling and do not have the same input from farmers. Farmers fear the new system may leave some communities dangerously exposed without drought aid as conditions deteriorate. "People are getting really frustrated because there's no policy to supply support to communities that are suffering drought," NSW Farmers Association president Fiona Simpson said. "When is a drought a natural disaster? Obviously there are dry periods and we are used to that in Australia. But if the government supports communities through natural disasters, there has to be some recognition at some point that drought is also a natural disaster." As large areas of the Upper Hunter are reduced to dust bowls, many farmers are left with no option but to sell stock to reduce costs. http://www.theherald.com.au/story/2018590/farmers-fear-high-and-dry-temperatures/