THE only difference between some men and many boys is the price of their toys. This observation has much relevance to decisions made over recent years at the Australian Bureau of Meteorology, BOM.
A toy is a game, a gadget, a gizmo that may have no real practical value. But of course it is fun to play with.
They have a lot of fun at the BOM playing with General Circulation Models. These models, run on supercomputers, are essentially about attempting to forecast future and past climate including cyclones, droughts and ice sheets crashing into the Southern Ocean. The super computers are worth tens of millions of dollars and there are over 130, mostly big boys, playing with them from 9am until 5pm Monday to Friday at the BOM in Melbourne.
It all happens at considerable expense to the Australian taxpayer and I say they do little more than play, because the output from their favorite model generates mostly nonsense at least when it comes to that most important of all climate variable for Australians – rainfall.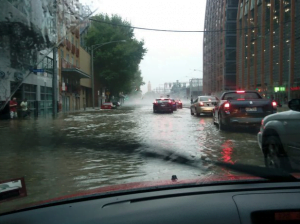 The BOM has directed most of its research efforts over recent decades towards modeling climate systems as part of a global effort that began back in the 1950s when a small team of American scientists set out to model the atmosphere as an array of thousands of numbers.
By the mid-1970s computing power was catching up with their ambition and by the 1980s there was a growing confidence in the models and, in particular, their ability to forecast the impact of increasing levels of carbon dioxide on climate. Forecasting of rainfall, was considered less important and indeed is less fun than forecasting climate catastrophes.
Australia's version of this global effort, POAMA, the Predictive Ocean Atmosphere Model for Australia, is promoted as a state-of-the art seasonal to inter-annual forecast system. However, despite such a claim being made for many years now, until very recently, POAMA had not been used for the official seasonal rainfall forecasts issued by the BOM.
This is because rainfall forecasts from POAMA for anything more than a week in advance are not very good. In fact, they are consistently worse than the forecast a schoolgirl could generate based on simply calculating the monthly mean rainfall for a particular locality with a pencil and pad. Such an average value is known as climatology.
But so enamoured have the big boys become with their expensive toys, that this last winter, the BOM discarded the old statistical models relied on for the past 20 years and adopt POAMA as the basis for all climate forecasting.
There is no peer-review paper that indicates POAMA can reliably produce a seasonal or monthly forecast with more skill than the old statistical method – because it can't.
Indeed the peer-reviewed literature, including a new paper by John Abbot and me (see the journal Atmospheric Research, Volume 138, Pages 166-178), shows that statistical models that rely on pattern analysis will consistently outperform General Circulation Models such as POAMA.
Ignoring this reality, rural industry groups are consistently briefed by the BOM about how good POAMA is. And the misguided enthusiasm for the hi tech computers and massive databases is such that most industry groups including the Grains Research and Development Corporation and Queensland Canegrowers Ltd, have been persuaded to invest heavily in POAMA.
The commitment from the industry leaders to POAMA reduces the opportunity for dissent. But the real loser is every farmer who could benefit from a half reliable monthly or seasonal rainfall forecast.
***
This article was first published by The Land newspaper on December 12, 2013. Go and buy a copy at your local news agency… to show some support.
More information on alternative methods for medium-term rainfall forecasting, including a powerpoint presentation by Jennifer Marohasy are available on line at
http://www.sciencedirect.com/science/article/pii/S0169809513003141 [see RHS panel for the powerpoint after the page has completely downloaded]