THE US Navy's Joint Typhoon Warning Center, using satellite analysis to estimate wind speeds, has claimed that Typhoon Haiyan, that hit the east coast of Samar in the Phillipines on November 8, 2013 is one of the strongest storms in recorded history.
According to the New York Times [1]:
Before the typhoon made landfall, some international forecasters were estimating wind speeds at 195 m.p.h., which would have meant the storm would hit with winds among the strongest recorded. But local forecasters later disputed those estimates. "Some of the reports of wind speeds were exaggerated," Mr. Paciente said.

The Philippine weather agency measured winds on the eastern edge of the country at about 150 m.p.h., he said, with some tracking stations recording speeds as low as 100 m.p.h.

The United States Navy's Joint Typhoon Warning Center used satellite analysis to estimate sustained winds at 195 m.p.h., with gusts up to 235 m.p.h., but that measured the center of the storm when it was over the ocean.

"As far as satellite imagery was concerned, it indicated that this was one of the strongest storms on record," said Roger Edson, the science and operations officer at the United States National Weather Service in Guam.

He said 195 m.p.h. winds would put the storm "off the charts," but he acknowledged that satellite estimates require further study on the ground to determine if they were accurate.
I can't find information on the sea level pressure recorded for Typhoon Haiyan.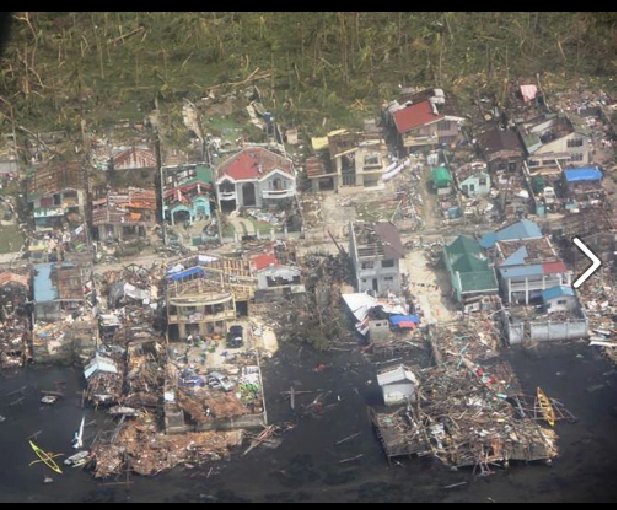 Typhoon Tip had been considered the largest and most intense tropical storm ever recorded with a worldwide record-low sea level pressure of 870 mbar and peak winds of 190 mph (305 km/h) on October 12, 1979. It was also the largest storm ever recorded with a wind diameter of 2,220 km (1,380 miles) [2]. US Air Force aircraft flew 60 weather reconnaissance missions into this typhoon.
The deadliest storm in recorded history is known as Great Boha hitting Bangladesh on November 12, 1970. This cyclone sustained a record high 40-foot storm surge and killed 300,000 to 500,000 people [3].
***
1. http://www.nytimes.com/2013/11/09/world/asia/powerful-typhoon-causes-mass-disruption-in-philippines.html?smid=tw-share&_r=0
2. http://en.wikipedia.org/wiki/Typhoon_Tip
3. http://www.wunderground.com/blog/weatherhistorian/comment.html?entrynum=204
More images at this Facebook page.