PRIME Minister-elect Tony Abbott today announced his new Ministry [1]. There were few surprises. Again a South Australian will be responsible for water. Indeed Simon Birmingham as the Parliamentary Secretary to the Minister for the Environment, Greg Hunt, has been given special responsibility for water.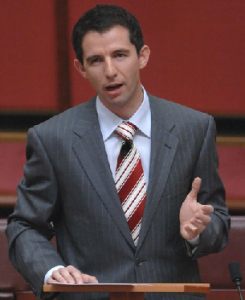 It all suggests that this Abbott government will follow a long tradition of enforcing corrupt water politics and policies for the Murray Darling.
Mr Birmingham has already put out a press release detailing how he will enforce the Basin Plan.
This $10 billion taxpayer-funded Basin Plan will redistribute about 1/3 of all the water currently used to grow food in the Murray Darling and channel it down to a vast perched artificially fresh near coastal lake to evaporate. While ostensibly for some environmental benefit, the reality is that this lake was created through the damming of the Murray River's estuary. The ecology of Lake Alexandrina has been ruined by the pest European carp. The surrounding land is predominately cropped farmland with revegetation efforts thwarted by rabbits, and then there are the new housing estates and marina developments.
****
1] Click here to read Tony Abbott's media release…
https://lnp.org.au/wp-content/uploads/2013/09/13-09-16-A-Team-to-Build-a-Stronger-Australia.pdf
To see the complete Ministry, click here…
https://lnp.org.au/wp-content/uploads/2013/09/The-Ministry.pdf