THE General Circulation Models that underpin the theory of anthropogenic global warming, have, for a very long time, since at least the 1996 Intergovernmental Panel on Climate Change Report (AR2), predicted that atmospheric warming would be most obvious as an observable hot spot in the troposphere. In particular, the climate models predict an increased greenhouse effect, a hot spot, about 10 kilometres into the atmosphere directly over the tropics.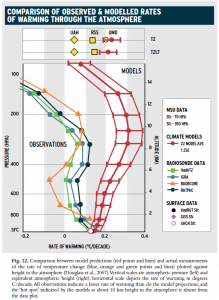 Measurements from weather balloon radiosondes have found no hot spot. Satellite MSU sensors have found no hot spot.
So, should we toss out global warming theory? Not necessarily.
According to the 2007 Intergovernmental Panel on Climate Change the apparent absence of a hot spot is because of likely errors in all the existing measurements of troposphere temperatures relative to the surface.
Now we have the 2013 Intergovernmental Panel on Climate Change. Have the errors in the measurements been found?
No comment in this report.
P.S. But no shortage of funds to look for the Hot Spot: according to published reports by the US government, the total Federal funding of climate change activities is greater than US$150 Billion since Fiscal Year 1993.
P.S.S. Image from Bob Carter's book 'Taxing Air: Facts & Fallacies about Climate Change'… visit http://www.taxingair.com. Click on the image for a larger/better view.