IT is ten years since the launch of the 'Native Fish Strategy for the Murray Darling Basin 2003-2013' [1]. Hundreds of millions of dollars have been spent on the program including to re-snag the main channel of the Murray River with microchip embedded logs, building fish-ways and of course returning hundred of gigalitres of water. All of these initiatives should have helped restore populations of native fish, the objective of The Strategy.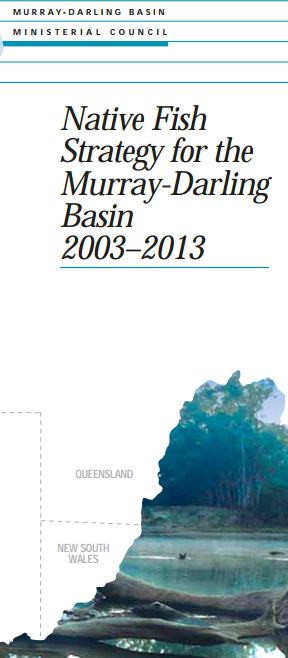 In January I asked the Murray Darling Basin Authority, MDBA, if there would be a formal assessment of the effectiveness of The Strategy ten years on. It was suggested that I consult Edition 34 of RipRap, a publication of the Australian River Restoration Centre dedicated to highlighting many of the achievements of The Strategy.
That edition of RipRap includes a variety of articles by leading scientists congratulating the MDBA, community and Landcare groups for their work helping to restore native fish populations as part of The Strategy. But many of the same articles include comment that native fish populations are still in decline and at no more than about 10 per cent of pre-European settlement levels. This 10 per cent is the same percentage estimated in 2003, when The Strategy was launched.
How could so much effort have been expended, so much money spent, for no gain?
A peer-reviewed paper published in 2011 explains that 12.89 million Murray cod have been produced at hatcheries since 1971 and released into the Murray Darling as part of a stock-enhancement strategy [3]. Surely one could assume that with all the effort to improve the in-stream habitat, combined with this tremendous restocking effort, there must at least have been an improvement in Murray Cod population numbers? But apparently we just don't know. Indeed the technical paper by the Victorian scientists concludes that, "there is no information on the survival of stocked fish [Murray cod] to maturity."
In 2003, the same year The Strategy was launched, Murray Cod was added to the national list of threatened species. There were media headlines referring to the species as "embattled" and its decline a sign that the Murray River was in trouble. We were told back then that more environmental flows would go a long way to returning Murray cod to sustainable levels.
As at 30 September 2012, the environmental water purchase program had already secured entitlements that will deliver, on average, 1,094 gigalitres of water each year worth $2.27 billion. The MDBA has also reported that more than 1,327 gigalitres of Commonwealth environmental water has been delivered.
All this water, and we don't know whether Murray cod numbers have improved, but the best advice is that numbers are probably still in decline.
***
A version of this article first appeared in The Land newspaper in February 2013.
References/Links
1. Native Fish Strategy for the Murray-Darling Basin 2003-2013
http://www2.mdbc.gov.au/__data/page/65/Fish-Strat_ful.pdf
2. Edition 34: Bringing back native fish
http://australianriverrestorationcentre.com.au/riprap-is-back-edition-34-bringing-back-native-fish/
3. Impact of stock enhancement strategies on the effective population size of Murry cod, Maccullochella peelii, a threatened Australian fish. BA Ingram, B Hayes & ML Rourk 2011. Fisheries Management and Ecology 18: 467-481