I am going to take some time out from this blog to try and complete a couple of projects that I've started, but am having trouble finishing. So there may be no new posts here for a while.
In the meantime you can subscribe for my irregular email updates here:
http://jennifermarohasy.com/subscribe/
And check the 'Community Home' page for updates from other readers with their nature photographs and more here: http://jennifermarohasy.com/category/community/
And here's a picture I took of a fisher, a darter cormorant, in Kakadu National Park a few years ago.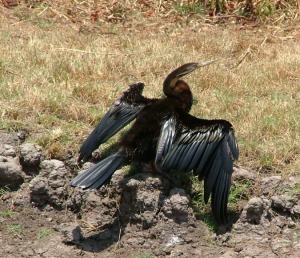 Interestingly according to one account of life in the Lower Murray in South Australia one hundred years ago there was a bounty on cormorants (that are closely related to darters), with 34,000 taken in one year ostensibly because they ate too many fish [1].
*********
[1] Travels in Australasia, by Wandandian see page 301
26th July 1909 at Caurnamont, near Mannum
'Birds were very scarce, though we saw one fine old spoonbill wading round the swamp and swinging his head from side to side in the peculiar fashion these birds have while feeding.
On the latter day, while out shooting, I picked up a freshly decapitated turtle of the kind called by the natives "emys," and on meeting a fisherman enquired of him whether he had caught many, and why it was without a head.
He replied that the turtles were so destructive of fish spawn, that a scalp fee of one penny was paid on the head of each by the Government, and that he caught a good many from time to time.
On further enquiry, I found that in the past year the South Australian Government had paid over £600 in scalping fees to various people for 116,000 turtles and 34,000 cormorants, thus satisfactorily explaining why the cormorants are so shy, and look upon every man with suspicion; for when one contemplates what a hunting they must have in the course of the year to furnish such an enormous "bag," it would be decidedly strange if they were at all otherwise. In spite of all this I saw hundreds of them on the Murray and lake waters, so that I am sure many must pour in from outside to take the place of those that are shot, and should this be the case it will be many years before their numbers are at all reduced, or the Government get anything like the full value for their money, or even justify its expenditure.'
[Back then Murray cod were plentiful despite the turtles and the cormorant though now there are no Murray cod in that stretch of river below Lock 1.]