Community Home (RSS -)
Posted by jennifer, August 3rd, 2012 - under Community, Nature Photographs, Where Is This?.
Tags: Wilderness
Comments: none
Jennifer,
I would like to share a photograph of a 'magical place' from a cross-country hike, from several years ago, of the Enchanted Pools loop, in the Northern Sierras. The amateur photographer is tiocampo.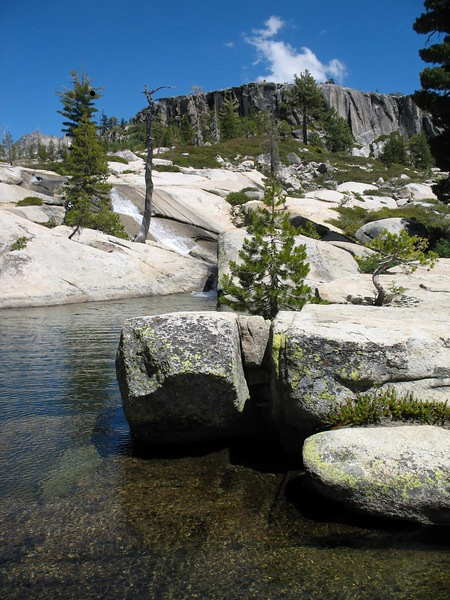 Here's a link to all of the photos taken by Frank Farmer (aka tiocampo) on that day.
http://tinyurl.com/c2rsa5t
He includes a short write-up of the hike, including a topo map, as well as a link to a report of a possible Bigfoot sighting in the area.
The total distance of the loop version of the hike is approx 5 mi (8 km), with several hundred feet of altitude gain. The Enchanted Pools are just over 7000 ft elevation. Frank calls this hike Larry's Rockbound Ramble.
Cheers,
Larry (from California, USA)
Advertisement
Posted by jennifer, July 30th, 2012 - under Community, Nature Photographs.
Tags: Birds
Comments: 2
Jen,
The Beach Stone Curlews (Esacus giganteus) are more common up north but are getting rare at the southern end of their range. It should be the other way round if AGW was real.
We travel and camp in these sorts of small boats.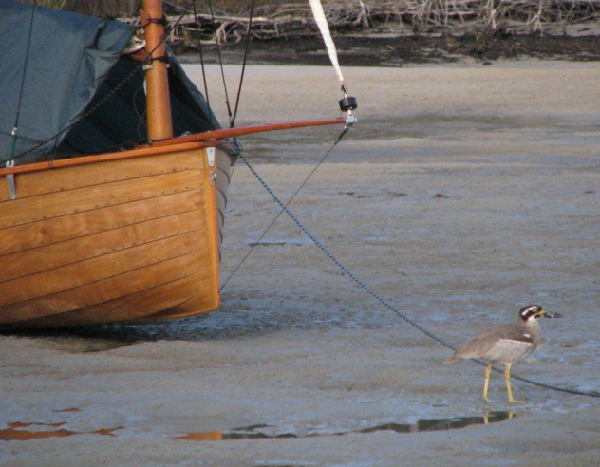 Jim  (Sandy Straits, Queensland)
Posted by jennifer, February 23rd, 2010 - under Community, News.
Tags: Climate & Climate Change
Comments: 14
"PERHAPS the major environmental news of the week was a friendly interview of Phil Jones, the former head of the Climatic Research Unit (CRU), by BBC's Roger Harabin. After the interview, a question and answer statement, with some corrections, was released by BBC.
In the interview Jones stated that although there has been a modest warming trend since 1995, it is not statistically significant. Further, there is no statistically significant difference among the four warming trends of 1860-1880, 1910-40, 1975-1995, and 1975-2009. Thus, one can not use the global surface temperature record to statistically establish that the recent warming was different from past warming periods. Many "skeptics" have been vindicated – the global surface temperature datasets do not establish a statistically defensible link between carbon dioxide emissions and the recent warming.
Jones claims the agreement between the CRU and the NASA GISS, and NOAA datasets indicates nothing is wrong. However all three may be wrong. Reports by D'Aleo, Watts, the Russian Institute of Economic Analysis, etc. strongly suggest that the three global surface temperature datasets have been heavily compromised in recent years and likely contain strong warming biases.
These revelations contradict the findings of the IPCC and US EPA in its Endangerment Finding. Since, IPCC and EPA failed to offer strong physical evidence that the recent warming was caused by carbon dioxide emissions, their claims that CO2 was the cause are not scientifically defensible by statistics or physical science.
On New Year's Eve, after years of requests under the Freedom of Information Act, NASA GISS released emails and data related to its reports on global surface temperatures. The NASA GISS dataset depends, in part, on NOAA's National Climatic Data Center dataset but is calculated differently. It will take diligent work to understand the full impact of what is being revealed. But the January reports by D'Aleo, et al. on the disappearance of 565 of 600 Canadian weather stations from NASA and NOAA datasets are indications of what may come.
As a whole, the US media has been dismissive of the importance of Climategate and subsequent revelations. The non-scientific claims of the IPCC are considered by many commentators as insignificant. A reading of Chapter 9, "Transforming the Energy Sector and Addressing Climate Change," in the recently released Economic Report of the President illustrates the significance of the scientifically unsupported claims by IPCC.
The chapter begins by citing claims that CO2 emissions will likely cause large temperature increases – all from IPCC models that have never been validated thus have no predictive power. It continues with claims of "increased mortality rates, reduced agricultural yields in many parts of the world, and rising sea levels that could inundate low-lying coastal areas." 
"The planet has not experienced such a rapid warming on a global scale in many thousands of years, and never as a result of emissions from human activity."
Elsewhere the President's report cites EPA's Endangerment Finding, calculates massive increases in property damage from increased severity of storms, justifies cap-and-trade, and promotes spending $60 Billion in cash and $30 Billion in tax credits for alternative energy. Of course tax credits benefit only those with high tax liabilities (high incomes).
The claims of increased mortality rates and reduced agriculture yields (found in IPCC reports) are directly contradicted by late 20th Century history, the period claimed to be one of unprecedented warming. During this time mortality rates generally went down, human longevity up, and agricultural yields increased dramatically. Ironically, after declaring agricultural yields will decline the President's report embraced an increase in mandatory bio-fuel use in gasoline from 9 billion gallons in 2008 to 36 billion gallons by 2022. It does not calculate the farm acreage required for this effort.
The claimed massive increases in property damage are, no doubt, based on IPCC's claim in which the actual study found no statistically significant link between warming and catastrophic property damage. Sea levels have increased about 400 feet in the last 18,000 years or about 27 inches per century. The report cites a 7 inch rise since 1900 as if it is alarming. The statement that the "planet has not experienced such a rapid warming" has no merit.
Perhaps most journalists consider spending $90 Billion on various schemes to "fight climate change" insignificant. But one would hope for better scientific justification.
Finally, on Tuesday, the last day, SEPP, CEI and NIPCC filed a supplement to their joint petition to EPA to reconsider its Endangerment Finding. Others filing petitions include the states of Texas and Virginia, Peabody Energy, and a consortium of cattle, mining, and energy companies. The petitions are part of the public record. No doubt some will accuse SEPP of being a front for special interests. And, in one way, it is. The interest is the public interest in having rigorous science, rather than faulty science, guide public policy. The petition and the supplement are attached for TWTW readers to decide.
Also on Tuesday, SEPP joined CEI and FreedomWorks in a joint petition to the US Court of Appeals for the District of Columbia to review the Endangerment Finding.
SEPP Correction: The headlines of an IBD article carried by TWTW last week implied that Arizona quit the Western Climate Initiative (WCI). SEPP was informed that this was incorrect and was sent a copy of the Governor's Executive Order. The key issue appears to be in paragraph 3 of the order which states that Arizona will continue to be a member of WCI, however, "Arizona will not implement the GHG cap-and-trade proposal advanced by WCI". (Emphasis added) [H/t Norman MacLeod]
*******************************************************
ARTICLES:  [For the numbered articles below please see the attached pdf.]
1. The end of the IPCC: One mistake too many! 
By S. Fred Singer
Hindustan Times, Feb 5, 2010
http://www.hindustantimes.com/The-end-is-not-near/H1-Article1-505317.aspx
2. A Most Important Interview,
The Clamour Of The Times, Feb 15, 2010 [H/t Mark Urbanski]
http://web.me.com/sinfonia1/Clamour_Of_The_Times/Clamour_Of_The_Times/Entries/2010/2/13_A_Most_Important_Interview.html
3. Climategate: So Jones Lost the Data? It Was Worthless, Anyway!
The "mean daily temperature' CRU used is a statistically nonsensical calculation
By Vincent Gray, Pajamas Media, Feb 15, 2010 [H/t Francois Guillaumat]
http://pajamasmedia.com/blog/climategate-so-jones-lost-the-data-it-was-worthless-anyway/
4. The Continuing Climate Meltdown
Wall Street Journal, Feb 16, 2010
http://online.wsj.com/article/SB20001424052748703630404575053781465774008.html
5. Collapse Continues
Investors Business Daily, Feb 17, 2010
http://www.investors.com/NewsAndAnalysis/Article.aspx?id=521421
6. Drilling Ban To Cost Trillions
Investors Business Daily, Feb 16, 2010
http://www.investors.com/NewsAndAnalysis/Article.aspx?id=521249
7. What to say to a global warming advocate
By Mark Landsbaum, 2-12-2010, Orange County Register
http://www.ocregister.com/common/printer/view.php?db=ocregister&id=234092
**********************************************
NEWS YOU CAN USE:
Question and Answer Interview with Phil Jones of the CRU
BBC News, Feb 13, 2010
http://news.bbc.co.uk/2/hi/science/nature/8511670.stm
Phil Jones momentous Q & A with BBC reopens the "science is settled" issues.
By Indur Gorklany, Feb 14, 2010
http://wattsupwiththat.com/2010/02/14/phil-jones-momentous-qa-with-bbc-reopens-the-science-is-settled-issues/
Climategate 2.0 – The NASA Files: U.S. Climate Science as Corrupt as CRU
By Christopher Horner, Pajamas Media, Feb 17, 2010
http://pajamasmedia.com/blog/climategate-2-0-%E2%80%94-the-nasa-files-u-s-climate-science-as-corrupt-as-cru-pjm-exclusive-%E2%80%94-part-one/?singlepage=true
After two years of stonewalling, NASA GISS FOIA files are now online
Watts Up With That? Feb 17, 2010
http://wattsupwiththat.com/2010/02/17/after-two-years-of-stonewalling-nasa-giss-foia-files-are-now-online/
U.N. climate panel admits Dutch sea level flaw
Reuters.com Feb 13, 2010
http://www.reuters.com/article/idUSTRE61C1V420100213
Another IPCC Error; Antarctic Sea Ice Increase Underestimated by 50%
World Climate Report, Feb 16, 2010
http://www.worldclimatereport.com/index.php/2010/02/16/another-ipcc-error-antarctic-sea-ice-increase-underestimated-by-50/
IPCC burned on claim of wildfires affecting Canadian tourism
Climatequotes.com, Feb 10, 2010
http://climatequotes.com/2010/02/10/ipcc-burned-on-claim-of-wildfires-affecting-canadian-tourism/
Now IPCC hurricane data is questioned
By Andrew Orlowski, The Register, UK, Feb 15, 2010 [H/t ICECAP]
http://www.theregister.co.uk/2010/02/15/hatton_on_hurricanes/
Climategate: Seven Hard Questions from the Case Study of the Fall of Enron (will the AAAS panel consider them?)
By Robert Bradley, Jr., Master Resource, Feb 18 2010
http://www.masterresource.org/2010/02/climategate-7-hard-questions-from-enron/
The Snow Line is Moving South
By Steven Goddard, Watts Up With That, Feb 15, 2010
http://wattsupwiththat.com/2010/02/15/the-snow-line-is-moving-south/
A new ice age in the making? An alarmist would say so.
49 states with snow, 1180 new snowfall records set in the USA this past week – is February Headed for Record Snowfall?
Watts Up With That? Feb 13, 2010
http://wattsupwiththat.com/2010/02/13/49-states-covered-with-snow-1180-new-snowfall-records-set-in-the-usa-this-past-week-is-february-headed-for-record-snowfall/
Frozen Cattle Crisis In Harsh Mongolia Winter
Sky News, Feb 8, 2010, [H/t ICECAP]
http://uk.news.yahoo.com/5/20100208/twl-frozen-cattle-crisis-in-harsh-mongol-3fd0ae9.html
In the 1880's great blizzards swept the US Great Plains killing humans and cattle as far south as Texas and prompting many, including Teddy Roosevelt, to question if the Plains were fit for human habitation. When we in developed nations face severe storms, we can thank use of fossil fuels and, to some extent, nuclear energy.
Many meteorologists break with science of global warming
By Rick Montgomery, Kansas City Star, Feb 13, 2010 [H/t Bill Watkins]
http://www.kansascity.com/105/story/1746746.html?story_link=email_msg
The dike is leaking and it is not from sea level rise.
Global doubting
Chicago Tribune Editorial, Feb 16, 2010
http://www.chicagotribune.com/news/opinion/editorials/ct-edit-climate-20100216,0,1969729,full.story
The crackup of the climate 'consensus'
By Steven Hayward, NY Post, Feb 19, 2010 [H/t Fred Holmes]
http://www.nypost.com/p/news/opinion/opedcolumnists/the_crackup_of_the_climate_consensus_T3eGnulTAq4Xm76qB0Mr7N
Global warming snow job – The scientific community has abandoned science
By Leonard Evans, The Washington Times, Feb 12, 2010
http://www.washingtontimes.com/news/2010/feb/12/has-global-warming-got-you-snowed-in/?utm_source=newsletter&utm_medium=email&utm_campaign=newsletter_must-read-stories-today
U.N. Housecleaning
Investors Business Daily, Feb 18, 2010
http://www.investors.com/NewsAndAnalysis/Article.aspx?id=521567
Solar Dynamics Observatory.
Launched Feb 11, 2010, [H/t Tom Sheehan]
http://sdo.gsfc.nasa.gov/
The Observatory is designed to give high quality data on the changing sun and its influence on the earth, particularly changes in its magnetic fields. The experiments and data will be of interest to those following the solar flux-cosmic ray hypothesis of cloud formation.
Tisdale on the importance of El Nino's little sister – recharging ocean heat content
By Bob Tisdale, Watts Up With That? Feb 13, 2010
http://wattsupwiththat.com/2010/02/13/tisdale-on-the-importance-of-el-ninos-little-sister/
Will this promote controversy?
Obama backs loans for new reactors
By Kara Rowland, Washington Times, Feb 17, 2010
http://www.washingtontimes.com/news/2010/feb/17/obama-announces-cash-to-build-nuke-reactors/?utm_source=newsletter&utm_medium=email&utm_campaign=newsletter_must-read-stories-today
A positive sign but the permitting process is a regulatory minefield. How many grass root advocates of closing down coal power plants will support new nuclear plants?
Small Reactors Generate Big Hopes
By Rebecca Smith, WSJ, Feb 18, 2010
http://online.wsj.com/article/SB20001424052748703444804575071402124482176.html#mod=todays_us_page_one
Perhaps some of our nuclear engineers would care to comment.
Shortage of Rare Earth Elements Could Thwart Innovation
By Jeremy Hsu, Live Science. Com, Feb 16, 2010
http://news.yahoo.com/s/livescience/20100216/sc_livescience/shortageofrareearthelementscouldthwartinnovation
Some alternative energy sources depend upon rare earths – is China the key?
**************************************************
BELOW THE BOTTOM LINE:
Consistent with Being in a Deep Fog
Roger Pielke Jr's Blog, Feb 16, 2010
http://rogerpielkejr.blogspot.com/2010/02/consistent-with-being-in-deep-fog.html
Ocean levels could rise by 12 meters in the next half century unless atmospheric temperatures are controlled! – 1957
Climate hysteria won't last test of time
By Garth George, NZ Herald, Feb 18, 2010 [H/t Bob Kay]
http://www.nzherald.co.nz/climate-change/news/article.cfm?c_id=26&objectid=10626802&pnum=0
"Calculating the "Average New Zealand Temperature" is as meaningless as calculating the average telephone number  . . but the government thinks the country's average temperature may have increased by 0.92C since 1853 . . . and they're going to manage the "climate" (read Roaring Forties)?  How about fixing the earthquakes first?"  –  Bob Kay
Penny Wong signals doom for iconic beaches
By Lanai Vasek and Matthew Franklin, The Australian, Feb 19, 2010
http://www.theaustralian.com.au/news/penny-wong-signals-doom-for-iconic-beaches/story-e6frg6n6-1225831970915
With Stakes This High
New York Times, Feb 17, 2010
http://www.nytimes.com/2010/02/17/opinion/17wed2.html?th&emc=th
Once again declaring the consequences of global warming are so severe that self-flagellation is desirable. What if the globe is cooling?"
from Kenneth Haapala
Posted by jennifer, January 26th, 2010 - under Community, News.
Tags: Climate & Climate Change
Comments: 6
Flashback 2008: Scientist: 'Global warming' is sub-prime science, sub-prime economics, and sub-prime politics, and it could well go down with the sub-prime mortgage'
http://web.me.com/sinfonia1/Global_Warming_Politics/A_Hot_Topic_Blog/Entries/2008/9/21_Global_Warming%E2%80%99s_Boom_Bust.html
Paper: UN climate chief Pachauri used 'bogus' climate claims 'to win grants worth hundreds of thousands of pounds'
http://www.timesonline.co.uk/tol/news/environment/article6999975.ece
UN IPCC Exposed: 'Dozens' of instances where WWF reports have been cited as the sole authority for contentious claims, including one about coastal developments in Latin America'   
http://eureferendum.blogspot.com/2010/01/not-one-but-two-and-counting.html
Obama must call out the UN IPCC to keep his inaugural pledge to 'restore science to its rightful place'
http://algorelied.com/?p=3593
Australian Herald Sun: 'Could the Nobel Prize be withdrawn' from UN IPCC?
http://blogs.news.com.au/heraldsun/andrewbolt/index.php/heraldsun/comments/investigate_pachauri_now#66070
'Al Gore needs to be leading this charge (for Pachauri's resignation) in the US. Where is he, and why is he silent?'  
http://blogs.the-american-interest.com/wrm/2010/01/23/ipcc-head-in-glaciergate-crime/
 
Na na na hey hey hey goodbye! Pew Survey: Global warming ranks dead last as concern for Americans — 21 out of 21 – 'Global warming ranks at the bottom of the public's list of priorities; just 28% consider this a top priority, the lowest measure for any issue tested in the survey'
http://tomnelson.blogspot.com/2010/01/new-pew-survey-global-warming-finishes.html
'Pachauri must resign'
http://wattsupwiththat.com/2010/01/24/pachauri-must-resign-his-position-is-untenable/
Calls for Pachauri to resign: 'His position is becoming more and more untenable by the day…UN IPCC 'will continue to leach credibility while he remains in charge'  
http://blogs.telegraph.co.uk/news/geoffreylean/100023489/pachauri-must-quit-as-head-of-official-science-panel/
Flashback 2006: Morano Debates Pachauri at UN Conference in Kenya — Calls UN an 'echo chamber' where 'dissent was being suppressed and demonized'
http://www.climatedepot.com/a/2860/Flashback-2006-Morano-Debates-IPCCs-Chairman-Pachauri-at-UN-Conference-in-Kenya
UN Climate Con is Ending! Shock Revelation: UN scientist admits fake data was used in IPCC report 'purely to put political pressure on world leaders' – UN IPCC Scientist: Phony glacier claim designed to 'impact policy-makers and politicians and encourage them to take some concrete action' – UK Mail – Jan. 24, 2009
http://www.climatedepot.com/a/5027/BREAKING-NEWS-UN-Climate-Con-is-Ending-Shock-Revelation-UN-scientist-admits-fake-data-was-used-in-IPCC-report-purely-to-put-political-pressure-on-world-leaders
UK Guardian: Global Warming Bubble Bursts: 'Banks are pulling out of the carbon-offsetting market'
http://www.guardian.co.uk/environment/2010/jan/24/carbon-emissions-green-copenhagen-banks
Flashback: 2009: Paper: 'Don't let Climategate melt down your portfolio…don't get stuck with investments tied to global warming'
http://www.centrulemin.com/index.php?option=com_content&view=article&id=734&catid=43&Itemid=103
Flashback 2009: Carbon Bubble Fears! Asian Development Bank warns failure to 'reach climate deal could lead to a collapse of carbon market'
http://www.reuters.com/article/idUSTRE5BC14S20091213
'And now for UN's Amazongate': 'Made false predictions' on Amazon rainforest, referenced non-peer-reviewed paper produced by WWF
http://eureferendum.blogspot.com/2010/01/and-now-for-amazongate.html
Paging George Orwell: Stern Review 'mysteriously changed' – Prof. Pielke, Jr.: 'As much as 40% of the Stern Review projections for the global costs of unmitigated climate change derive from its misuse of (extreme weather paper)'
http://rogerpielkejr.blogspot.com/2010/01/what-tangled-web-we-weave.html
The IPCC scandal: the African data was sexed up, too
http://blogs.news.com.au/heraldsun/andrewbolt/index.php/heraldsun/comments/the_ipcc_scandal_the_african_data_was_sexed_up_too/
China surprises summit — Declares it has 'open mind' about global warming: 'Alternative view that climate change is caused by cyclical trends in nature'
http://www.telegraph.co.uk/earth/environment/climatechange/7067505/China-has-open-mind-about-cause-of-climate-change.html
Global Warming 'is rapidly morphing into the greatest scandal in the history of science since the belief in a flat earth'
http://pajamasmedia.com/rogerlsimon/2010/01/24/climategate-the-scandal-that-keeps-on-giving-even-here-in-austin/
For latest in the fastest ever collapse of any modern political movement, go to www.ClimateDepot.com
Posted by jennifer, January 22nd, 2010 - under Community.
Tags: Climate & Climate Change
Comments: 9
"LET me get this right…
 
The fraudster who runs the IPCC global warming scam and makes millions from that office
 
Employs the bloke who gave  the scientific evidence for glacier melt  in the Himalayas totally removing them from the face of the earth
by 2035
 
Over the phone
 
To a bloke at New Scientist
 
Who printed it
 
And when the WWF used this in a report and from that it got into report 4 of the IPCC as solid evidence they were melting
 
For which report the IPCC received a Nobel Peace Prize
 
Taxpayers  so far have had 92 billion dollars wasted supposedly stopping runaway world warming
 
In the middle of a global freeze.
 
You could never sell this farce as fiction…
 
Daniel
Posted by jennifer, January 22nd, 2010 - under Community.
Tags: Climate & Climate Change
Comments: 1
The Science and Public Policy Institute has published an analysis of the leaked climategate emails. This 149-page document takes the emails in chronological order and shows, with comments on each message, how science was perverted.
In the introductory material the report says:
The entire industry of "climate science" was created out of virtually nothing, by means of a massive influx of funding that was almost universally one-sided in its requirement that its recipients find evidence for man-made climate change—not investigate whether or how much mankind had caused climate change.
Many "climate scientists" built their entire careers on this funding; and so it is not surprising that they became so completely reliant on this conditional lifeline, that they became single-mindedly focused on achieving the ends for which they were commissioned—and viciously attacking any intruders who may threaten that lifeline.
The PDF file may be download from either of these links:
http://scienceandpublicpolicy.org/images/stories/papers/reprint/climategate_analysis.pdf
or http://tinyurl.com/yl8o3t8
Robert Ferguson, President
Science and Public Policy Institute
www.scienceandpublicpolicy.org
Posted by jennifer, January 17th, 2010 - under Community, News.
Tags: Climate & Climate Change
Comments: 3
FOR MUCH of the Northern Hemisphere, the cold is abating. As climate scientists long realized, a short period does not create a trend. Even global warming advocates, who insisted that the 1998 El Nino warming was a trend, are now claiming that the cold does not contradict their warming trend. Their time spans are evidently extremely adjustable.
The week ended with real heat: Climategate hit the United States. On Thursday night January 14, 2010, in an hour-long special broadcast on KUSI-TV San Diego, John Coleman revealed new research by computer expert E. Michael Smith and Certified Consulting Meteorologist Joseph D'Aleo.
This new research demonstrates that the National Climatic Data Center (NCDC) has been as intensely involved in manipulating global surface data as has the Climate Research Unit (CRU) of the University of East Anglia, which is now under investigation in Great Britain. NCDC is a division of the National Oceanic and Atmospheric Administration (NOAA).
The manipulated data is also used by the third organization reporting global surface temperatures – the Goddard Institute of Space Studies, a division of the National Aeronautical and Space Administration (NASA GISS). Thus, all three organizations reporting global surface temperatures may be using similar manipulated data.
D'Aleo and Smith report that in the period of the 1960's to the 1980's the number of stations used for calculating global surface temperatures was about 6,000. But it dropped rapidly to about 1,500 by 1990. Further, large gaps began appearing in some of the reported data.
This loss of stations and its possible consequences have been well established. For example, it is discussed in the 2008 NIPCC report Nature, Not Human Activity, Rules the Climate. The stations lost appeared to be mostly in colder climates – which, if the data set is not adjusted, would lead to a false indication of warming. (D'Aleo was a contributor to the NIPCC report.)
In December, as Climategate was developing, TWTW referred to a Russian report stating the CRU was ignoring data from colder regions of Russia, even though these stations were still reporting data. Thus, the data loss was not due to just the closing of stations as earlier thought, but due to decisions by the CRU to ignore them.
Now D'Aleo and Smith report similar activities by the NCDC. Stations have been dropped, particularly in colder climates (higher elevations or closer to the Polar Regions), and now temperatures are projected for these colder stations from other stations, usually in warmer climates.
The reports of the IPCC and governmental agencies such as the EPA are based, in a large part, on these data. If the data are wrong, then the reports are wrong.
It is now clear that the global surface temperature data are unreliable and must be thoroughly investigated. If not, any government policies based upon these reports should be rigorously challenged.
Thanks to the diligent work of John Coleman, Joe D'Aleo, Michael Smith, as well as many others, the US main stream media has no excuse for ignoring Climategate as merely a problem in Britain or a problem of no significance.
For John Coleman's complete broadcast (five segments) please see:
http://www.kusi.com/weather/colemanscorner/81583352.html
For Joe D'Aleo's preliminary report please see: http://icecap.us/images/uploads/NOAAroleinclimategate.pdf
[A brief comment: It is an impossible task to arrive at one precise number for a global surface temperature. But, one is often reported. Whatever is reported can only be approximate. However, if standard procedures are rigorously followed and stations are rigorously monitored, then trends can be established. Based on the new reports, such standard procedures were deliberately altered.. By removing stations in colder climates from the data set in recent years without doing so in past years, the CRU and NCDC exaggerate warming trends and, perhaps, even created one where there was none. A similar effect can be produced by underreporting high temperatures in early years. According to researchers such as Pat Michaels, this is apparently what NASA GISS is doing.]
*********************************************
SEPP SCIENCE EDITORIAL #3-2010 (Jan 16, 2010)
By S. Fred Singer, President, Science and Environmental Policy Project
 [Note: This is the fifth of a series of mini-editorials on the "junk science" influencing the global warming issue. Other topics will include the UN Environmental Program, and some individuals heavily involved in these matters.]
Junk Science #5:  IPCC's Fourth Assessment Report [IPCC-AR4, 2007]
 
In line with its policy of 'ramping up' its case for Anthropogenic Global Warming (AGW) and escalating climate fears, IPCC-AR4 concludes: "Most of the observed increase in global average temperatures since the mid-20th century is very likely due to the observed increase in anthropogenic GHG concentrations" [my emphasis].  They helpfully explain that "very likely" means "90 to 99% certain."  One wonders just how IPCC arrived at this rather precise estimate – since there is nothing in the report to back it up.
 
By now, the IPCC has mercifully abandoned some of the 'evidence' given in their earlier reports: They no longer feature the discredited 'Hockeystick' graph (that had done away with the Medieval Warm Period and the Little Ice Age).  They recognize that melting glaciers cannot illuminate the cause of warming and that shifting and often reversing CO2-temperature correlation does not support AGW.  Instead, the 'evidence' now advanced is essentially circumstantial.  The logic which gets the IPCC to this conclusion (as pointed out in Scientific Alliance Newsletter 160) is as follows:
1. There has been a general rise in averaged measured surface temperatures over the past century.
2. At the same time, atmospheric concentrations of so-called 'greenhouse' gases, particularly carbon dioxide, have been rising. All the evidence points to the net increase being caused largely by burning fossil fuels.
3. Computer models of the climate (General Circulation Models) cannot account for the temperature changes on the basis of known natural variability in climate.
4. Therefore, the additional 'anthropogenic' carbon dioxide must be the primary driver of this change.
Yet as Scientific Alliance states: "On this unproven argument, a whole climate change industry has been built; academic researchers, civil servants, carbon traders, environmental and development NGOs, taxpayer-subsidised renewable energy companies and, of course, UN agencies beaver away in the shared assumption that this logic is compelling and demands concerted action."
 
Can you spot the 'hole' in the IPCC 'logic'?  The key word is "known."  But they totally ignore the most important natural forcing: changing solar activity that modulates the intensity of galactic cosmic radiation (GCR) incident on the Earth.  This fact seems known to everyone except the IPCC group dealing with the most important issue:  the cause of climate change in the 20th century.  See evidence in Fig 14 of NIPCC.
 
It gets worse:  IPCC-AR4 claims they can simulate past century's Global Mean Surface Temp (GMST) with 'known' natural and anthropogenic forcings (as displayed in Fig 5 of NIPCC).  But the uncertainties shown there are huge, especially for the indirect effects of aerosols.  Of course, the major forcings from solar activity-GCR are not even considered; nor the effects of clouds that likely produce negative feedbacks rather than reinforcing the warming of GH gases.
 
The upshot is that the IPCC's claim of matching the GMST is nothing else but an exercise in curve-fitting, with several suitably chosen parameters.  I would be impressed if IPCC could match mean zonal temp, not just GMST– or the atmospheric temp obtained from radiosondes and satellites – using the same chosen parameters.
*******************************************************
ARTICLES:  [For the numbered articles below please see the attached pdf.]
1. Interviews with Fred Singer
William Westmiller of the LA Public Policy Examiner did a series of three interviews with Fred Singer. The second one is below.
"Climate Change 101: Does Carbon Dioxide Cause Global Warming?"
http://www.examiner.com/x-33398-LA-Public-Policy-Examiner~y2009m12d29-Climate-Change-101-Is-the-globe-warming
2. BBC: forecast of mild winter 'wasn't actually wrong'. And they called climate skeptics 'deniers.'
By Gerald Warner, Telegraph, UK, Jan 8, 2010 [H/t Gerald Malone]
http://blogs.telegraph.co.uk/news/geraldwarner/100021755/bbc-forecast-of-a-mild-winter-wasnt-actually-wrong-and-they-called-climate-sceptics-deniers/
3. Climate change: the true price of warmists' folly is becoming clear: From the Met Office's mistakes to Gordon Brown's wind farms, the cost of 'green' policies is growing
By Christopher Booker, Telegraph, UK, Jan 9, 2010
http://www.telegraph.co.uk/comment/columnists/christopherbooker/6958093/Climate-change-the-true-price-of-the-warmists-folly-is-becoming-clear.html
4. Climategate: How to Hide the Sun
By Dexter Wright, American Thinker, Jan 14, 2010
http://www.americanthinker.com/2010/01/climategate_how_to_hide_the_su.html
5. The New Scientist for 12 December 2009 wrote an editorial comment supporting the Climategate emailers and saying they were not part of any kind of conspiracy.
Letter to the Editor of New Scientist
From Dr. Sonja Boehmer-Christiansen, SIPPI Blog, [H/t Francois Guillaumat]
http://sppiblog.org/news/letter-to-the-editor-of-new-scientist
6. Phil Jones, head of the CRU, to Tom Wigley and Ben Santer commenting on the quality NASA GISS and NCDC data. [H/t Randy Randol]
http://www.eastangliaemails.com/index.php
7. Letter from Marlo Lewis of Competitive Enterprise Institute on EPA's actions to regulate carbon dioxide. [No URL]
8. Post-Copenhagen: picking up the pieces
The Scientific Alliance, Jan. 8, 2010
http://www.gaia-technology.com/sa/newsletters/newsletters.cfm
*****************************************************
NEWS YOU CAN USE:
Fred Singer's speech at the Institute of Economic Affairs in London is now available on YouTube. [H/t Richard Wellings]
Part 1: http://www.youtube.com/watch?v=DYI0OkbhkjY
Part 2: http://www.youtube.com/watch?v=JO6nVlzIXlM&feature=related
Brrr, the thinking on climate is frozen solid
By Dominic Lawson, Sunday Times Online, Jan 10, 2010
http://www.timesonline.co.uk/tol/comment/columnists/dominic_lawson/article6982310.ece
Efforts to blame China for the failure of Copenhagen continue. China should be thanked. China's leading geophysicist and vice president of the Chinese Academy of Sciences is more impressed by the correlation between carbon dioxide emissions and prosperity (high) than by the correlation between carbon dioxide and temperatures (poor). To some western minds this is a strange way of thinking.
World Watch: China's imprints all over Copenhagen talks fiasco
By John Tkacik, Jr. The Washington Times, Jan 14, 2010
http://www.washingtontimes.com/news/2010/jan/14/china-imprints-all-over-copenhagen-talks-fiasco/
With Western Countries slowly finding that becoming the world leader in alternative energy is extremely expensive, let China lead the way. Note private firms are taking the lead.
China Tries a New Tack to Go Solar
By Keith Bradsher, NYT, Jan 8, 2010
http://www.nytimes.com/2010/01/09/business/energy-environment/09solar.html?ref=science
Interesting research on a different type of photovoltaics.
Glitter-sized solar photovoltaics produce competitive results: Adventures in microsolar supported by microelectronics and MEMS techniques
Sandia New Releases, Dec 21, 2009
http://www.sandia.gov/news/resources/news_releases/glitter-sized-solar-photovoltaics-produce-competitive-results/
A good comparison of wind power with nuclear power. Based on SEPP's examination of actual output of areas such as the Columbia River George, the 31.8 percent effective capacity used in the article – mistakenly called reliability – is probably much too high. Production may virtually cease for days. Effective baseload capacity may be in the single digits.
The Green Con Job
By Dustin Chambers and Dan Ervin, The American, Jan 13, 2010 [H/t John Droz, Jr.]
http://american.com/archive/2010/january/the-green-con-job
The hidden fuel costs of wind generated electricity.
By K. de Groote & C. le Pair, Former Shell & STW, the Netherlands [H/t John Droz, Jr.]
http://www.clepair.net/windsecret.html
"Based on the German situation with 23 GW installed wind power we show that it becomes doubtful whether wind energy results in any fuel saving and CO2 emission reduction. What remains are the extra investments in wind energy."
[SEPP Comment – Although CO2 emissions are increasing atmospheric CO2, the percentage of CO2 that remains in the atmosphere has been roughly constant. Please see Figure 23 of the 2008 NIPCC report.]
The CO2 Lie
Investors Business Daily, Jan 5, 20101
http://www.investors.com/NewsAndAnalysis/Article.aspx?id=517128
EPA regulations based on "spurious science" have consequences. As fruit and vegetable growers suffered huge losses due to the deep freeze, it is useful to note the logic of the EPA in denying farmers an ingenious means to prevent their crops from freezing. A particular bacterium promotes ice formation on crops. If a certain gene is removed from the bacterium, it will no longer promote ice formation. Though shown effective in preventing ice formation, the EPA prevented general use of the technique by declaring the ice-promoting bacterium a pest, therefore the modified bacterium a "pesticide" to be regulated by the EPA.
Feds freeze frost antidote: Crop damage costs billons a year
By Henry Miller, The Washington Times, Jan 11, 2010
http://www.washingtontimes.com/news/2010/jan/11/feds-freeze-frost-antidote/
Last week we referred to articles on the EPA's announcement of new smog standards, their paucity of scientific standards, and the possible economic consequences. Below are two additional articles on the subject.
Politicizing Smog
By Rich Trzupek, Front Page, Jan 13, 2010
http://frontpagemag.com/2010/01/13/politicizing-smog-by-rich-trzupek/
Roguish EPA's Junk Science Risks Recovery
By Steve Milloy, Investors Business Daily, Jan 11, 2010
http://www.investors.com/NewsAndAnalysis/Article.aspx?id=517723
SEPP comment: "  Note that EPA ambient standards apply to outdoor air and not to indoor air.  Most urban people spend little time outside their home or office.  Further, anyone sensitive to pollution would avoid outdoor exercise during the occasional 'bad-smog alert' day."
Previously, TWTW has referred to articles with scientists from the UN Environment Programme or the EPA making incredible predictions on the impact of warming in tropical countries. The following two articles, in part, address these claims.
Exaggerating the impact of climate change on the spread of malaria
By Chris Goodall, The Guardian. UK, Jan 13, 2010 [H/t Paul Reiter]
http://www.guardian.co.uk/environment/2010/jan/13/climate-change
"Socioeconomics Impacts of Global Warming are Systematically Overstated.
Part II: How Large Might be the Overestimation?"
By Indur M. Goklany, Watts Up With That blog, Jan 6, 2010
http://wattsupwiththat.com/2010/01/06/socioeconomic-impacts-of-global-warming-are-systematically-overestimated-part-ii-how-large-might-be-the-overestimation/#more-14872
And what about all the deaths reportedly caused by heat?
Winter kills: Excess Deaths in Winter Months: 108,500 Deaths in the US in 2008; 36,700 in England and Wales Last Winter; 5,600 in Canada (2006); 7,000 in Australia (1997-2006 Average); Thousands in Other Developed Countries
By Indur M. Goklany, Watts Up With That? Blog. Jan 6, 2010
http://wattsupwiththat.com/2010/01/06/winter-kills-excess-deaths-in-the-winter-months/#more-14962
And from "Down Under"
"Climate Madness and Electricity Realities."
The Carbon Sense Coalition today accused the Australian alarmists of pursuing the same silly energy policies that are converting once-Great Britain into Poor Little England.
The Chairman of "Carbon Sense" Mr Viv Forbes said that people need to note conditions today in Britain.
"Ice laden wind turbines sit idle in the still air; solar panels are covered in snow; gas reserves are down to 8 days; pensioners are burning books to keep warm, and a bankrupt government chants global warming mantras."
http://carbon-sense.com/2010/01/11/emissions-generation-lang/
Lord Monckton and Professor of Mining Geology Ian Pilmer, author of the best seller Heaven and Earth, will be touring Australia at the end of January and the beginning of February. Please see Jo Nova's web site for dates and venues: http://joannenova.com.au/2010/01/monckton-plimer-tour-australia-dates-venues/#more-5933
I don't have a conflict of interest because what I am doing is in my interest.
Pachauri in a spot as climategate hits TERI
By Ajmer Singh, India Today, Jan 10, 2010
http://indiatoday.intoday.in/site/Story/78466/Pachauri+in+a+spot+as+climategate+hits+TERI.html?complete=1
And finally, it is time to bring in the lawyers and the various state attorney generals to demand their piece of the action.
AES Agrees To Climate Change Disclosure Protocol with NY Attorney General: Is SEC Guidance For Climate Change Disclosure Next?
By: Jeffrey B. Gracer, Law firm: Sive, Paget & Riesel PC
http://blog.sprlaw.com/2009/12/aes-agrees-to-climate-change-disclosure-protocol-with-ny-attorney-general-is-sec-guidance-for-climate-change-disclosure-next/ [may require manual entry]
************************************************
BELOW THE BOTTOM LINE
Under the Freedom of Information Act, Greenpeace is demanding Universities release the emails of certain climate warming "skeptics." Climategaters may be getting a rougher treatment.
Agent looking for 'Climategate' insiders
By Colleen Boyle, The Daily Collegian, Penn State, Jan 11, 2010 [H/t Brad Veek]
http://www.collegian.psu.edu/archive/2010/01/11/agent_looking_for_climategate.aspx
US Weather Bureau Report – November 2
The Arctic ocean is warming up, icebergs are growing scarcer and in some places the seals are finding the water too hot, according to a report to the Commerce Department yesterday from Consul Ifft, at Bergen, Norway. Reports from fishermen, seal hunters and explorers, he declared, all point to a radical change in climate conditions and hitherto unheard-of temperatures in the Arctic zone. Exploration expeditions report that scarcely any ice has been met with as far north as 81 degrees 29 minutes. Soundings to a depth of 3,100 meters showed the gulf stream still very warm. Great masses of ice have been replaced by moraines of earth and stones, the report continued, while at many points well known glaciers have entirely disappeared. Very few seals and no white fish are found in the eastern Arctic, while vast shoals of herring and smelts, which have never before ventured so far north, are being encountered in the old seal fishing grounds.
  I'm sorry, I neglected to mention that this report was from November 2, 1922 as reported by the AP and published in The Washington Post.
[H/t Bill Gray]
################
 Kenneth Haapala   www.sepp.org
Posted by jennifer, December 27th, 2009 - under Community.
Comments: 3
For an interview with Fred Singer in Copenhagen please see: http://www.youtube.com/watch?v=AmNQoQ2Tr18&feature=rec-LGOUT-exp_fresh+div-1r-5-HM
According to the New York Times the real success of Copenhagen was Western nations pledging to fund developing countries through international mechanisms. "Copenhagen's One Real Accomplishment: Getting Some Money Flowing" by James Kanter, New York Times, Dec 20 http://www.nytimes.com/2009/12/21/business/energy-environment/21iht-green21.html?_r=1&hpw.
However journalists for Der Spiegel consider Copenhagen a failure. "Copenhagen Was an All-Out Failure" by Sobhan Dowling and Daryl Lindsey, Spiegel Online, Dec 21, 2009 http://www.spiegel.de/international/world/0,1518,668352,00.html#ref=rss
For the Journal "Nature" the major issue is the failure of scientists (advocates) to communicate. "After Copenhagen: The agreement reached last week lends fresh urgency to challenges in science and communication," Editorial, Nature, international weekly journal of science, 12/24/09 http://www.nature.com/nature/journal/v462/n7276/full/462957b.html [SEPP Note: in this lengthy editorial the editors ignore the lack of physical evidence that carbon dioxide was the cause of the recent warming.]
Few have asked who will be handling the payments from developed nations to developing ones amounting to hundreds of billions of dollars. Christopher Booker and Richard North have a few suggestions in "Questions over business deals of UN climate change guru Dr. Rajendra Pachauri." UK Telegraph, Dec 20 http://www.telegraph.co.uk/news/6847227/Questions-over-business-deals-of-UN-climate-change-guru-Dr-Rajendra-Pachauri.html
The Asian Development Bank is likely to be one entity that expects to profit from carbon trading and allocation of funds: "Eminent Persons to Advise ADB on Climate Change" Asian Development Bank Press Release, May 4, 2009, http://www.adb.org/Media/Articles/2009/12885-adb-annual-meetings/
On her web site, Jo Nova has posted a 30 year time line of Climategate created by Mohib Ebrahim.  It is long, but demonstrates that the Climategate scandal is not isolated or insignificant. http://joannenova.com.au/global-warming/climategate-30-year-timeline/
Many advocating that human emissions of CO2 cause global warming claim that the electricity produced by coal fired utilities can easily be replaced by wind or solar power both of which require huge amounts of land. Of course, in the US California is leading the way as illustrated in this New York Times article: "Desert Vistas vs. Solar Power" by Todd Woody, NYT, Dec 22, 2009 http://www.nytimes.com/2009/12/22/business/energy-environment/22solar.html?_r=1&th&emc=th
Big Green is heavily involved in the well financed lobbying group, US-CAP, which advocates cap and trade. According to one US Representative, US-CAP provided the "blueprint" for the House passed cap and trade bill. No doubt some supporters of cap and trade assume that Big Green will not oppose sources for energy to replace coal. Will Big Green deliver? This article in the Wall Street Journal may provide a partial answer. "Sierra Club's Pro-Gas Dilemma" by Ben Casselman, WSJ, Dec 21 http://online.wsj.com/article/SB126135534799299475.html?mod=WSJ_hps_sections_news#
The Investors Business Daily has its own views on why development of US sources of natural gas is becoming difficult. "Get The Frackin' Gas," IBD, 12/22/09, http://www.investors.com/NewsAndAnalysis/Article.aspx?id=516041
Not everyone is bowing the EPA's finding that science supports the claim that greenhouse gases threaten public health and welfare, thus must be regulated. "Cattlemen challenge EPA greenhouse gas ruling in court," Dec 24, 2009, [H/t Brad Veek] http://www.farmanddairy.com/news/cattlemen-challenge-epa-greenhouse-gas-ruling-in-court/13835.htmlprint/
from Kenneth Haapala at  www.SEPP.org
Posted by jennifer, December 26th, 2009 - under Community.
Comments: 5
Hi Jennifer,
Our new and greener web address is now simply www.ILoveCO2.org. Those of you who send me news stories please add justin@iloveco2.org to your list. For 2010, the site will become very user-oriented. I'm opening it up for multiple writers, journalists, and scientists to contribute to the site on a regular basis, thus letting people get their views heard easily and quickly. Take a look at our revamped image, easy scanning of the latest news items on the home page, and stand by for upcoming merchandise.
I've been overwhelmed by emails asking for I Love CO2 t-shirts and bumper stickers, so rest assured I'll make those items available as soon as possible! In the meantime, anyone is free to use our logo to create their own and I will send large versions for print by request.
ALL FOLLOWERS AND WEBSITE OWNERS WHO LINK TO US: Please update your RSS feeds to the new address, or http://www.iloveco2.org/feeds/posts/default
Those interested in becoming a contributor/writer please let me know and I'll authorize you on the blog.
Cheers and a very Merry Christmas to all of you. Keep exhaling! Do it for the trees!
Justin,
Founder/Editor
ILoveCO2.org / ILoveCarbonDioxide.com
–
Relax, your footprint is green.
www.ILoveCO2.org
Facebook fan page: www.facebook.com/GreenTruth
Posted by jennifer, December 25th, 2009 - under Community.
Tags: Climate & Climate Change
Comments: 3