WILL Steffen is the executive director of the Australian National University Climate Change Institute and also a member of the Australian Climate Commission. This is the Climate Commission established to provide all Australians with an independent and reliable source of information about the science of climate change. This is the same Professor Steffan who, you may remember, sort of fudged hot day data for western Sydney [1].
My name is Mr Koala and I've been reading the latest contribution from this professor who is paid to provide me with an independent and reliable source of information on climate change.
He has a piece in today's national newspaper, The Australian. It's really scary! Professor Steffan tell us:
"Scientists have painted a clear picture of the risks from failing to act on climate change. The natural world would experience the sixth great extinction event in Earth's history, coral reefs would almost completely disappear, and we would be facing metres of sea-level rise as oceans continue to warm and polar ice sheets melt and disintegrate."
Ouch. Nemo!
"Over the past decade Victorians have seen a window into that possible future in their own backyard.

The 2009 heat wave in Melbourne caused 374 excess deaths as well as triggering disruptions to electricity supplies and transport systems. The Black Saturday bushfires caused more deaths and significant amounts of physical and psychological suffering."
Then the professor went on about drought.
I have been under the bed all day: hiding from climate change.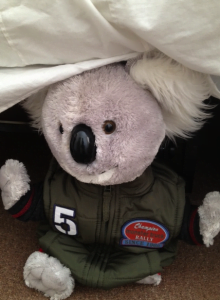 Jen has just pushed this new letter under for me to read:
Dear Prof. Steffen

You write in The Australian…

"The Big Dry of 1997-2009 put severe pressure on Melbourne's water supply and damaged the state's agricultural production, leading to an 80 per cent drop in grain production and a 40 per cent reduction in livestock production in the Wimmera Southern Mallee region.

There is strong evidence that climate change influenced the extreme events Victorians experienced over the past decade. Without effective action on climate change, we can expect more such damaging weather and climate events in the future, and they will likely become more severe."

Can I ask what evidence you are citing here? As an active climate researcher I am unaware of any evidence for 'climate change' influencing the recent drought. Even without 'action' on climate change we can expect more damaging weather and climate events, occasionally more severe than before.

Are you able to cite any science or is this afterall, just your opinion?

Best wishes, Stewart

A/Prof Stewart W. Franks
University of Newcastle
Ouch.
*************************************
1. Basil Beamish for Climate Commissioner, May 18th, 2012. http://jennifermarohasy.com/2012/05/basil-beamish-for-climate-commissioner/