YESTERDAY his Australian Broadcasting Corporation reported that Australia's Climate Commissioner Tim Flannery has studied the climate record and discovered that the number of hot days are increasing in western Sydney, more koalas are falling out of trees, and people sitting in traffic jams are forgetting to turn on their air-conditioning. You can read everything here:
http://www.abc.net.au/news/2012-05-14/heatwaves-bushfires-predicted-to-hammer-nsw/4009006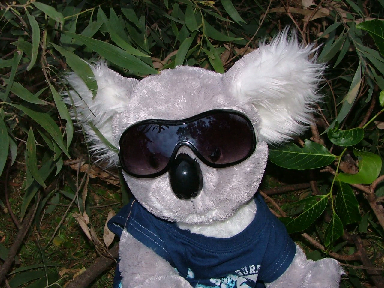 My name is Mr Koala Bear and I've been studying his report.
Naughty Tim has NOT told the whole story.
There are a lot of problems with relying on Parramatta for hot days for western Sydney. Parramatta is not a high quality site according to the Bureau of Meteorology, Parramatta only has temperature recordings from 1970 and Parramatta is jammed with more and more cars and especially air conditioners making it even hotter.
Luckily, I've found a high quality site west of Sydney with temperature recordings back to 1923. A much better site if we want to know about hot days and climate change.
I split my counts of hot days at Bathurst into 10-year intervals and counted the number of days in each decade above 35.0 °C.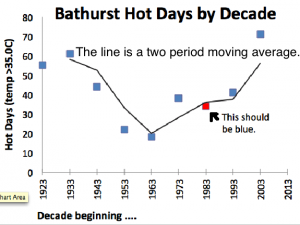 Now I will tell the story of two Tims.
Tim 1 was busy playing his vinyl Beatles records back in the swinging '60s when he looked at his data and became very alarmed because it showed that the number of very hot days for each decade had fallen from over 60 to about 20 in just 4 decades! The trend was very bearish.
Tim 1 was convinced that a new ice age was setting in and by the end of the century everyone in Australia would be living in igloos! Imagine koalas living in igloos!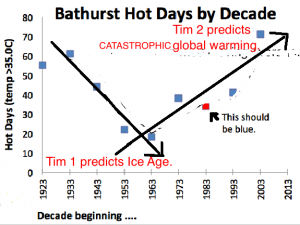 Nearly 50 years later, Tim 2, the Climate Commissioner, was listening to Lady GaGa on his iPod, when he saw that the number of very hot days over the past 4 decades was rising very steeply. Tim predicted that EVERY day would be over 35C by the end of the century. The trend was very bullish: very scary for a bear.
Both Tims just looked at the last five decades and were alarmed.
The real story is that the climate changes.
Be careful not to fall into the Tim-trap of just following a trend for a short period and thinking that this will go on forever. It just does not happen that way with our climate.