THOSE committed to catastrophic global warming can keep finding new evidence for global warming while those sceptical keep attempting to debunk the new claims.
For example, the number of tornados in the US is increasing.
But the increasing count is due to better weather tracking technology recording more low intensity events, according to Alan Cheetam.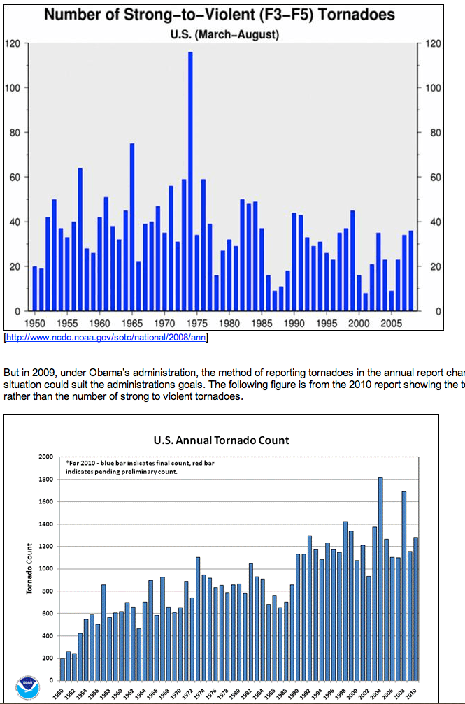 The charts are from Alan Cheetham's website. Its a trove of information and data that helps puts the dire warnings about tornados and much more in some perspective. It can be accessed here: http://www.appinsys.com/globalwarming/
Tornado information here: http://www.appinsys.com/globalwarming/GW_4CE_Precipitation.htm
*********
Monday May 14th
After posting that those committed to global warming keep finding new things to scare us with, I wake up to the Australian Broadcasting Corporation claiming:
Heatwaves, bushfires predicted to hammer NSW
Updated May 14, 2012 08:18:14
The Climate Commission has released a report predicting record heatwaves, bushfires and rising sea levels in New South Wales because of climate change.
The report says the temperature in Sydney tops 35 degrees on just three days a year, but based on climate modelling, it will be 14 days per year by the end of the century.
Federal Climate Commissioner Professor Lesley Hughes says western Sydney is getting disproportionally hotter and drier than the rest of Sydney.
"If we compare western Sydney with the rest of Sydney, the number of hot days in western Sydney used to be three times as many as eastern Sydney, and now it's four times," she said.
"So what we are seeing is not only rising temperatures but some parts of the country are getting disproportionally hotter"…
The report, part of the Commission's series titled "The Critical Decade", predicts by century's end that sea-levels will rise by 1.1 metres, putting more than 40,000 New South Wales homes and 250 kilometres of highway at risk.
Particularly vulnerable areas include Lake Macquarie and Wollongong.
Professor Hughes says there will also be more bushfires.
"The number of very high fire danger days could increase by over 20 per cent by 2020, by up to 70 per cent by 2070," she said.
Chief climate commissioner Tim Flannery says some of the negative impacts of warmer weather in Sydney's west are not immediately obvious.
"What happens when we get these very, very hot days is that elderly people and the very young particularly are vulnerable and people get a little bit confused because they're heat stressed," he said.
"People get angry as well, particularly if you're sitting in a traffic jam and it's stinking hot outside."