IN the newly released Murray Darling Basin Plan there is a proposed target salinity for Lake Alexandrina. The plan suggests this target salinity value to be measured at Milang:
"The inclusion of a salinity target for Lake Alexandrina will provide for the management of salinity in both Lake Alexandrina and Lake Albert. The Milang location is proposed as there is a historical record for this site, and it is not influenced by the day-to-day operations of the barrages which could result in short-term salinity fluctuations at sites closer to the mouth.

The proposed Basin Plan has been amended to introduce a new target value for salinity for managing water flows in the Lower Lakes (measured at Milang) of 600mg/L for 95% of the time."
Milang is located on the western edge of Lake Alexandrina, as you can see on the map.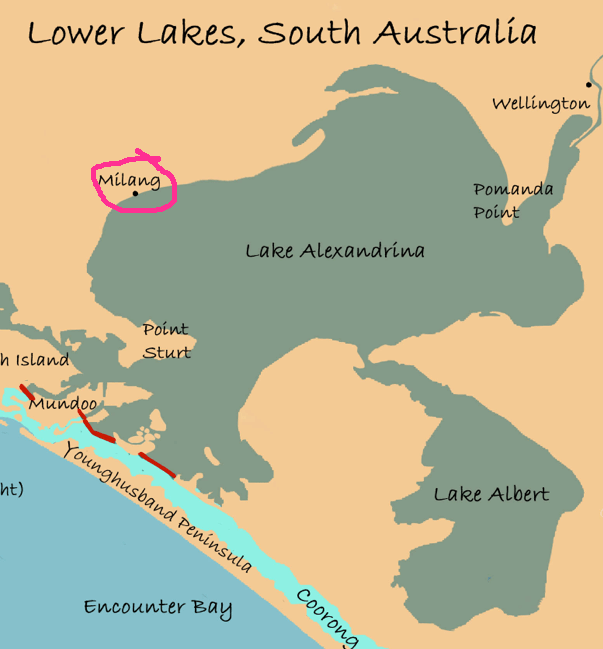 The salinity target value of 600mg/L can be compared to the salinity of seawater that is about 35,000 mg/L.
In other words, the target value is about 1.7% of the salinity of the ocean.
My name is Mr Koala and I have a problem with this target.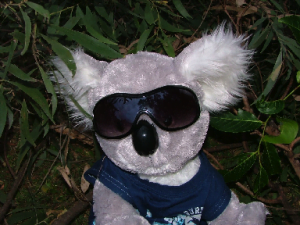 The problem is that Lake Alexandrina in its natural state is part of an estuary. It was transformed into an artificial fresh water reservoir by building a set of walls at the river mouth completed in 1940. Walls are not natural, and neither is it natural for Lake Alexandrina to be continuously full of fresh water.
The natural state of Lake Alexandrina is that of a coastal lagoon forming part of the river estuary with widely fluctuating salinity levels.
I know this because I asked the Murray Darling Basin Authority for records of salinity for Milang BEFORE the barrages were closed in 1940. They kindly gave me records for a two year period between 1937 and 1939.
I studied these records, and they show that the average salinity level at Milang was 38% seawater!
In fact, there were times during this two-year period when the salinity was 100% seawater.
Even a koala can see that before they built those concrete walls, Lake Alexandrina was part of a salty estuary.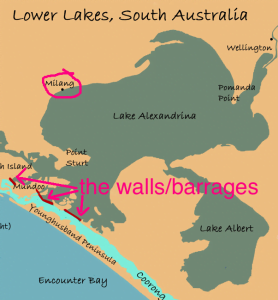 Then someone told me about the diatoms. These are algae that live in water. Some diatom species like freshwater and some species like salty water. Others are happy either way. If you take a sediment core from the bottom of a lake it can give you a record of what the saltiness of the lake was like hundreds or thousands of years ago. There are some studies of sediment cores and the diatoms they contain for Lake Alexandrina. I have studied this very carefully for the past 6 months. That's a long time in the life of a koala.
Anyway, all this tells us is that as we travel into the distant past, over 7,000 years back in time, Lake Alexandrina was even saltier than it was in the 1930s, before they built the walls to keep the ocean out. The records certainly don't tell us that long ago it was a fresh water lake.
Its pretty plain, even for koalas, that if you want to return Lake Alexandrina to its natural state there is only one thing to do. Knock down those artificial concrete walls and let the sea come back in.
Another famous wall was torn down in 1989, and afterwards everyone was a lot happier. The koalas say:
"Tear down that wall, Mr politician"
*******
Thank you to Susan at www.lakesneedwater.org for the loan of the map.