THE climate update for July 2011 indicates:
"The Northern Hemisphere was characterised by regional variability. Below average temperatures extended across western North America, most of the North Atlantic and Europe, and central Russia. Above average temperatures characterised eastern North America, western Russia and eastern Siberia.
The Southern Hemisphere in general was close to average 1998-2006 conditions, with the exception of parts of the Antarctic. Most other land regions experienced below average temperatures.
Also the near Equator temperatures conditions were close to average 1998-2006 conditions.
The Arctic was characterized by a relatively high variability of surface air temperature deviations from the 1998-2006 average. The European Arctic sector had below average temperatures, and also Alaska and parts of Russia and western Siberia were relatively cold. Most of the Canadian sector and eastern Siberia experienced above average temperatures.
Most of the Antarctic continent experienced high average temperatures, the only major exception being the Antarctic Peninsula…
"All five global temperature estimates presently show stagnation, at least since 2002. There has been no increase in global air temperature since 1998, which however was affected by the oceanographic El Niño event. This stagnation does not exclude the possibility that global temperatures will begin to increase again later. On the other hand, it also remain a possibility that Earth just now is passing a temperature peak, and that global temperatures will begin to decrease within the coming years. Time will show which of these two possibilities is correct.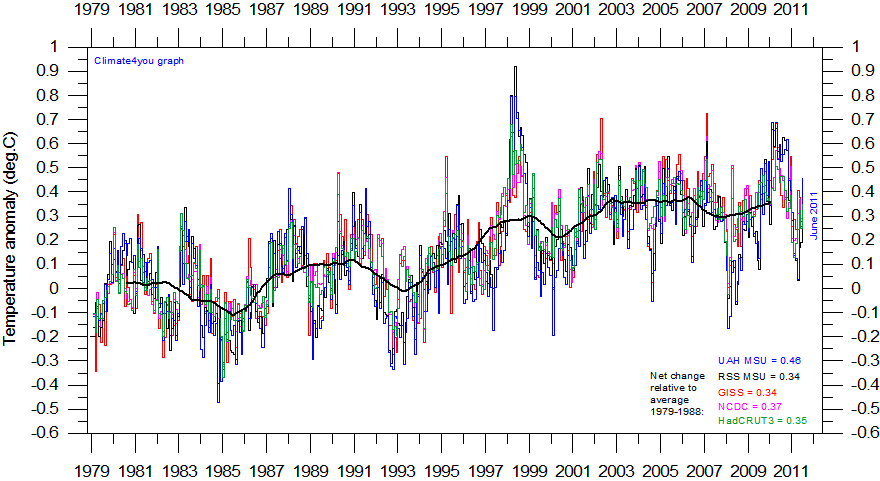 More information here:  http://www.climate4you.com/Text/Climate4you_July_2011.pdf
From:  Ole Humlum, Professor of Physical Geography  Department of Physical Geography, Institute of Geosciences  University of Oslo, Box 1042 Blindern, N-0316 Oslo, Norway