ON Tuesday there was a Parliamentary Information Session in Canberra sponsored by the Global Change Institute and the University of Queensland at which many government-funded climate scientists told members and senators that the end is nigh. That is unless Australia signs on to the United Nations Sustainable Development Goals at the upcoming COP21 in Paris.
The night before the debate, on Monday, three of the alarmists (Ove Hoegh-Guldberg, John Church and Mark Howden), Bob Carter and I were invited to present information to the Coalition Environment Committee, where Craig Kelly MP facilitated some lively discussion.
It is significant that such a meeting was actually held in Parliament House at which both government-funded alarmists and credentialed independent sceptics were present; this is almost a world first and certainly an Australian first.
I emphasized the importance of distinguishing between real historical data as opposed to naively believing output from computer models that homogenize original measurements. I forcefully criticized both Hoegh-Guldberg and Church for not telling the members and senators that they had presented remodeled data, as opposed to actual measurements in their presentations, which preceded mine.
My presentation* focused on surface temperature data from Rutherglen, and how the Bureau of Meteorology has remodeled the observational temperature series, showing sustained cooling over the 20th Century, to show an apparent dramatic warming trend. This is achieved by the Bureau dropping down past temperatures and promulgating this effect backwards. In particular, the Bureau subtracts 0.57°C from all temperature minima recorded before 1974, subtracts 0.63°C from all minima before 1966, and subtracts 0.49°C from all minima before 1928. The net change back to the beginning of the record in 1912 is thus 1.69°C. This is an extraordinarily significant distortion of the record.
At the meeting, I explained how Rutherglen is one of 104 weather stations used to construct the contrived official temperature trend for Australia, and that every single temperature time series was adjusted. In general, like at Rutherglen, the adjustments have the effect of cooling the past and thus making the present appear relatively hotter.
I mentioned that it was a travesty that Minister Greg Hunt had prevented a proper inquiry into the Bureau last year, and suggested that the senators and members in the room needed to 'wake-up' and do something. Public policy, I suggested, needed to be based on real data/real evidence, not contrived temperature series.
After my presentation, Professor Howden began with slides indicating that because of climate change there had been a decline in crop yields. He was interrupted by one of the MPs who asked whether the charts on display represented actual real historical data, or output from a computer model. The Professor acknowledged that he was showing computer output.
At that point, I really wanted to applaud when several of the MPs promptly got up and walked out.
After the presentations there was some discussion of the satellite data at the request of the committee chair, Craig Kelly MP. Luckily, I had a supplementary slide showing the last 17 years of data for Australia to September 2015, that I had downloaded the day before from Ken Stewart's blog, https://kenskingdom.wordpress.com/2015/10/16/the-pause-september-update/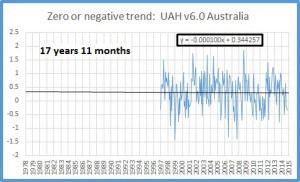 This data, which measures radiance in the lower troposphere clearly shows that there has been no global warming for 17 years. However, Professor Howden from the Climate Change Institute at the Australian National University, claimed that if measurements from different altitudes were combined this data showed global warming. Perhaps he meant that that even this data could be remodeled to show global warming.
Of course, it is possible to change the trend in any time series by making specific adjustments to individual values, then combining measurement in particular ways, with arbitrarily assigned weightings. These are indeed the techniques mainstream climate science apply to data, and then justify the same on the basis it is 'World's Best Practice' because it shows global warming, and any data that does not is just wrong.
Ansley Kellow in his book 'Science and Public Policy: The Virtuous Corruption of Virtual Environmental Science' labels this preference for virtual data that tells the "correct" story, over real measurements, as a form of "noble cause corruption".
At the meeting on Monday night Professor Carter stressed the need to pay attention to the scientific method, and in particular the importance of testing the null hypothesis. Meanwhile Ove Hoegh-Guldberg continually pointed to a thick tome which apparently represented the consensus of all IPCC scientists. Of course, this consensus is all about politics, not evidence or science.
You might consider sending a note of thanks to one or more the following members and senators for attending. Craig Kelly MP, in particular, should be congratulated for organizing the meeting, and facilitating the discussion.
1. Senator Eric Abetz, Liberal, TAS
2. Dr Peter Hendy MP, Liberal, NSW
3. Senator Zed Seselja, Liberal, ACT
4. Craig Kelly MP, Liberal, NSW
5. Warren Entsch, LNP, QLD
6. Dr Denis Jensen MP, Liberal, WA
7. Bert van Manen MP, LNP, QLD
8. Nola Marino MP, Liberal, WA
9. Andrew Broad, National, VIC
10. Tony Pasin, Liberal, SA
11. Brett Whitely, Liberal, SA
12. Rick Wilson, Liberal, WA
13. George Christensen, LNP, QLD
14. Eric Hutchison, Liberal, TAS
15. Sharman Stone, Liberal, VIC
16. Mark Coulton MP, National, NSW
There is more information, and a link to an interview that I did with Alan Jones, 2GB, at Jo Nova's blog, http://joannenova.com.au/2015/10/alan-jones-talks-climate-paris-mainstream-scientists-caught-out-by-marohasy-in-parliament/
Also, Brett Hogan from the Institute of Public Affairs was the sixth speaker. He gave an interesting talk about coal, and how it is helping the poor in places like India and China out of poverty.
———————————-
* My presentation included several charts of data from Rutherglen, and the nearby location of Beechworth, these charts with explanatory notes can be downloaded here: Notes-EnvironCommittee-October2015-V4