The Australian Bureau of Meteorology just makes stuff up.    You may remember Rutherglen, that town in north eastern Victoria, Australia, where the Bureau changed a slight cooling trend in the minimum temperatures to catastrophic global warming?  After they were caught-out, they claimed the "adjustments" were necessary because there had been a site move.  That's right, moving a weather station between paddocks changed a cooling trend of 0.35 degree Celsius per century into a warming trend of 1.7 degree Celsius!
That didn't seem so convincing on reflection.  And there has always been the issue of evidence.  That's right.  Where is it documented that the weather station was ever moved?
More recently, the Bureau has been claiming that it had to change the temperatures at Rutherglen because they were different from temperatures at near-by locations.  Of course, a real scientist wouldn't tamper with data because it showed an unusual trend.   Rather the unusual result might be investigated.
But not the Bureau.  It changes the trend at Rutherglen so it matches neighboring stations, but only after first changing the trend at neighboring stations so it matches the global warming trend.
In protest I've sent an email to the CEO, Vicki Middleton.
Dear Ms Middleton,
Re: Deniliquin shows statistically significant cooling, Rutherglen just shows cooling
I am writing to request that you correct a Bureau of Meteorology fact sheet*, which shows remodelled (homogenized) data for Wagga, Deniliquin and Kerang with actual physical temperature measurements (raw data) for Rutherglen.
Several members of the public, seeking clarification regarding adjustments to the temperature record for Rutherglen, have been advised by you in recent correspondence that the adjustments at Rutherglen are necessary to make temperature trends at Rutherglen more consistent with neighboring sites.   In particular, you have directed them to this fact sheet* that shows minimum temperatures at Rutherglen cooling, while temperatures at Wagga, Deniliquin and Kerang are warming.  What you have failed to point out, however, is that the Wagga, Deniliquin and Kerang series represent homogenized time series.   That is, the data have been substantially remodelled.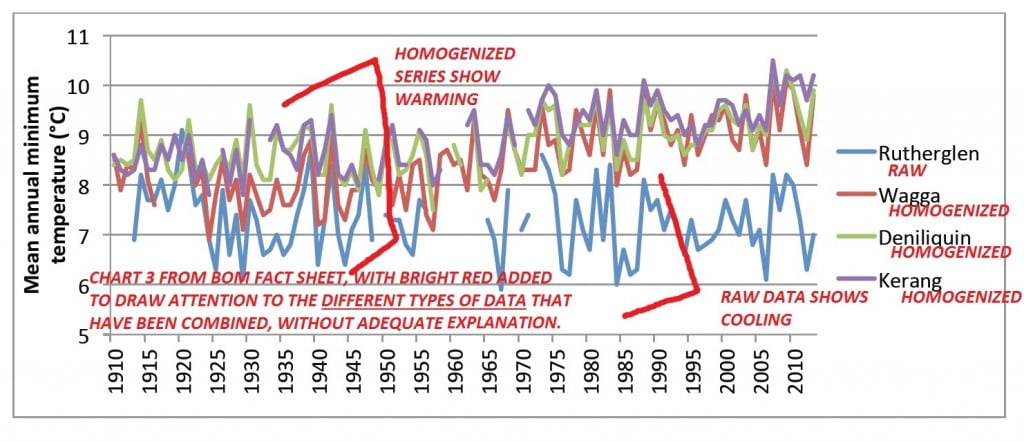 There is no single, long, continuous, raw minimum temperature record from the same site for either Kerang or Wagga.   Recordings were made at Wilkinson Street, Deniliquin, from February 1867 to June 2003, providing a record comparable in length to the raw series from Rutherglen.
I have plotted the raw temperature series for three Deniliquin locations below, including the data from Wilkinson Street from 1913, which is when the Rutherglen series begins.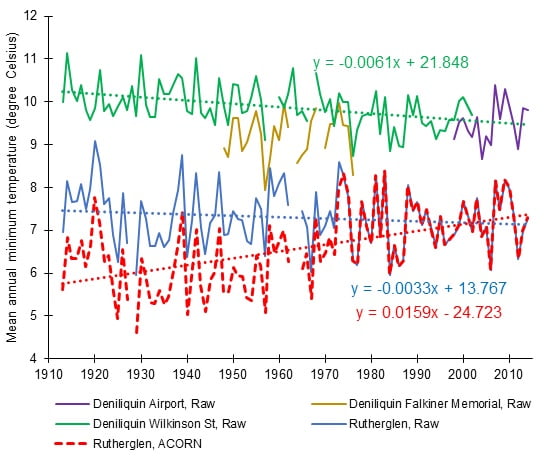 The top green squiggly line represents data from Wilkinson Street, Deniliquin, the short purple squiggle is data from the airport at Deniliquin, and the mustard-colored squiggle is from a site referred to as Falkiner Memorial, Deniliquin.
Also shown in this chart are both homogenized and raw data for Rutherglen, as the red and blue squiggly lines, respectively.
The three dotted-lines represent the linear trends from Wilkinson Street (green), the raw (blue) series for Rutherglen, and the homogenized (red) series for Rutherglen.
The cooling trend in the Wilkinson Street, Deniliquin series of 0.6 degree Celsius per century is statistically significant (p<0.05).
I appreciate that you may have been misled by your employees into believing that the cooling trend at Rutherglen (represented by the blue line in the above chart) is erroneous.   This is not the case.
I recognize that this cooling trend evident in the minimum temperature record for much of the twentieth century at many rural locations in south eastern Australia is inconsistent with official Australian and also global trends.   Nevertheless, it does appear to be real, and is statistically significant for some locations.   Of course, real scientists are concerned with the interpretation of real data, rather than remodeling to generate constructs that fit popular political agendas.
Yours sincerely,
Jennifer Marohasy BSc PhD
Independent Scientist
9th August, 2015
Copy Maurice Newman, chairman of the Prime Minister's Business Advisory Council.
*The following document is cited in Bureau correspondence as a Fact Sheet:
Bureau of Meteorology, 2014. ACORN-SAT station adjustment summary – Rutherglen (as at 24 September 2014), Accessed 8 August 2015.  http://www.bom.gov.au/climate/change/acorn-sat/documents/station-adjustment-summary-Rutherglen.pdf