The following paper was delivered by Jennifer Marohasy at the Ninth International Conference on Climate Change in Las Vegas on Wednesday 9th July 2013 in Panel 13.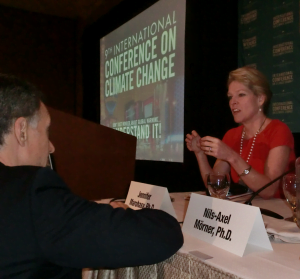 SCIENTIFIC disciplines are always underpinned by theories that collectively define the dominant paradigm. In the case of modern climate science that paradigm is anthropogenic global warming (AGW). It defines the research questions asked, and dictates the methodology employed by the majority of climate scientists most of the time. AGW may be a paradigm with little practical utility and tremendous political value, but it's a paradigm none-the-less. The world's most powerful and influential leaders also endorse AGW. Even Australia's Prime Minister Tony Abbott said in June, "I don't think people should run around pretending there is disagreement when none exists. President Obama and myself both take climate change very seriously."
AGW has even dictated the question for this session, "How is climate change affecting sea level, rainfall and water availability? Will a warming planet complicate or alleviate water challenges?"
But what is the utility of such a question, particularly given there is growing evidence that planet earth has already entered what could become a protracted period of cooling? This is not what we hear in the mainstream media, but this view is supported by evidence in the unadjusted temperature data for my state of Queensland in Australia, and is also what some astrophysicists have been forecasting for some time.
If mainstream science operated under a different paradigm, one where researchers believed it was possible to forecast weather and climate not just 3 days in advance, but with a high level of skill 3 months, or 3 years in advance, and if their primary focus was not justice, equity and curbing greed, but rather the provision of useful information to Joe Citizen, the question for this session might have been very different. "How much rain is forecast to fall on California's Central Valley each and every month for the next 2 years?" Answering such a question could not only aid food production, but also facilitate planning for floods and drought. The work I have been undertaking with Professor John Abbot, Central Queensland University, is attempting to address this type of question for Queensland, Australia.
The General Circulation Models (GCMs) that underpin the paradigm of AGW have difficulty generating rainfall forecasts with any real level of skill more than 4 days in advance. If a fraction of the billions spent developing these simulation models, had instead been invested in a theory of climate underpinned with state-of-the-art statistical models based on an understanding of natural climate cycles, I believe we would be much closer to being able to mitigate climate variability across the globe through better rainfall forecasts with very significant benefits for all of mankind, but particularly subsistence farmers in places like India. In short, what we really need is a new paradigm for climate science, underpinned by new tools with some utility.
So, what I will do in the limited time available today is tell you something about how artificial neural networks (ANNs), a form of Artificial Intelligence (AI), have potential as a new tool for a new paradigm, and in particular their application to rainfall forecasting. I will then be in a position to better answer the question for this session concerning rainfall and water availability in a warming world.
ANNs are massive, parallel-distributed, information-processing systems with characteristics resembling the biological neural networks of the human brain. Imagine a computer with the capacity to search and find the complex linear, and also nonlinear relationships, which may exist between local temperature, rainfall, and Pacific Ocean phenomena including changing patterns of sea surface temperatures and pressure. Image a computer with a powerful and versatile data-modelling tool that is able to capture and represent input and output relationships acquiring knowledge, through learning from multiple examplars deciphered from vast arrays of historical data, storing this knowledge within inter-neuron connections strengths known as synaptic weights. A computer that can learn relationships, model and measure relationships, then use this information to forecast rainfall.
This is essentially what the ANN that John Abbot and I built to forecast rainfall for 17 locations across Queensland can do. In a paper by us published two year ago by the Chinese Academy of Sciences' journal Advances in Atmospheric Science (Volume 29) we detail the model and demonstrate how much more skilful medium-term monthly forecasts from this model are, relative to forecasts from the Australian Bureau of Meteorology's best GCM. In a more recent publication in the journal Atmospheric Research (Volume 138) we show how forecasts for Queensland are improved with inclusion of the Inter-decadal Pacific Oscillation. In a conference paper presented a year ago in Southampton (River Basin Management VII, WIT Press) we show the potential of ANN to forecast extreme rainfall, specifically the devastating flooding that submerged Queensland's capital Brisbane, in January 2011.
We have another paper currently in press at the International Journal of Sustainable Development and Planning, which considers the affect of a 3 degree C increase in temperature on rainfall, a component of the question for this panel. What did we find? In our cast study when maximum and minimum temperatures were increased by 3 degree Celsius there was a decline in summer rainfall and an increase in winter rainfall at a placed called Nebo in central Queensland.
The bottom-line is that ANNs can already provide better medium-term rainfall forecasts for Queensland, Australia. This has a real practical value. ANNs can also provide an independent method of GCM validation under future climates with results from Nebo suggesting a smoothing of the annual variability in rainfall rather than more climatic extremes assuming global warming.
ANNs use the existence of recurrent patterns in historical data to inform the rainfall forecast. That our rainfall forecasts drawing in most cases on about 85 years of temperature data show considerable skill, means natural climate cycles must persist. Climate is not on a new trajectory as suggested by many proponents of AGW.
A great advantage of using ANNs is that they can easily be adapted to test and incorporate additional input data series, as climatic knowledge develops. If the relationship can be quantified it can be modelled by an ANNs, including potentially lunar, solar and planetary cycles.
While AGW is a demonstrably failed paradigm, it will be replaced only when a critical number of practicing scientists start working on something new. New paradigms always have their own questions and their own tools. In the same way that GCMs underpin AGW theory, ANNs could underpin a new paradigm based on better quantifying the drives of natural climate cycles.
Henry David Thoreau wrote, "In the long run, men only hit what they aim at." What are we as a community of sceptics aiming for? Just the overthrow of AGW, or can we aim much higher, including for skilful rainfall forecasts?
Thank you.
Acknowledgements
I would like to thank The Heartland Institute for the opportunity to present at the Ninth International Conference on Climate Change. All the research on the application of artificial neural networks to medium-term rainfall forecasting detailed here has been done in collaboration with Professor John Abbot funded by the B. Macfie Family Foundation.
A video of the talk can be found at this link… http://climateconferences.heartland.org/breakout-1-streaming/
Scroll to find image of me in red, click on the link. The tiny URL for this blog post is http://tinyurl.com/m6fbq9p.