WHEN Tim Flannery was sacked last week as Australia's Climate Commissioner he claimed that this last year has been the hottest on record. I don't believe him because the raw data doesn't support that claim, only the metadata for Australia, which has been adjusted, shows recent warming. Willis Eschenbach explains how they 'fix the data' in an article published back in 2009 titled 'The Smoking Gun at Darwin Zero' [1].
Mr Eschenbach showed how, from the hundreds of available weather recording stations in Australia, the IPCC used only three stations to cover the period 1897 to 1992 [1]. Not only were the IPCC selective in the stations used, they 'homogenized' the raw data from these stations before using it. Homogenization had the effect of causing a 0.7C per century falling temperature trend to show a 1.2C per century increase with the adjustments made involving a change of over 2C per century.
Mr Eschenbach made the comment that, "when those guys 'adust', they don't mess around. And the adjustment is an odd shape, with the adjustment first going stepwise, then climbing roughly to stop at 2.4C."
All five global temperature estimates show no increase, at least since 2002, fig. 1 [click on the image for a larger and clearer view]. There has been no increase in global air temperature since 1998, which was affected by the oceanographic El Nino event of that time [2].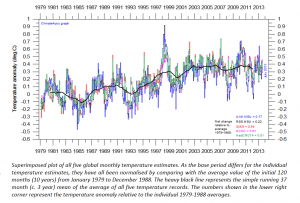 This apparent stagnation does not exclude the possibility that global temperatures will begin to increase again in the future. On the other hand, it also remains a possibility that Earth has just passed a temperature peak, and that global temperatures will begin to decrease within the coming years [2].
But like Australian temperature data, none of the global temperature records are stable over time, fig 2.
Since at least 2008, 'administrative adjustments' along the lines of 'Darwin Zero', have been made to the global temperature record. In particular, changes are made such that metadata records representing more recent years, e.g. 2000, are adjusted up while methods are used to ensure the global average for specific years in the first half of the twentieth century are adjusted down, e.g. 1915, fig 2 [2].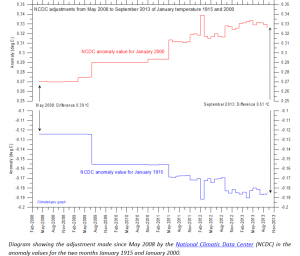 Unadjusted raw data for many individual localities indicates that the late 1930s and early 1940s were the warmest years of the instrumental record [3]. In the leaked Climategate emails this was referred to as the '1940s warming blip', and the climate scientists openly discussed various methods for its arbitrary removal.
In the aftermath of Climategate, in February 2010, the BBC's Roger Harrabin interviewed Phil Jones, head of the Climatic Research Unit at the University of East Anglia.
In the interview Professor Jones stated that although there has been a modest warming trend since 1995, it is not statistically significant. Further, he said, there is no statistically significant difference among the four warming trends of 1860-1880, 1910-40, 1975-1995, and 1975-2009.
This begs the question as to how the CRU and Professor Jones could have been claiming that late 20th Century warming was unnatural and driven by elevated emission of carbon dioxide. Did Professor Jones simply make this admission to Mr Harrabin at the time in an attempt to emphasis agreement between the CRU, NASA GISS, and NOAA datasets; as part of his defense that the CRU had done nothing is wrong in its compiling of temperature records?
At the time meteorologists Joseph D'Aleo, and also the Russian Institute of Economic Analysis, were suggesting that these three global surface temperature datasets had already been heavily compromised and already contained strong warming biases. This public comment from Mr D'Aleo was based on a preliminary assessment of data obtained under a Freedom of Information request made to NASA GISS and released on New Year's Eve of December 2009. Mr D'Aleo, based on a preliminary assessment, was suggesting that changes to global temperature estimates had already been affected when 565 of 600 Canadian weather stations were dropped from NASA and NOAA datasets. Mr D'Aleo has a list of key studies indicating a worldwide data manipulation scandal at his website Icecap [4].
***
[1]. The Smoking Gun at Darwin Zero. Read more here http://wattsupwiththat.com/2009/12/08/the-smoking-gun-at-darwin-zero/
[2] This blog post relies on information and charts from Ole Humlum's Climate4You update August 2013. Read more here: http://www.climate4you.com/Text/Climate4you_August_2013.pdf
[3] Climate Commission Fudges Hot Day Data. Read more here: http://jennifermarohasy.com/2012/05/climate-commission-fudges-hot-day-data/
[4] Worldwide Data Manipulation Scandal Emerging. Read more here: http://icecap.us/index.php/go/joes-blog/are_we_feeling_warmer_yet/
Your comments on global temperatures trend and how data is compiled and adjusted are welcome in the following thread. For more general comments and information on climate change please post at the Open Thread here: http://jennifermarohasy.com/2013/09/open-thread-9/
My plan is to blog less here, and post more at www.mythandthemurray.org over the next few months.