THIS morning our national newspaper, The Australian, has a very misleading story about a farmer Colin Grundy complaining that Murray river water is too salty for irrigation. [1]
In fact Mr Grundy does not live anywhere near the Murray river. He lives right beside the sea.
Mr Grundy lives on Mundoo Island that faces the Murray's sea mouth that is a narrow outlet to the pounding surf of Encounter Bay and the Southern Ocean.
Reporting on water quality in the Murray River with reference to Mundoo Island is like reporting on water quality in the Parramatta River from Circular Quay in Sydney Harbour, or water quality in the Brisbane River from Fisherman's Island at the mouth of the Brisbane River.
There is a sea dyke across the Mundoo channel to hold back the tides of the Southern Ocean but last autumn the Southern Ocean did splash over the top of it.
Upstream, in the Murray River proper, salinity levels are at historic lows. [2]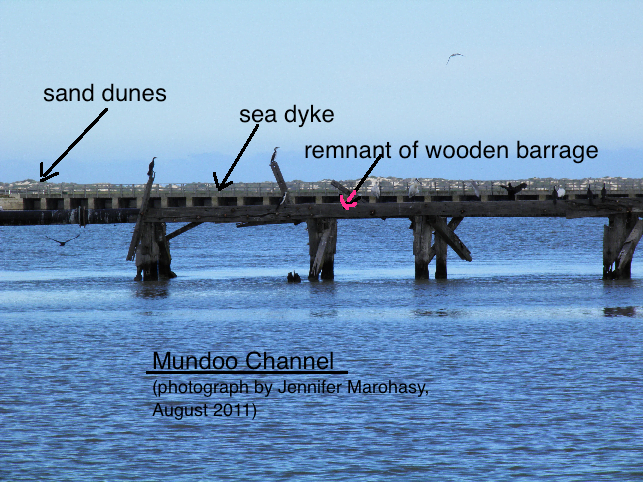 Later today the Murray Darling Basin Authority will release its plan for water reform – over the last couple of years we have had the draft-draft plan, the draft plan and today its time for the plan.
This new plan will recommend the buy back of a tremendous volume of water: about 25% of all the water currently used for irrigation in the Basin.
And as I've written many times before, the freshwater that is recovered will be sent to the Lower Lakes where there is no longer any natural environment worth saving. [3]
Indeed if government really cared about the Lower Lakes it would restore the Murray River's estuary that was destroyed with the damming of the Lower Lakes through the construction of the five sea dykes that block the five channels that converge on the Murray's sea mouth.
But according to Labor, Liberal, National and Greens senators and members of parliament, restoring the estuary would be too hard, too political, and potentially a vote loser in South Australia. [4]
And these people smooch with journalists at our top newspapers, who quote scientists dependent on government for funding, or farmers with a vested interested in getting ever more freshwater to the very bottom of the system. And so the false narrative about a lake that would always be fresh if it wasn't for greedy upstream irrigators is perpetuated never mind that this freshwater lake was once the central basin of a wave-dominated barrier estuary. [5]
Expect lots of news stories relating to the Murray Darling over the next few days and weeks, but don't believe much of it.
Indeed ignorance isn't only what you don't know. It can be what misguided journalists want you to believe, but that just isn't correct.
********
References and Links
1] Undiluted Murray plan leaves states cold. Lauren Wilson and Verity Edwards, May 28, 2012. http://www.theaustralian.com.au/national-affairs/state-politics/undiluted-murray-plan-leaves-states-cold/story-e6frgczx-1226368776295
2] A Note on Murray River Salinity Levels. Sent to Water Minister, Tony Burke, August 29, 2011. http://www.mythandthemurray.org/wp-content/uploads/2011/09/A-Note-on-Murray-River-Salinity-Levels2.pdf
[3] Saving the Murray Darling
http://jennifermarohasy.com/saving-the-murray-darling/
[4] Save the Murray Restore the Estuary, Address to Sydney Institute by Jennifer Marohasy, February 8, 2012
http://jennifermarohasy.com/wp-content/uploads/2012/03/Murray-Estuary_Sydney-Institute-Paper-2.pdf
And you can find the podcast here: http://jennifermarohasy.com/publications/
[5] Plugging the Murray River's Mouth: The Interrupted Evolution of a Barrier Esuary
http://jennifermarohasy.com/wp-content/uploads/2012/02/Plugging-the-Murray-Rivers-Mouth-120212.pdf