Everyone wants to claim credit when something is a success. My guess is that the real architect of the emerging energy crisis will eventually, be remembered as the absolute worse Prime Minister Australia ever had. Of course, he couldn't have achieved this all on his own and his environment minister, then senator Robert Hill, played a big part in it all.
It was during Howard's term as PM that the Renewable Energy (Electricity) Act 2000 was conceived and implemented creating subsidies for wind turbines, that are not windmills.
As Alex Nicolls, not to be confused with Alex Turnbull, explains in this little video clip there is a lot of money to be made out of installing a wind turbine. While expensive, and subsidised, it is not obvious how much useful electricity is actually generated by each turbine.
That John Howard continues to be held up as a paragon of conservative values is an absolute travesty.
That John Howard is being invited by psychologist Jordon Peterson to be part of the new Alliance for Responsible Citizenship (ARC), including to champion a new and better approach to environmental issues is ridiculous. Too many of my colleagues are telling me how excited they are to be a part of this event that will be held in London later this year. Useful idiots the lot of them.
The Howard government not only introduced the legislation that created the subsidies for the explosion in investment in this different form of unreliable electricity generation, but it was also under John Howard that the Environment Protection and Biodiversity Conservation Act 1999 was introduced. While ostensibly affording a great amount of protection to natural environments, in reality it resulted in more legislation, more employment of new graduates and activists, that came up with plans making it that much harder to do anything useful for the environment, like control woody weed regrowth on farm.
Back then, I was employed as environment manager for the Queensland sugarcane farmers lobby group, Canegrowers.
I remember being visited by someone from the Humane Society who tried to convince me to get onboard. He explained that just by supporting their work, and being less antagonistic towards the World Wildlife Fund (WWF), I could become more important. He went on to explain that I could grow my own career, including through the direct employment of more people as my assistants – all financed by the federal government through the new EPBC legislation. I eventually told him to get the F*ck out of my office.
During John Howard's time as prime minister the amount of direct federal government expenditure on environmental issues ballooned from A$500 million to A$4.3 billion all of this to mostly implement the vision of the WWF because John Howard didn't actually come to government with his own vision.
It is the case that not long after the EPBC Act was introduced, people associated with WWF Australia were appointed to serve on Federal Government environmental advisory committees. A short time later, WWF Australia in conjunction with the Humane Society International was awarded a contract to disseminate information about the Act amongst environment organisations.
In return, the Howard Government frequently used WWF Australia's name and public statements to promote its environment policies. Press release after press release mentioned WWF to add credibility to the John Howard's many environmental policies; There were a total of some 64 media releases back then that cited WWF Australia many from the office of Robert Hill and many probably written at least in part by Imogen Zethoven.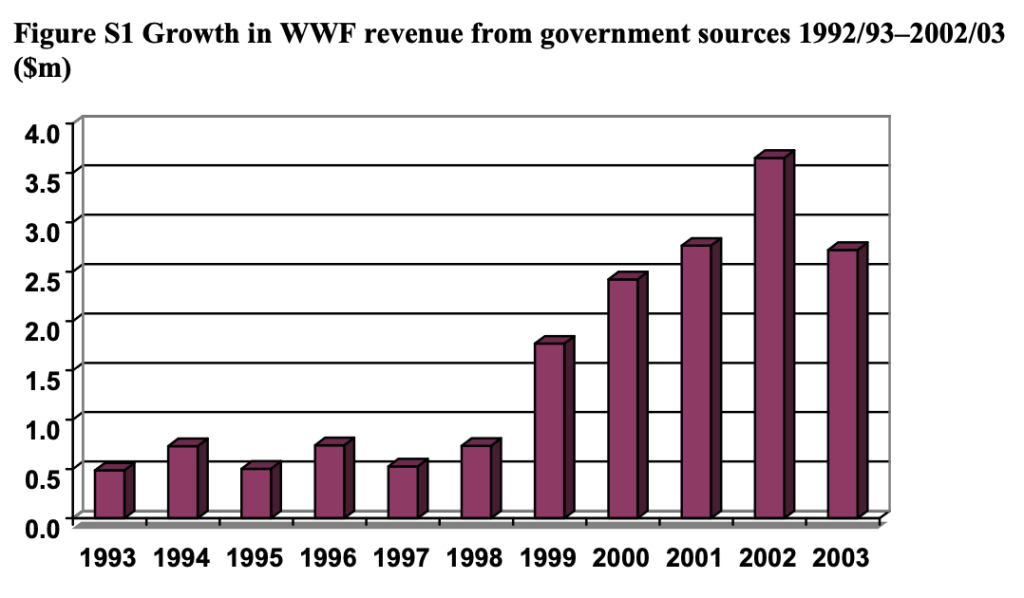 The feature image is a photograph taken by me looking through mangroves to a full moon that is reflected back from Weyba Creek. The world is not always as it seems and environmental politics is full of smokes and mirrors with very little that benefits the natural environment.