It has been raining a lot where I live, about halfway down the east coast of Australia.   The year I started boarding school it also rained a lot, that was 1974 – another year of extreme rainfall.   I remember the flooding back then.  But this year feels worse. This year, 2022, is not over yet.  In a few months I will be able to see how it compares with 1974 and other really wet years like 1956 and 1893.
By taking the very longest rainfall records and interrogating them for changes in the intensity and frequency of wettest days, it is possible to conclude that 1974 was the year of most extreme rainfall since 1900 up until last year, 2021. That is evident in the two charts: one at the very top (showing frequency) and one at the every end (showing intensity) of this blog post.
We could have gone back before 1900, except I wanted to show the average of at least 20 longest rainfall records and some of these, for example, Mullumbimby only begin in 1899.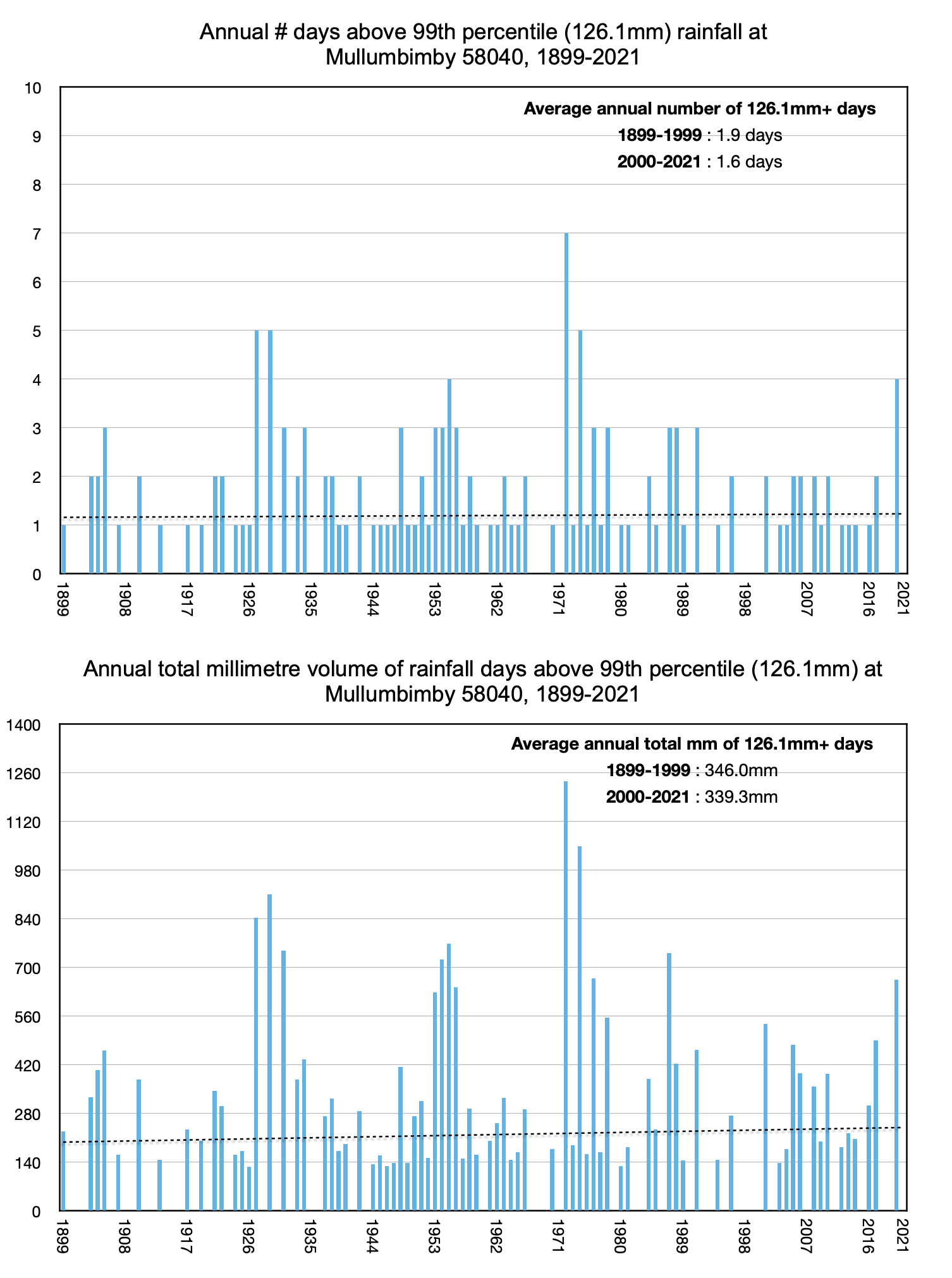 Four of the 20 locations – Mullumbimby, Rosewood, Yamba and Lowood – recorded their highest ever 24-hour daily rainfall totals in 2022.   It will be interesting to understand how 2022 compares with other years when all the data for this year has been compiled and averaged.   
Considering the daily data.  Well, Crohamhurst still holds the 24-hour record for the wettest ever day in Australia with 907mm of rainfall in 1893.
There have been various claims that this year had many, many record breaking wettest days.  For example, the Bureau claimed that Lismore had a new 24-hour record of 146.8mm. However, this figure is based on rainfall records from Lismore airport weather station that was opened only in 2003. When combined with the rainfall records of the former weather station in Lismore at Centre Street, the wettest day in Lismore was 21 February 1954 with 334.3mm of rainfall.
The Australian Bureau of Meteorology have even put out a special report, including comment that:
Observations show that there has been an increase in the intensity of heavy rainfall events in Australia.
Yet they provide no supporting data – while citing a State of the Climate 2020 report that again includes no data.
It is possible to search the Bureau's online records in the Australian Data Archive for Meteorology (ADAM) and find the highest daily rainfall totals.  A search of this same dataset was undertaken by my friend Chris Gillham to find locations in the flood affected regions with continuous daily rainfall records that begin before 1900.  He found the locations of Armidale, Ballina, Brisbane, Bungendore, Byron Bay, Casino, Grafton, Gympie, Kempsey, Landsborough, Lismore, Lowood, Maryborough, Mullumbimby, Rosewood, Stanthorpe, Tenterfield, Tewantin, Warwick and Yamba. These locations and their records form the basis of our submission to the New South Wales Flood Inquiry.
Locations with more than one weather station were combined. For example, the Lismore record from Centre Street (#058037) was combined with the Lismore record from the airport to create the longest possible continuous record to the present.
To understand trends in the intensity and frequency of daily rainfall at each of the 20 locations, Chris took all days with 0 mm of rainfall and deleted them.  The remaining days with rainfall were sorted descending from the wettest to those with just 0.1mm of rainfall.  The 99th percentile rainfall days were calculated by estimating the lowest mm total within the top 1% of such days.
These calculations were assisted through use of the percentile function in the Numbers spreadsheet program using an Apple Mac computer. Comparison of the spreadsheet function with manual percentage calculations had consistently identical results.  All days since 1 January of each station's beginning year, with or without rainfall, were pasted into a calculation spreadsheet with five different functions:
a count each year of all days with more than 0mm of rainfall
the sum each year of total mm of rainfall
a count each year of all days with equal to or more than the 99th percentile previously calculated
the sum each year of total mm of rainfall days falling within the 99th percentiles
The resulting columns of annual data for each of the 20 stations were then collectively averaged from 1900 – 2021, because all 20 locations have continuous records during that period.
We've been very transparent in how we come to conclude 1974 to be the wettest year on record – up until 2021.  I wonder how the Bureau came to conclude otherwise.
For more information you can download the submission (4.7MB) by Chris Gillham and me here: NoIncreaseWettestDays-Marohasy-Gillham