Coral reefs are the most extraordinary places, and they are essentially layer upon layer of death. Topped with the most extraordinary diversity of life forms.
Consider Britomart Reef, for example, it is a mid-shelf coral reef 120 kms north of Townsville in the central Great Barrier Reef. The modern reef started to grow about 9000 years ago on a mound of limestone. Limestone is a sedimentary rock composed of calcium carbonate that was the skeleton of coral polyps. Dead coral is not limestone, it has to first undergo cementation.
The limestone at the very bottom of Britomart Reef would have been laid down around 125,000 years ago by hard corals when sea levels were a little higher than they are now.
Then this coral reef went extinct, as sea levels fell more than 120 metres. During the depth of the last ice age (16000 years ago) Britomart Reef would have been a ridge of limestone within a Eucalyptus woodland with the ocean about 64 kilometres further to the east.
Then the ice caps melted sea level rose, and eventually corals started to grow from the dead limestone. The corals hadn't survived at Britomart, rather the corals recolonised at the beginning of the current geological epoch known as the Holocene.
The modern reef at Britomart is 25 metres thick, with most of this 'reef mass' accumulated between 8500 and 5000 years before present on top of the existing platform of limestone. So, the live coral at Britomart is but a thin veneer growing on top of 25 metres of dead coral – on top of the platform of limestone that dates to the Pleistocene.
We know this from coring – holes drilled through this reef back in the 1980s, analysed and radiocarbon dated. According to the paper by David Johnson, Christopher Cuff and Eugene Rhodes published in Sedimentology (volume 31, pages 515 to 529) the top 5 metres at Britomart Reef is classified as 'fragmented coral boundstone' that is 'disoriented, abraded and bored, coral gravel up to 6cm across, which is encrusted and bound by coralline algae.'
That paper was published back in 1984. I dove at Britomart last November and while it was the prettiest of reefs, there were so many dead plate corals. I'm guessing these corals bleached over the last few summers and are now in various stages of decay.
The feature image (photograph at the very top of this blog post) shows a dead, and algal infested plate coral in the foreground. Can you see it? The second image (photograph below) shows dead plate corals as the ridge drops away. In the third image there are two very large dead plate coral to the left, and another towards the bottom of the drop-off. In the fourth picture I'm holding on to a more recently dead plate, now covered in algae.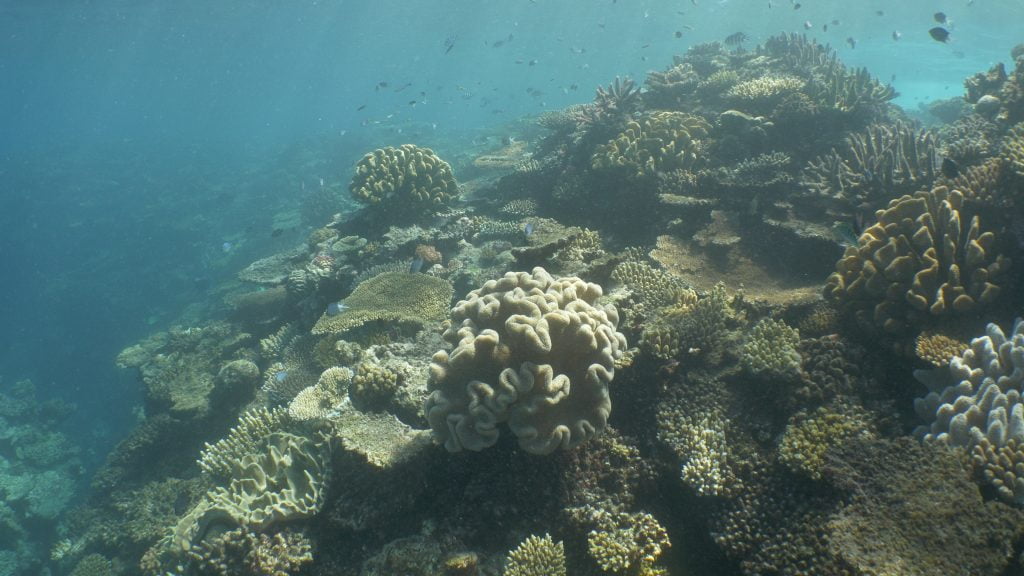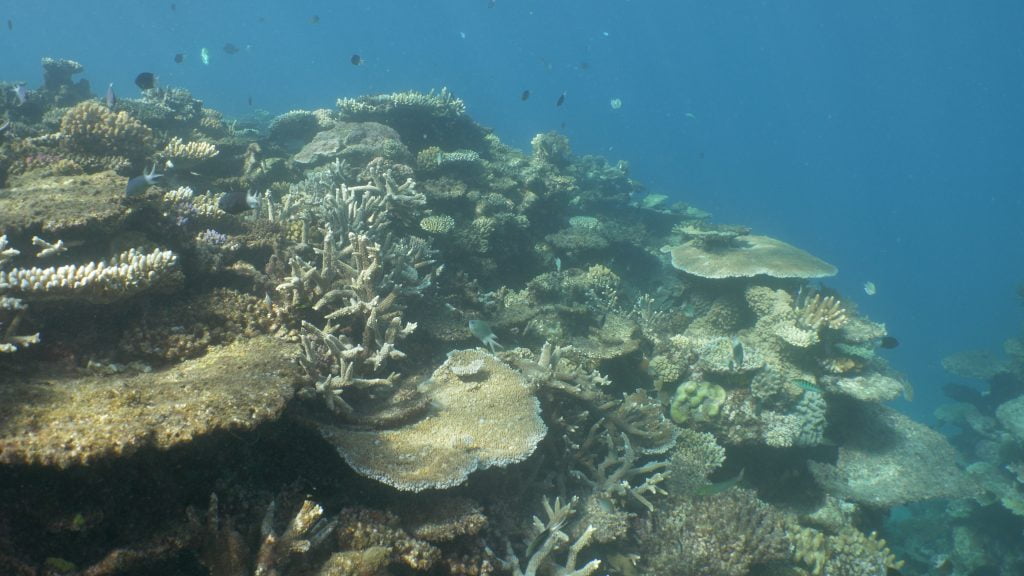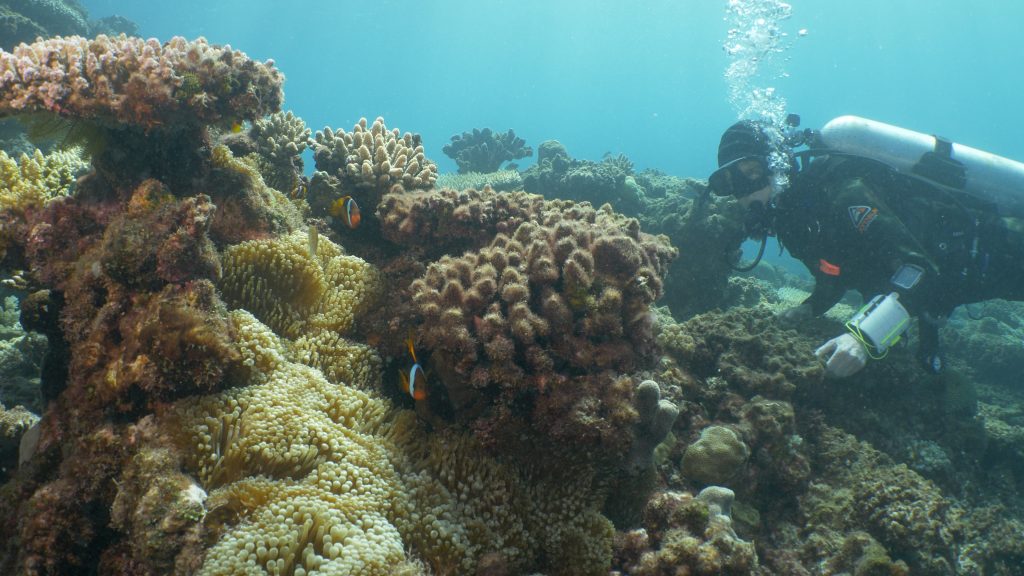 I'm posting these pictures to show what recently dead plate corals looks like, and to explain that the dead coral extends down 25 metres and represents continuous cycles of death and regrowth over the last 9000 years. This is to inform some discuss about corals at another reef, Pixie Reef. I've not been able to find any technical papers about Pixie, but I have started some discussion about Pixie at my Facebook page here https://www.facebook.com/JenniferMarohasyOfficialPage .
We are just starting to discuss the transects photographs in Table 1.1. (specifically the first and second photographs in the first transect) that include patches of what I am fairly sure are dead plate coral.
*******************************
Further reading:
David Johnson et al. 1984. Holocene reef sequences and geochemistry, Britomart Reef, central Great Barrier Reef. Sedimentology, 31, 515 – 529.
The photographs were all extracted from video filmed by Stuart Ireland, and one day it will be turned into a documentary.