I remember picking my daughter up from school, years ago. It was her first year, so she was about six years old. The last class for the day had been art, and the teacher had asked they paint the solar system. Most of the children had something to show their mothers, that included moons and planets in various shades and shapes painted onto a white background. My daughter, meanwhile, had spent the entire art class painting a black background. Only after that, had she intended to paint the Sun, and after that the planets. At the end of that school day, most of her classmates had finished paintings. The teacher was clearly frustrated my daughter only had a black background to show me.
In the scheme of things did it matter that my daughter hadn't finished her picture on time? I thought it wonderful that she had thought through what was needed to create the best picture, rather than concern herself with being finished on time.
There is always a lot of pressure for us to have something to show, something completed. But how much more important can it be, getting the process/the method correct especially when it comes to art, and also science and medicine.
I only have the one daughter, and she has always been concerned with the fundamentals – and getting them right.
While I have always been most interested in the environment and how to best care for it, she has always been more concerned about people.
At University she got herself a scholarship for a study tour to Kenya, and from that she wrote a paper explaining the taboo issue that is preventing so many girls from finishing school:
Investment in projects that directly support women and girls is essential to reducing poverty. In 2012, the UN Secretary General Ban Ki-moon said that 'the greatest return comes from investing in girls and women. When they are educated, they drive development in their families, communities and nations.'

A single year of primary education correlates with at least a 10-per-cent increase in a woman's wages later in life, with the returns on a year of secondary education estimated to be double that. Moreover, educating girls remains the single best policy for reducing fertility.

However, in Sub-Saharan Africa only 57 per cent of all girls attend primary schools, with only 17 per cent enrolled at a secondary level. A UNESCO study has found that about 150 million children currently enrolled in primary schools globally will drop out before they finish. At least 100 million of those will be girls.

One reason young girls are not attending school is commonly overlooked: gender taboos and menstruation. Ngeru, for instance, is a 14-year-old girl from Kenya. During her period, she has no access to sanitary pads. Instead, Ngeru will improvise with cloth, or bark tree lining, or mattress stuffing.

Needless to say, these DIY techniques are ineffective and humiliating. Health risks abound, including infections and genital sores. She will likely end up with blood on her school uniform or clothing, but attitudes to menstruation mean that Ngeru would rather drop out than confront the bullying of peers and male teachers alike. She enjoys studying mathematics, but her education is wholly subject to her cycle.

A study of the attitudes of Kenyan school-aged girls to menstrual health found that 'one of the most effective ways to deal with menstruation is to go home'.
There are now enough masks for everyone in Australia it seems. But I wonder when there will be enough sanitary pads for young girls needing to complete school, in Africa?
In the article Caroline did write:
Moreover, educating girls remains the single best policy for reducing fertility.
I'm also for smaller families, including so there is less pressure on the natural environment. Africa's wildlife and wild places are under so much pressure from so many people. There was hope for tourism, as an economic reason to protect all the animals. But who into the foreseeable future will be visiting Africa to see the elephants?
Caroline has seen the elephants, and so much of Africa. She perhaps holds the record for fastest ascent and descent of Mount Kenya. So, she can get things done quickly, when there is a real need.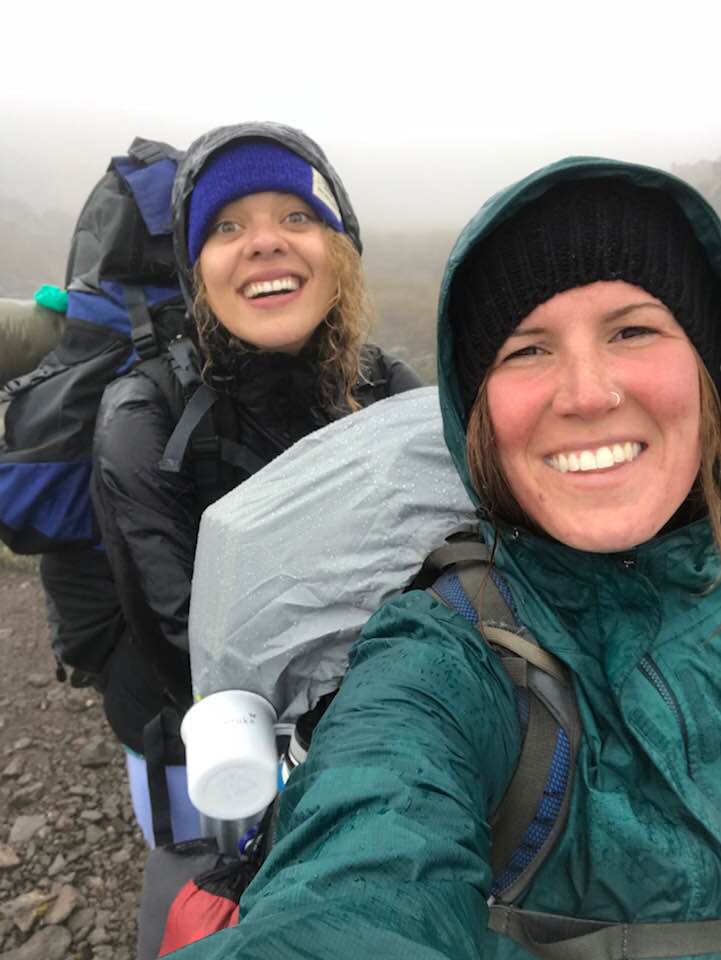 It was back in July 2018 – by then Caroline had moved to Kenya, she was living and working in Nairobi – she told me she would be climbing Mt Kenya. I thought that would take about 5 days, there is the issue of altitude sickness, and normally one would be accompanied by a porter and a local guide.
But, no, the ever-intrepid Caroline told me she only had the weekend, she had to be at work on Friday, and back by Monday. She told me she was planning to run-up on Saturday, and down on Sunday with her girlfriend, Lindsay.
I grumbled to myself all that weekend, wondering what the chances might be, of finding any remains, should she be eaten by a Lion, after being trampled by a buffalo. Then I got the phone call, on Monday, she was back in Nairobi, sending photographs and videos including of them summitting. I felt inspired and relieved. And her friend Lindsay wrote about the adventure on her blog, as a three part series.
Caroline, she has a heart of gold. She doesn't settle for less, and she sometimes takes her time. She never gives up, and she is fearless. She was born 32 years ago today.
Yes. It is her birthday!
I wish her every happiness. And I'm so grateful for all the love she bestows on me, and also her Grandma.
I'm so proud of all that she has achieved this last year. May the next year be everything she has worked towards, and more, even if it means that she will be leaving Australia for yet another overseas adventure.
Happy Birthday!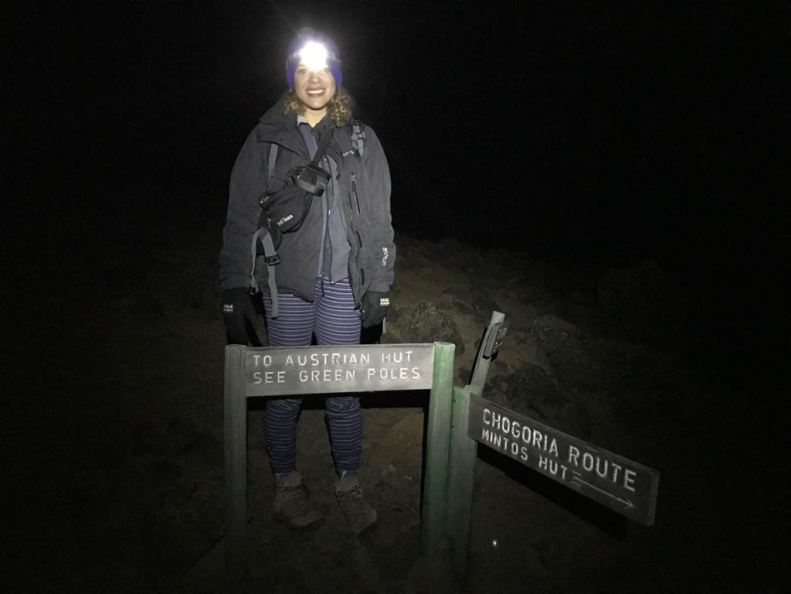 ***
Photo credits all to Lindsay. Thank you.