MINISTER Josh Frydenberg was told by the Australian Bureau of Meteorology on, or about, Wednesday 5th July 2017 that limits had been placed on how cold temperatures could be recorded across mainland Australia.
This winter we have experienced record low temperatures.   But only the keenest weather observers have noticed, because the Bureau has been changing the actual values measured by the automatic weather stations.
In particular, the Minister was told that while the Goulburn weather station accurately measured the local temperature as minus 10.4 at 6.30 am on Sunday 2 July, a smart card reader prevented this value from being recorded as the daily minimum on the Daily Weather Observations page.
The smart card reader had been pre-programmed to round-up any value below minus 10 degrees Celsius.  So, instead of entering minus 10.4 into the CDO dataset, the value of minus 10.0 was entered for 2nd July instead.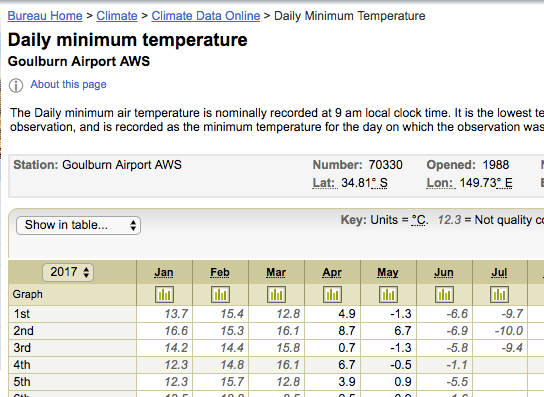 This wrong limit of minus 10.0 was confirmed in an email from the Bureau sent to journalist Graham Lloyd, and also Griffith businessman Paul Salvestrin, on 4th July.

No such limits are placed on how hot temperatures can be recorded.
While the Minister has had this advice – about the smart card readers and the limits on cold temperature recordings –  for some weeks, he has claimed publicly that he has full confidence in the Bureau and has resisted calls for an independent inquiry.  Further, the Minister has supported the Bureau's faux solution of replacing the automatics weather station initially at Goulburn and Thredbo, and more recently at many more sites across Victoria and Tasmania.
All-the-while, the Minister has known that the problem is limited to the smart card readers.
To be clear, the problem is not with the equipment; all that needs to be done is for the smart card readers to be removed.  So, after the automatic weather stations measure the correct temperature, this temperature can be brought forward firstly into the Daily Weather Observation sheet and subsequently into the CDO dataset.
David Jones is the Manager of Climate Monitoring and Prediction services at the Bureau and would probably have overseen the installation of the smart cards.  Jones is also on-record stating that: "Truth be known, climate change here is now running so rampant that we don't need meteorological data to see it."