Charts that show year-on-year increases in temperature have become a symbol of all that is wrong with the world – or at least modernity and Western Civilization. So, why then, when such a chart was shown to a studio audience of opinion leaders, did it caused them to break-out in spontaneous applause? The Sydney Q&A audience could not conceivably have been applauding global warming – more likely this audience was applauding the affirmation that was being afforded their belief in global warming?
Of course, the chart that particle physicist Brian Cox held-up to the audience (as shown in the above Youtube video) is an historical reconstruction. There is no one place on Earth where the world's temperature can be measured – and this particular chart is based on a variable number of homogenised temperatures series. By 'homogenised' I mean remodelled – ostensibly to ensure "non-climatic influences are minimised"; but in the process trends are changed.
I've just had a book chapter, which I co-authored with John Abbot, published that shows historical temperature trends for southeast Australia back to 1887 – using unhomogenised temperature series.
This reconstruction is shown by the purple line in Chart 1 (see below). It suggests a rate of warming less than half that shown in Cox's global homogenised reconstruction; and might be better described as exhibiting considerable inter-annual variability – with cycles of cooling and warming.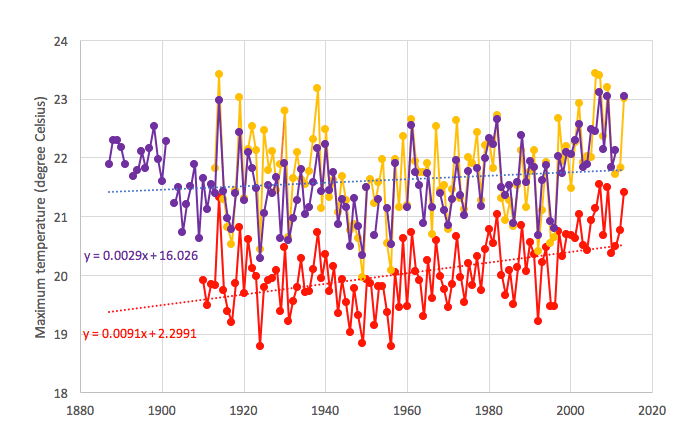 The method used to develop this reconstruction perhaps represents an important first step in developing an Australian-wide reconstruction based on un-homogenised data.
Our chapter concludes that the series for southeast Australia is best described as showing statistically significant cooling (yes cooling) of 1.5 degree Celsius to 1949, followed by warming of nearly 2 degrees Celsius to the present. (If you would like a pdf copy of the chapter, email me: j.marohasy at climatelab.com.au).
The official Bureau of Meteorology reconstruction for the state of Victoria is shown in red in Chart 1; and is based on ACORN-SAT. The homogenised ACORN-SAT database only begins in 1910. It is used by the Bureau, and also CSIRO, to report climate variability and change. Eleven locations are used in the ACORN-SAT reconstruction for Victoria – with some of the series from these locations very short, and with a lot of missing data; all were remodolled.
Our southeast reconstruction is based on the same five long and continuous series with only three adjustments made to two of the series (Deniliquin and Cape Otway) to correct for equipment changes in 1908 and 1898 – as detailed in the chapter.
Despite the very different methodologies used, the reconstructions are surprisingly similar. Both reconstrucions show considerable inter-annual variability, with almost synchronous peaks and troughs: see Chart 1. In both reconstructions, 2007 is the hottest recent year, though temperatures were almost as hot back in 1914. In large part because the ACORN-SAT database only starts in 1910, which corresponds with a dip in the record, this official series for Victoria indicates an overall rate of warming of 0.9 degree Celsius per century – compared to 0.3 degree Celsius for the southeast reconstruction.
Both reconstructions are of maximum temperatures. Global warming is typically reported as an increase in the mean temperature, which is the average of the maximum and minimum temperatures. The maximum temperature is the daytime temperature; and an arguably better measure of regional temperature variation because of the higher rates of turbulent mixing of the atmosphere during the day time.
In Chart 1, I've also plotted temperature maxima as measured at the agricultural research station near Rutherglen in northern central Victoria – this is the series shown in yellow. This is an exceptionally high quality series because it has been measured using standard equipment at the same rural site for over 100 years. But it was not part of the southeast reconstruction because we only used series that began on, or before, 1887 for the southeast reconstruction.
Temperature minima and maxima do not always trend in the same direction. In the case of Rutherglen, temperature minima actually show cooling – consistent with other series from this region. This cooling is most obvious in spring, and probably associated with the extensive development of irrigation. Through the homogenisation process the Bureau change the cooling in the Rutherglen temperature minima to warming before including Rutherglen in the official ACORN-SAT database. I've written extensively about this, including in a recent research paper entitled simply 'Temperature change at Rutherglen in south-east Australia'.

Key Reference/New book chapter
Marohasy, J. & Abbot, J. 2016. Southeast Australian Maximum Temperature Trends, 1887–2013: An Evidence-Based Reappraisal.  In: Evidence-Based Climate Science (Second Edition), Pages 83-99. http://dx.doi.org/10.1016/B978-0-12-804588-6.00005-7