WHILE the storm that hit South Australia yesterday, Wednesday 28 September, was large and intense, the winds do not appear to have been particularly severe – at least not relative to what we often experience in northern Australia.  For example, a Category 2 cyclone has wind gusts of at least 125 kilometres per hour. According to ABC online news reports gusts reached 83 kilometres per hour in South Australia causing the entire state to black-out. This is the maximum speed that I can find at the Bureau of Meteorology website for Ceduna, which is on the South Australian west coast.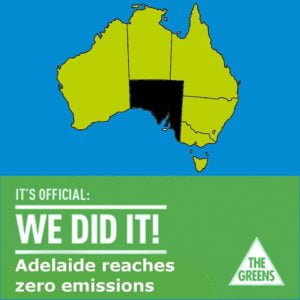 At Port Augusta, where I understand transmission towers collapsed, wind gusts of 87 kilometres per hour were recorded; this is the maximum speeds I can find anywhere at the Bureau website. There are reports on Twitter that, somewhere, 130 kilometre per hour winds were recorded; but I have not been able to verify this.
Nevertheless, this is still much less severe than would typically be experienced during a northern Australian cyclone, with the Queensland electricity grid withstanding recent cyclone Marcia (156 km/hr) and even Yasi (285 km/hr gusts) – though there was local damage and power outage.
The Australian Wind Alliance has issued a press release this morning stating that, "South Australia's wind farms were pumping nearly 1,000 megawatts of energy into the state's electricity system before yesterday's mega storm tripped the network." Specifically 960 megawatts at 4.30pm, covering around 50% of the state's demand, and that the system failed because "23 transmission pylons" were "knocked out".
I understand that the particular wind turbines common in South Australia cut-out at 90 kilometres per hour. So, it is plausible given: 1. readings from the Bureau website show wind gusts did not reach 90 kilometres per hour; and 2. data showing wind energy production for South Australia fluctuated between 1200 and 900 megawatts until 4.30pm when it dropped to zero – that the problem was the storm taking out transmission pylons rather than a failure of the wind turbines per se.
Nevertheless, this is unacceptable: the transmission pylons should have been built to withstand much more severe weather events.
UPDATE – 5 OCTOBER 2016
The Australian
Michael Owen, SA Bureau Chief, Adelaide  @mjowen
South Australian Premier Jay Weatherill's insistence that last week's statewide blackout was wholly related to severe storms has been cast into doubt by the release of a preliminary report by the Australian Energy Market Operator, which shows there was a reduction in wind farm generation at connection points leading up to the outage.  The report said more analysis was required to determine what that cause was.
A summary of the AEMO interim report said the storms caused multiple transmission system faults, including the loss of three major 275 kV transmission lines north of Adelaide in the space of 12 seconds.
The report said generation initially flowed through the damaged systems but "following an extensive number of faults in a short period [seconds], 315 MW of wind generation disconnected".
"The uncontrolled reduction in generation resulted in increased flow on the main Victorian interconnector to make up the deficit," AEMO said.
This resulted in the interconnector overloading and an automatic-protection mechanism tripping the interconnector to protect it from damage, causing the rest of the state to go black.
…  A transmission tower carrying power lines was toppled by high winds near Melrose in South Australia during the storm.
… The AEMO investigation found that the uncontrolled disconnection of 315MW of wind power "increased the flow on the main Victorian interconnector (Heywood) to make up the deficit and resulted in the interconnector overloading", he said.
"To avoid damage to the interconnector, the automatic-protection mechanism activated, tripping the interconnector and resulting in the remaining customer load and electricity generation in SA being lost."
"That is not how the electricity system should be operating and the Premier has been badly exposed by this preliminary report… "
The report can be downloaded here: https://www.aemo.com.au/Media-Centre/-/media/BE174B1732CB4B3ABB74BD507664B270.ashx