When I was at University in Brisbane in the early 1980s, some of my friends used to going skiing during the winter holidays; the two or three weeks in June or July between semesters. I assumed I didn't have enough money for skiing, and anyway I was looking for warmth. It was possible to get a discounted student ticket on the train, on the Sunlander north to Cairns. From there, I once hitchhiked to the hippy camps where we protested against a proposed road into the Daintree rainforest.
I also liked to go to Cairns because of my Aunty Diana, who lived there in a brightly-painted little wooden Queenslander on very high stilts. She collected all manner of things, but mostly old blue bottles, dug up from mining sites, which she stacked high on purpose build shelves. This shelving was concentrated against one wall of the dark interior living room where the bottles on the wooden shelves reached from the floor to the ceiling.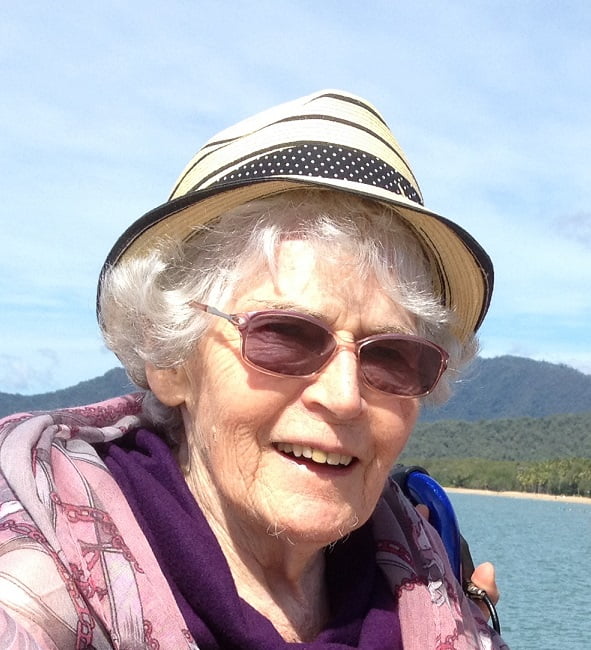 Aunty Diana never married, but had a partner who was once a brickies' labourer. He was not always agreeable, but he tolerated me as a freckle-faced late teen with a large smile and no shoes who refused to shave her legs or under-arms. When I arrived once with Louise, a uni student studying architecture, Tony sat us at the kitchen table, gave us beers, and then went on about architects, and how most of them didn't actually know the first practical thing about building a house.
The next day we went to Green Island with Diana, and the day after she insisted on hiring us a mini moke so we could explore the Atherton Tablelands. She hired it from the motel where she worked as a cook. We were just 18 years old, but I remember she ticked the box "over 21", a condition of hire, while winking at me.  Then she signed the document on my behalf.
On another visit, when I climbed their front wooden stairs late one night with a 'Furious Turtles' band member and some others, Tony let me in. But, despite my protests, he insisted that the boys could only stay until morning and they had to sleep under the house.
I turned-up over and over, because tropical Cairns was where I went in winter, and I enjoyed my Aunt's company.
We would walk about her garden finding caterpillars. She deliberately planted particular native vines in her garden to attract the rarest of native butterfly species. When there were too many on a particular plant, she would move them. She would even bring home foliage to feed them in boxes.
Aunty Diana would keep the chrysalises safe until they hatched as butterflies, and then release them. Well not all of them. There was the odd butterfly that she killed, pinned and framed.
She was delighted when I decided to become an entomologist.
Reminiscing some years ago, Aunty Diana then in her early seventies, told me that her very best memories where of sleeping out in the open, under the stars with Tony when they were young. She told me that they would spend the day digging like archeologists at abandoned mining sites in remote locations. Not for gold, but for the items the gold miners had discarded, especially old bottles. Then she said, it was wonderful to find a dry sandy creek bed, make a fire, and eventually fall asleep watching the stars.
Aunty Diana died Wednesday night.
She has arranged for there to be no funeral. She is just to be cremated, and then buried with her dog, in the back garden of the house in Cairns.
If I was 18 again, I would just turn up, and wait until that happened, so I could be there to say goodbye.
Instead, I simply put on the crystal earrings that she gave me so many years ago, and write something. Vale Aunty Diana.