I will be in Goolwa, just to the north west of the Murray River's sea mouth, on Tuesday 8th December to give evidence to the Senate Select Committee on the Murray Darling Basin Plan.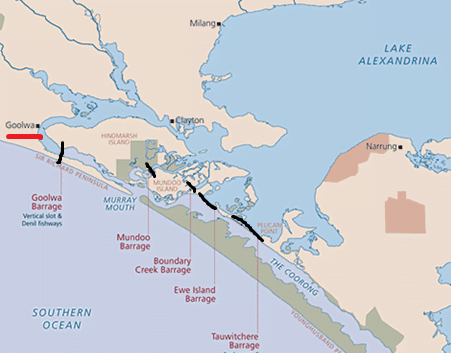 This committee is chaired by David Leyonhjelm, the libertarian senator from NSW, and has a mandate to report on both the positive and negative aspects of the new Basin Plan by 26th February 2016.
The Basin Plan, a requirement under the Water Act 2007, has resulted in the redistribution of vast quantities of fresh water previously used to grow food upstream in places like the Riverina, ostensibly to the Coorong, Lower Lakes and Murray Mouth.
Much of the campaigning for water reform, led by the Australian Conservation Foundation, has specifically and falsely claimed that this water is needed to flush the Murray's mouth. Never mind that river flow must first make it across a vast shallow lake and through a series of barrages before it can get to the mouth.
If the barrages were removed, the tides of the Southern Ocean could score the Murray's sea mouth each autumn at no cost to Australian tax payers.
The barrages are massive sea dykes built in the 1930s to prevent inflows from the South Ocean, and are often closed to ensure the Lower Lakes are kept above sea level. The entire Lower Lakes environment is artificial, something resembling a duck pond the size of Port Phillip Bay, where Adelaide's elite like to go sailing on the weekend.
We really are a rich nation that we can divert water once used to grow food, to this contrived oasis in the driest state on the driest continent. It is of course a lie that this water is for the environment. It has been taken from agriculture, but it is not sustaining a natural system.
My submission to the Senate Committee includes some discussion of the need to restore the estuary, but it is more generally focused on fish. I explain that despite tens of millions of dollars spent on a native fish strategy, many species show no signs of recovery to preEuropean levels. This is because issues of cold water pollution, predation from introduced salmonids, and also restoration of the estuary, have not been addressed.
This submission, on behalf of The Myth and the Murray Group, can be accessed here:
http://jennifermarohasy.com/wp-content/uploads/2011/08/JenniferMarohasy-Think-About-The-Fish.pdf