So, it may be difficult to remember a time in the future!  But do you remember the movie 'The Day after Tomorrow' when New York froze over?  That ice age was caused by changes in the circulation of warm water in the Atlantic Ocean, in particular the Gulf Stream closed down because of melting in the Arctic because of carbon dioxide.  Well, that was Hollywood!  Now, a mathematician, Professor Valentina Zharkova, is claiming an imminent big freeze, not because of carbon dioxide, but because of out of synch solar cycles.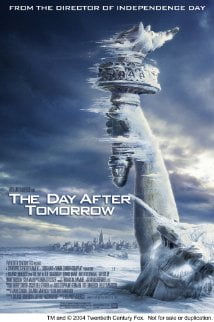 "In cycle 26, the two waves exactly mirror each other – peaking at the same time but in opposite hemispheres of the sun," Zharkova told the Daily Mail.
So, I understand that when the number of sunspots is at a minimum, the sun's general magnetic field is nearly dipolar.  What causes this?
I keep on intending to read-up more on the influence of the gravitational pull of the larger planets on the sun's magnetism.  I would be interested in best references…
Meanwhile, here's something from YouTube to amuse those who enjoy virtual horror with a real historical dimension.