Lots of stories in the Weekend Australian about climate change and related issues… the editorial includes commentary about Graham Lloyd's reporting on 'the pause'.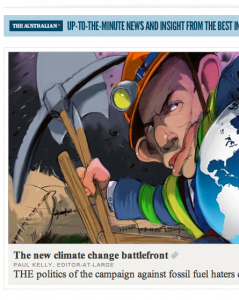 Also comment by John Ferguson, Victorian Political Editor, that:
"THE consumer bill for the nation's largest desalination plant is set to rise to more than $2 billion, as heavy rain and soaring dam levels make redundant tremendously expensive facilities across the eastern seaboard.
New figures obtained by The Weekend Australian show the Victorian desalination plant, southeast of Melbourne, will have cost water users $1.2bn by the November 29 state election, rising to $2bn by the end of the next financial year.
The cost has soared, despite no water having been drawn from the facility since its opening in 2012 and dams being more than 80 per cent full."
Of course another prolonged drought could hit Victoria shortly.